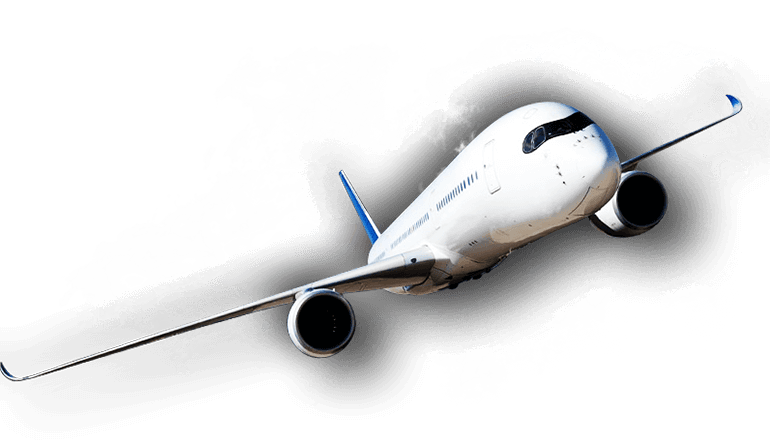 Introduction
India is becoming the third-largest civil aviation market in the world 2020-21, in terms of number of operational airports and flights. In terms of number of passengers, India will beat USA, China, UK and others by 2024 and gain the top position due to high demand for air travel. The central government is expected to invest for India's airport infrastructure an estimated INR 420-450 billion ($ 6 billion).
The rising working class and increasing disposable incomes are expected to raise the domestic demand for travel and tourism. There is also a healthy competition between low-cost carriers building up at leading airports. Indian airports recorded a total air traffic of about 131 million passengers in 2016, out of which 100 million were domestic passengers. This number rose to 180 million in 2020-21.
The Government of India has been working towards increasing the number of airports from 153 to 200 by FY40. The largest state Uttar Pradesh is at the forefront of facing this rising demand given its total population and the number of foreign tourists it attracts for visiting the 'Taj Mahal,' Kumbh Mela and Varanasi, Ayodhya and other pilgrimage centers.
Planning for Uttar Pradesh – Airports
UP is focusing on the 'Civil Aviation Promotion Policy', as a means to attract investments into tourism of the state. Flagship airport projects – 'Jewar International airport' (Noida) and Kushinagar International airport are going to be among the top choices for tourists once completed and are also expected to free up much burden from Delhi's Indira Gandhi International airport (IGIA). The Uttar Pradesh government's move to promote 11 new airports is being praised for its futuristic vision and modern facilities. The idea is to connect the state capital city Lucknow with almost 75 other Indian cities and is a great step towards equitable economic development of UP's districts.
From the year 1947 to 2015, only two airports were functional in Uttar Pradesh. While Lucknow and Varanasi were the main economic centers and handled large crowds, the airports at Agra and Gorakhpur seldom had flights before 2017. As part of the revamp, the state will soon have five international airports, the maximum in any state of the country. In just three years, five other airports including Gorakhpur, Hindon, Agra, Prayagraj and Bareilly have become functional in UP.
Snapshots of New Projects
The top tourist destinations in Uttar Pradesh are Agra, Vrindavan, Mathura, Varanasi, Kushinagar, Allahabad, Lucknow, Ayodhya, Jhansi, Chitrakoot, Sarnath, Dudhwa, Mahoba and Deogarh. The major projects that the UP government is focusing in the aviation sector are:
Jewar International airport in Gautam Buddha Nagar district, is situated 80 kilometers from Indira Gandhi International airport (IGIA), New Delhi. The growing demand and passenger traffic created the need for a second airport in NCR. It is estimated to be the largest aerodrome in the country, billed to be around INR 29,560 crore with all the modern facilities. With two runways planned, the airport is expected to handle footfalls of 12 million passengers annually.
Kushinagar International airport has become operational as the 9th operational airport of the state. It was formally inaugurated by Prime Minister Narendra Modi recently. Built at a cost of INR 260 crore, it has a runway length of over three kilometers and is an important site for tourists from Buddhist countries as it is the place where Gautam Buddha attained 'Mahaparinirvana.'
Ayodhya International airport has been constructed at one of the most important Hindu pilgrimage site at Ayodhya and is among the most coveted and awaited projects in Uttar Pradesh at the moment. The central and state governments are preparing to start international airlines from Ayodhya from 2022.
Besides these, work on 10 new airports is progressing fast with the state government actively working on developing and operationalizing airports at Jhansi, Azamgarh, Aligarh, Chitrakoot, Moradabad, Sonbhadra, Shravasti, Lalitpur, Bareilly and Saharanpur. Through these projects, Uttar Pradesh will play an important role in further fueling the national aviation sector. The state has invested Rs. 2307 crores in the civil aviation sector for upgrading the air strips as well as developing aerodromes in the upcoming three-years. The vision is to open the defence airbase for civil use, reducing the distance on various air routes and making 50 airbases available operational under the UDAN scheme reforms.
Objectives of Civil Aviation Policy 2017
Create robust infrastructure: Provide adequate incentives for business development, foreign tourism and robust infrastructure. This will help in realizing the untapped potential in the aviation sector for domestic industries as well as trade from Uttar Pradesh.
Improve air connectivity: Development of new routes to facilitate inter-connectivity of airports of the state of Uttar Pradesh by linking major pilgrimage and tourism spots within the state.
Boost agro-exports and air cargos: Perishable goods, manufactured products and e-commerce businesses in UP will gain by the mushrooming cargo hubs and fulfillment centers that come up with the development of new airports.
Foreign Direct Investments in aviation: The policy aims to leverage on liberal FDI norms in India's aviation sector to attract more investments into the upcoming projects in UP.
Planning for Human Resources for UP Airports
Growth in civil aviation industry will also lead to demand for more trained work force including pilots, aircraft maintenance engineers, cabin crew, IT and support service professionals, airport related professionals etc. The state government will be promoting aviation related courses in premier institutes / universities in U.P. including IITs, NIT and universities like Lucknow, Allahabad, Aligarh, Agra, BHU, Meerut to generate skilled work force and professionals to meet the growing demands in the state's civil aviation sector.
At present, Uttar Pradesh is home to IGRUA in Amethi and six other private flying training academies (3 at Aligarh, 1 at Faizabad, Sultanpur and Kanpur each) and are conducting commercial pilot license (CPL) courses approved by Directorate General of Civil Aviation (DGCA). UP also has the Aeronautical Training Institute (ATI) at Lucknow, which is a state-owned entity and provides diploma courses for AME in Airframe and Engine, avionics, helicopter operations and power plant trainees.
As seen since 2017, the government in Uttar Pradesh has made rapid strides in ensuring better governance, availability and creation of new infrastructure such as roads, rails and airports to help the country's largest state to meet its immense potential and position Uttar Pradesh as a major investment hub in India. The state's transforming aviation sector is a shining example of this upward trajectory.
This article is co-authored by Soumya Gupta and Devika Chawla.