Production Linked Incentive (PLI) (Pharmaceuticals) Outreach Webinar with Industry Associations and State Governments
Industry Associations
The Department of Pharmaceuticals had launched PLI 1.0 scheme last year to enhance domestic manufacturing capability in India. Seeing the scheme's success, the department had recently extended the application deadline till 28 July 2021 for further applications.
Chaired by S. Aparna, Secretary, Department of Pharmaceuticals (DoP), the webinar provided a platform for industry captains to deliberate on PLI 1.0 and re-invite applications under the same. Rajneesh Tingal, Joint Secretary showed a presentation on PLI 1.0 to provide clarity on the operational guidelines and eligibility criteria. Suneet Shukla from (Industrial Finance Corporation of India) IFCI, the Project Management Agency (PMA) for PLI 1.0 also graced the meeting to address certain technical questions related to the scheme. The outreach event witnessed a participation of 100+ attendees.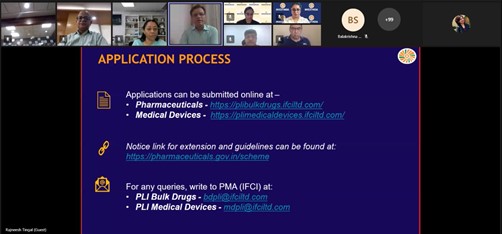 State Governments
The discussion chaired by S Aparna, Secretary, Department of Pharmaceuticals (DoP) provided an excellent opportunity for the State Governments to deliberate on PLI 2.0 and to address their queries on the operational details. The outreach event witnessed participation from Kerala, Maharashtra, Tamil Nadu, and Punjab. S. Aparna encouraged the States to disseminate information about the PLI Schemes to relevant stakeholders to promote manufacturing of pharmaceuticals and medical devices in India and also assured the participants of end-to-end support and facilitation from the Department of Pharmaceuticals for grounding investments received under the Scheme.