PM Modi interacts with Chief Ministers of all states to bolster efforts against COVID-19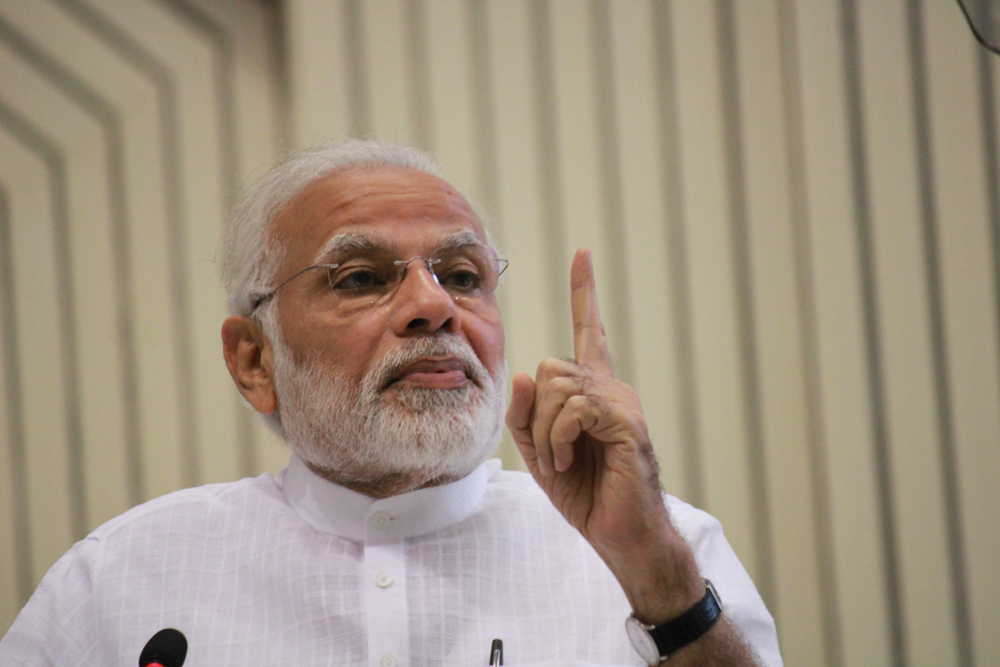 Our goal is to ensure minimum loss of life: Prime Minister Narendra Modi
    
Prime Minister Shri Narendra Modi interacted with Chief Ministers of all states/UTs via video conferencing to discuss measures to combat COVID-19 on April 2nd, 2020. Lauding the efforts of each state in implementing the 21- day lockdown which has resulted in curtailing the rapid growth in number of cases, he mentioned how testing, tracing, isolation and quarantine should remain the areas of focus in the coming weeks. 
•    As per the directions of the Prime Minister, all governments of states/UTs have to commit to support all migrant workers during the lockdown period. 
•    All states/UTs have to ensure maintaining supply of essential medical products, availability of raw material for manufacture of medicines and medical equipment along with availability of separate, dedicated hospital facilities for COVID-19 patients.
•    To increase the availability of doctors, the Prime Minister has given directions to the states to tap into the resource pool of AYUSH doctors, organize online training and utilize para-medical staff, NCC and NSS volunteers.
•    Ministry of Home Affairs has also authorised all states to use the State Disaster Response Fund for providing such relief measures. These measures would further strengthen them to deal with fight against COVID-19.
•    The Prime Minister has also asked all Chief Ministers and leaders to reach out to community leaders and social welfare organizations, adopt a community-centric approach in the battle against the pandemic.
•    The government has given some relaxation from lockdown to the farmers as this time is important for harvesting crops but it is also necessary to continuously monitor and maintain social distancing as much as possible. 
•    It is imperative for all states/UTs to work on war footing, identify hotspots of the virus, encircle them and ensure that the virus does not spread out. 
•    The states/UTs have been instructed to create and ensure the smooth implementation of a toll free 24*7 helpline number for COVID-19. 
The following are its details:
STATE/ UNION TERRITORIES HELPLINE FOR COVID-19
1.  Andhra Pradesh- 0866-2410978
2.  Arunachal Pradesh- 104
3.  Assam- 104
4.  Bihar- 104 / 0612-2217681, 2233806
5.  Chhattisgarh- 0771-282113, 2446607, 2440608
6.  Goa- 104
7.  Gujarat- 104 / 079-23251900, 23251908
8.  Haryana- 0172-2545938
9.  Himachal Pradesh- 104/ 077-2628940, 2629439
10. Jharkhand- 104/ 181/ 0651-2282201, 2284185, 223488
11. Karnataka- 104/ 080-46848600 / 1075
12. Kerala- 0471-2552056, 25521056
13. Madhya Pradesh- 104 / 1075/ 181/ 0755-2411180,2704201, 0729-22344
14. Maharashtra- 022-22024535
15. Manipur- 1800-345-3818
16. Meghalaya- 108/ 0364-2224100, 2590623
17. Mizoram- 102
18. Nagaland- 0370-2291122, 2270338
19. Odisha- 104, 0674-2534177
20. Punjab- 104
21. Rajasthan- 0141-2225000, 2225624
22. Sikkim- 104/ 03592-284444
23. Tamil Nadu- 044-29510500, 25615025
24. Telangana- 104/ 040-23286100
25. Tripura- 0381-2315879, 2412424, 2413434
26. Uttar Pradesh- 0522-2237515
27. Uttarakhand- 104
28. West Bengal- 1800-313-444222, 033-23412600
29. Andaman and Nicobar Island- 03192-232102, 234287
30. Chandigarh- 0172-2752038, 2752031, 2704048
31. Dadra Nagar Haveli, Daman and Diu- 104/ 1077, 0260-2642106, 2630304
32. Delhi- 011-22307145
33. Jammu and Kashmir- 0191-2549676, 2520982/ 0194-2440283, 2452052, 2457313
34. Ladakh- 01982-256462, 257416, 258960
35. Lakshadweep- 104/ 04896-263742
36. Puducherry- 104/ 1070/ 1077/ 0413-2253407
#Covid_19