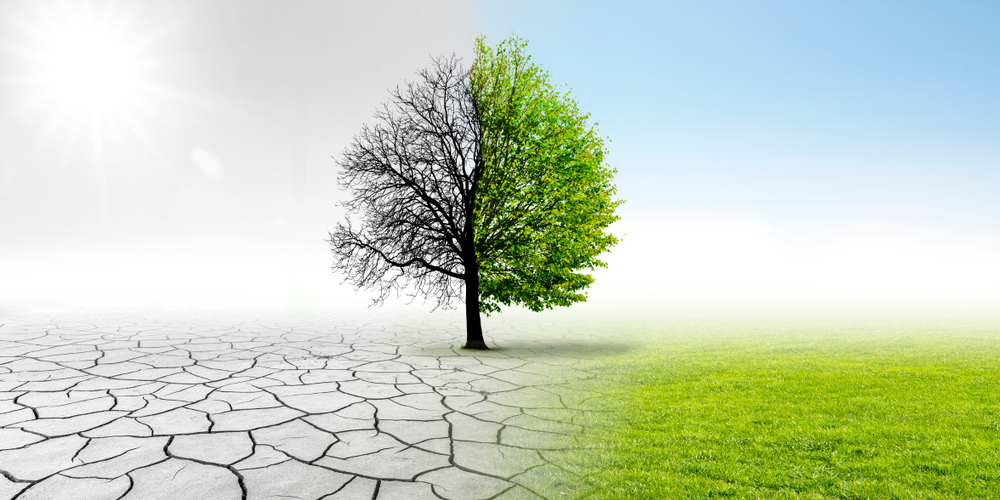 Climate change has taken the world by storm (and many extreme weather events) as it threatens the very survival of homo sapiens. The findings of the recently released Sixth Assessment Report, Climate Change 2021: The Physical Science Basis put forward by the Intergovernmental Panel on Climate Change has declared a "Code Red for Humanity" . It confirms anthropogenic carbon dioxide emissions as the cause for the unprecedented warming of the Earth's climate. Does that mean we're irretrievably on our way to doom? Thankfully, no, as we're also now better equipped to manage this fallout. To this end, the Fourth Industrial Revolution promises to transform and better the quality of human lives basis the infusion of path-breaking technology and innovation in all spheres of life, including climate change mitigation and adaptation. Adoption of innovative and technological solutions can play a pivotal role with respect to the myriad aspects of climate change, which range from emission curtailment to disaster prevention, post-disaster response as well as recovery.
Harnessing Industry 4.0 for Climate Action: International Consensus
The most important global framework of our times to tackle the climate crisis – The Paris Agreement (2015), alludes to the crucial role that technology and innovation can play in ensuring a climate appropriate response to foster sustainable and inclusive economic growth and development. Article 10, paragraph 5 of the Paris Agreement states that "accelerating, encouraging and enabling innovation is critical for an effective, long-term global response to climate change and promoting economic growth and sustainable development". To fortify the same, three years post the Paris Agreement, a technology framework was adopted to underline the importance of technological innovation in turning the commitments made by Parties under the Paris Agreement into an actuality. Thus, the role of innovation and technology solutions in helping countries meet their intended nationally determined contributions (INDCs), primarily pertaining to emission reduction, is globally acknowledged.
In this context, the World Economic Forum (WEF) highlights the ways in which technology solutions can play a critical role to ensure that emission reduction targets set by countries are actually met. WEF highlights that Artificial IoT (AIoT) based solutions can come in handy in all the three main steps associated with the carbon management process i.e., measuring and reporting; abatement; and offsetting. Thus, making the process more effective, efficient, and transparent. With regards to measurement and reporting of carbon footprint, AIoT can enable real-time emission data collection and also help to better collate, structure and convert the data collected into meaningful reports. Similarly, AIoT can use real-time emission data to undertake predictive analytics to simulate emissions over time and make the abatement process intelligent. Last but not the least, in the carbon offsetting segment, technology solutions can prove highly effective with respect to verification issues and trading difficulties, the present Achilles' Heel of the carbon offset market.
Meanwhile, new emerging disruptive technology can also play a fundamental role to help governments and communities deal with natural disasters. Technological solutions can assist in disaster preparedness and planning; in responding to natural disasters; and even in ensuring a better recovery. The white paper titled 'Disruptive Tech for Climate Change Resilience' put forward by the Consumer Technology Association highlights the transformational role that industry 4.0 could play in developing resilient solutions, including through 5G and Internet of Things (IoT); machine learning and artificial intelligence; blockchain; drones; and cloud computing.
These can better equip nations and communities in understanding their vulnerabilities and making an assessment of their recovery needs. Some of the advantages of the above-mentioned technology solutions would result in –
- enhanced data collection that significantly improves the climate data modelling process;
- identification of problems, issues, as well as opportunities that can otherwise go unnoticed by human operators;
- quick deployment of response efforts and communication;
- increased transparency in response and communication;
- better accountability with respect to supply chains and compliance; and
- provision of relief assistance in geographies where human response systems might not deliver.
Thus, besides helping nations to reduce emissions, technological interventions can also completely transform the paradigm of climate change resilience.
India's Tryst with Climate Technology Policy
The National Action Plan for Climate Change (NAPCC) is the main framework at the policy level that conceptualises India's climate change agenda and actions. Released in June 2008, NAPCC is more than a decade old. While it does focus on physical technology development and deployment to improve climate change related outcomes, there is no overt mention of using emerging technology solutions, such as, artificial intelligence (AI), machine learning, internet of things (IoT), 5G, etc., for either climate mitigation or adaptation.
However, in recent times, with the ushering in of Industry 4.0 there have been path-breaking developments in the technology and innovation landscape; and as elucidated in the preceding section, these solutions have gained immense traction to improve climate change outcomes. Hence, it becomes imperative for India to integrate as well as accelerate the deployment of these technology solutions in its fight against climate change.
To its advantage, in the last decade, India has firmly established its position as a global innovator. India's ranking in the Global Innovation Index has jumped from 81 in 2015 to 46 in 2021 and thus, India is among the top 50 most innovative nations of the world. Much to its credit, India also holds the record of being an innovation overachiever relative to its level of economic development continuously for the past 11 years.
Hence, with 2030 being the cut-off year to meet the INDCs, it seems to be an opportune moment for India to start working in mission mode towards a new action plan for climate change that leverages India's global innovator position and harnesses industry 4.0 to develop and utilise technology solutions to further fortify India's climate change actions. The discussions and deliberations alluding to the role of technology interventions with respect to different aspects of climate change at various important international forums will go a long way in informing new aspects of the government's climate change policy.

This article has been co-authored by Sanchita Joshi and Sushruti Tripathi.