LAKADONG TURMERIC FLYOFF EVENT: A TECHNOLOGY SHOWCASE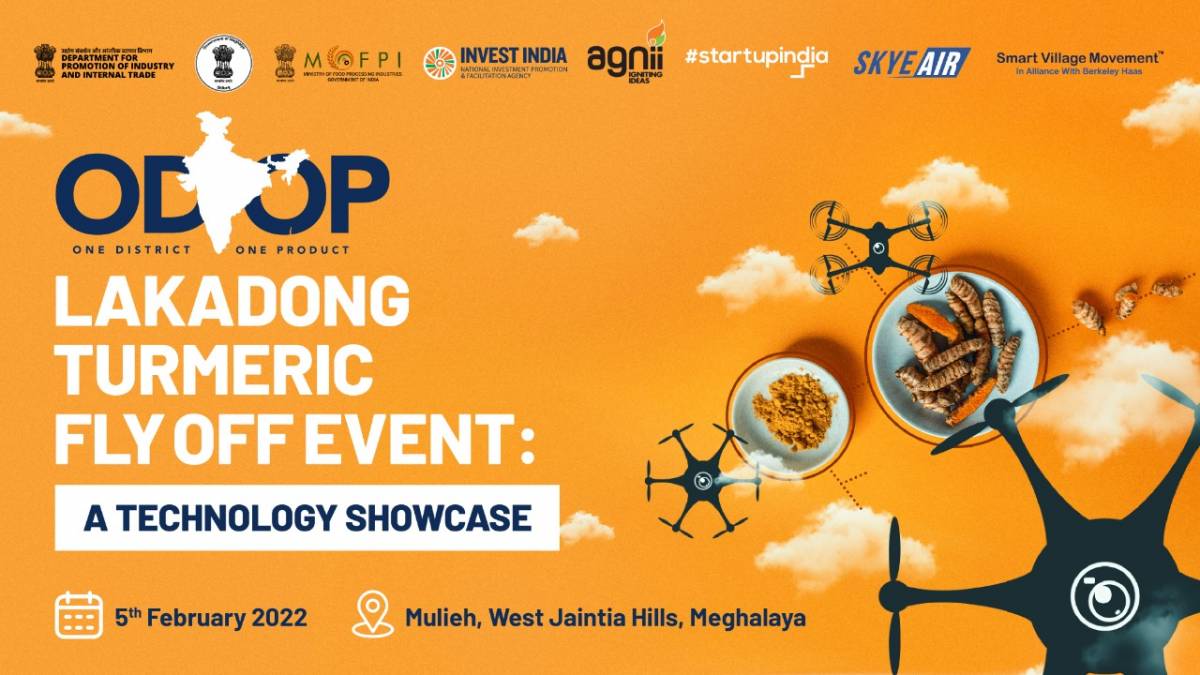 Lakadong Turmeric is native to the West Jaintia Hills in Meghalaya. It is among the world's finest turmeric varieties with a curcumin content of 7-9% and is considered to be a game-changer in the economy of the district. India, which is the largest producer and exporter of turmeric, doubtless has a strong economic interest in ensuring that Lakadong Turmeric can be efficiently transported and distributed to markets domestically and internationally.
However, due to the remote location of the West Jaintia Hills, topography and terrain issues impede the transportation of Lakadong Turmeric and significantly add to the logistical costs associated with the product. The One District One Product (ODOP) initiative identified the potential value of Lakadong Turmeric and worked with the AGNIi Mission to seek out potential technological solutions to mitigate the logistical challenges to marketing the product.
AGNIi facilitated the usage of Unmanned Aerial Vehicles (UAVs) to help in the speedy, cost-effective transportation of Lakadong Turmeric from Meghalaya. This culminated in a flyoff event hosted on February 5th 2022 to demonstrate the usage of drones for turmeric transportation.
Addressing the gathering at the event, Ms. Sumita Dawra, Additional Secretary, DPIIT (Department for Promotion of Industry and Internal Trade) said that this event was a first step towards showcasing the innovative solutions that can propel 1st mile connectivity while ushering in Industrial Revolution 4.0.
Aside from fulfilling the ODOP initiative's mandate, the event also showcased the technological capabilities of Indian innovators to address connectivity and supply chain problems. AGNIi remains committed to leveraging the power of Indian innovation to ensure that India can fulfil its economic potential by transporting unique products such as Lakadong Turmeric far and wide.