Investment Landscape with Artificial Intelligence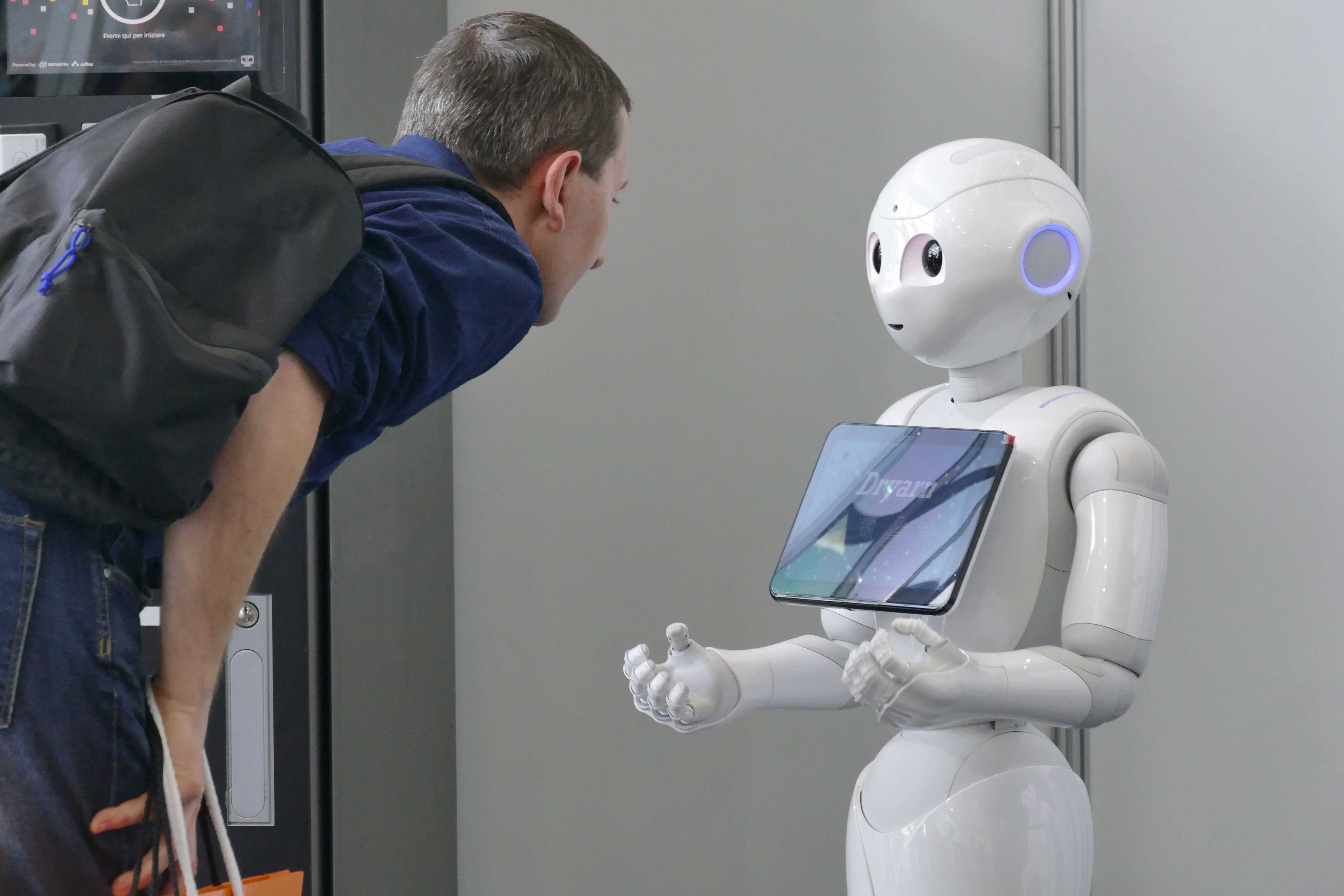 Industry 4.0 has begun disrupting the world, and from now onwards we'll be entering deeper into a realm with little or no similarities with the world of our past. With Alexa at our desks to robots managing huge warehouses, Artificial Intelligence has insinuated personal spaces and business arenas and is almost out of its cocoon to fly in full colours.
Business
Businesses around the world are warming up to AI, and most of the firms that are already implementing AI are focusing on specifically defined task-oriented elements of machine learning. Though there is not any concentrated effort on developing single, multi-purpose artificial intelligence application, multiple AI enabled hardware and software blended for specific cognitive and physical tasks are finding their way into the present AI-enabled technological landscape.
Commercial adoption of AI is slowly yet steadily catching up as the traditional sectors like health care, education, transport, retail, and telecom swim across early and exploratory stages of AI adoption. Global Artificial Intelligence Business Value is expected to reach $3.9 trillion in 2022, according to Gartner. 
Governments
Interestingly, governments around the world are appreciating the value of AI. They get it that there is a need to make sense of the gazillions of unstructured data and to use it for the economic, physical and social well-being of its people. They understand the value of AI in scalability and simplification of national policies. 
Investors
Venture capital and private equity firms are flocking to step up their investment in AI. The buzz over AI has grown loud enough to encourage angel funds and seed incubators to get active in this space. Billions of dollars of investments are pouring into AI companies based on the hope that a market of AI adopters will develop quickly and will be willing to pay for AI infrastructure, platforms, and services, though as of now they are limited to technology space and digital sector.
Investment opportunities are spread across the AI ecosystem. Upstream companies supplying the raw material for core Artificial Intelligence technologies include big data and data analytics firms, providers of processing power used in supercomputers and cloud service providers. The core AI companies consist of those developing the actual AI applications. At this point, a lot of small start-ups are exploring new technologies, with a few bigger companies advertising AI capabilities and products on the market, while many others still experimenting with applications. Downstream companies are waiting to be disrupted with AI and hence demanding a huge investor interest spanning across sectors.
Future of Downstream Sectors with AI
Most encouraging is the fact that governments around the world are wholeheartedly supporting this trickling of AI's power across sectors. 
The government of India's policy thinktank, NITI Aayog, acknowledged in its June 2018 discussion paper titled 'National Strategy for Artificial Intelligence' that "AI is poised to disrupt our world and India, being the fastest-growing economy with the second-largest population in the world, has a significant stake in the AI revolution."
To begin with, NITI Aayog has decided to focus on five sectors viz. healthcare, agriculture, education, smart cities and infrastructure, and smart mobility and transportation, among others. Let's take up a few of these focus sectors in detail.
Smart Cities
According to the Smart Cities Mission India, 100 cities have been selected for smart cities project at an investment of about ₹2.05 lakh crore. Integration of AI in these technology-enabled smart cities will help meet the demands of a rapidly increasing urban population and providing them with enhanced quality of life. These newly developed smart cities have the potential to provide clean, healthy living conditions, reduce congestion, and enhance security and decrease crime through improved crowd management. Uninterrupted access to services including infrastructure services like energy, connectivity, and computing is supposed to be the key mandate.
Some of the global companies offering wide product catalogue spanning several areas of smart city technology include Siemens AG, IBM Corporation and ABB Ltd.  
Healthcare
Healthcare is one sector where AI disruption will have the most impact on the quality of lives of people esp. in developing countries where access to healthcare facilities to all is still a limitation. AI-driven diagnostics to predict disease, identify high-risk patient groups, provide personalized treatment, identify potential pandemics, among others, are to set to revolutionize the medical landscape. Moreover, automating hospital operations, predicting cost more accurately and imaging diagnostics are some of the other potential use cases that will resolve the issues of the medical sector. 
Consider Google's Deepmind health which can evaluate patient data and establish diagnoses. According to Google, this technology will present completely revamped diagnostic procedures in the foreseeable future.
Smart Mobility and Transportation
AI is set to enable us with intelligent transportation systems to prevent congestion and road accidents. Other possible use cases include autonomous fleets for ride sharing, semi-autonomous features such as autonomous trucking, driver assist, and predictive engine monitoring and maintenance. 
Virgin's Hyperloop One and skyTran's engagement in India to build the transport of the future speaks optimistically about India's inclination to resolve the issues of transportation. Hyperloop One plans to set up its low pressure or vacuum tubes, to assist freight and passenger movement through magnetically levitated pod-like vehicles, at a speed of about 1200 kmph.
Manufacturing
The manufacturing industry is expected to be one of the biggest beneficiaries of AI integrations. Improved product design, dynamic supply chain management, quality assurance, forecast production, and in-plant logistics and warehousing are the areas that will be enabled by AI through flexible and adaptable technical systems. The AI enablement is bound to automate processes and machinery to respond to unfamiliar or unexpected situations by making smart decisions.
Agriculture
Agriculture is one of the most important sectors in India. The potential use cases of AI disruption in this sector include crop health monitoring and providing real-time action advisories to farmers, increasing the productivity of farm mechanization and increasing the share of price realization to farmers. 
A few of the Indian startups in agri-tech include SatSure and Fasal. SatSure brings the best practices of satellite image processing, big data capabilities, and IT for agriculture to the table, while Fasal with its AI-based microclimate forecasting algorithm, helps farmers with real-time, actionable information pertinent to day-to-day running of the farm.
The disruption that AI is poised to bring in these sectors is bound to morph the investment landscape. Sooner than later all the stakeholders, be it investors, promoters, IPAs, governments will have to take charge of this change and revamp their processes accordingly.
Visit our sectors page to know more about healthcare in India.