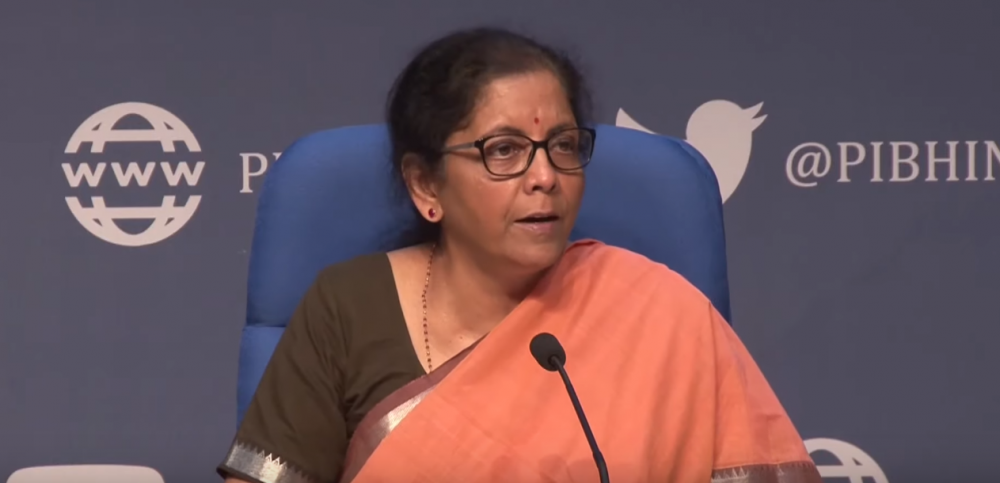 The Finance Minister Nirmala Sitharaman addressed the nation live at 1 PM on Thursday, March 26, 2020. She announced a package that will take care of the welfare concerns of the poor, suffering workers and those in need.

Key Highlights:
Insurance cover for doctors, technicians, paramedics, nurses, Asha workers, policemen, sanitation workers and others involved in combating the virus. Rs. 50 lakh per person as medical insurance.
Announcement of Prime Minister Gareeb Kalyan Scheme worth Rs. 1.7 Lakh Cr.
Benefits:
Food security: PM Gareeb Kalyan Ann Yojana:

80 crore poor people to be benefitted
Each person to get an additional 5 kg each per month of wheat/rice, free for the next three months. Also, shall give one kg of regionally preferred pulse per household. Can be taken in two instalments.

Cash transfers through Direct Benefit Transfers: Cash transfers through Direct Benefit Transfers for the people falling under the following buckets:

Farmers: Under the Farmers Nidhi Yojna, Rs. 2000 as a first instalment in the first week of April. Benefits 8.69 Cr. Farmers.
MNREGA: Wage increased from Rs. 182 to Rs. 202. Additional Rs. 2000 per person.
Poor Pensioners, Poor Widows, Poor Handicapped: One-time amount of additional Rs. 1000 given in 2 instalments over the next 3 months.
Women Jan Dhan account holders: Ex-gratia amount of Rs. 500 per month for the next three month. Benefits 20 Cr. women.
Women and elders under the Ujjwala Scheme: Free cylinders given for next three months. Expected to benefit 8.3 Cr. BPL families.
Women SHGs dealing with livelihood mission: 20 lakh collateral-free loan doubled from the earlier 10 lakh under National Rural Livelihood Mission. Impact on 7 Cr. households through 63 lakh SHGS.

Organized sector workers:

Government of India will pay the EPF contribution both of the employer and employee (12%+12%=24%) for the next three months for all those establishments which have up to 100 employees and 90% of the employees are those earning less than Rs. 15000 per month.
The provident fund scheme (EPFO) regulations will be amended to allow the non-refundable advance of up to 75% of the amount or 3 month wages, whichever is lower.

Construction workers: Utilize the Thirty-one thousand Cr. welfare fund for building and construction under central government scheme crore to provide support to 3.5 crore registered building and construction workers to save them from any economic disruption.
Utilizing the District Mineral Fund: Urge the state governments to use the fund for testing activities, screening activities and other necessary activities for the fight against corona.