Indian Railways Ushering in an era of Modern Railway Stations
Indian Railways has one of the world's biggest and most robust transportation and logistics networks. Indian Railways runs 13,523 passenger trains and 9,146 freight trains daily on its network with passenger trains running at an average speed of 50.6 kmph and freight trains at 24 kmph. There is a total of 7,337 Railway Stations spread across the Indian Sub-continent. With such a massive network, Indian Railways has now set the ball rolling for the modernization and re-development of 199 railway stations across the nation. The goal is to develop self-sustainable railway stations with world-class amenities, high standards of safety, security, comfort, user-friendly passenger facilities, value-added services, and efficiency by adopting premier technological practices, the best financial strategy, and optimum utilization of resources.
To give impetus to this ambitious plan, the Ministry of Railways has recently released the "Amrit Bharat Station" scheme which aims for the development of stations on a continuous basis with a long-term vision. It provides for the preparation of Master Plans of the Railway stations and implementation of the plans in a phased manner to enhance the facilities including as well as beyond the Minimum Essential Amenities (MEA). 
The scheme of station redevelopment is also in synergy with Indian Government's Smart City Mission. Some of the amenities proposed include congestion free non-conflicting entry/exit to the station premises, segregation of arrival/departure of passengers, adequate concourse without overcrowding, integrating multi-modal connectivity, user-friendly international signage, light-up circulating area, sufficient space for drop-off, pick-up, and parking. 
Further, there are plans to create overhead spaces called 'roof plazas' on the stations that will have world-class amenities including premium waiting lounges, cafeterias, food courts, small play area for children, and shops selling & promoting local products (a boost to 'Vocal for Local'). Special attention will be given to cleanliness at all stations and care will be taken for the convenience of the differently abled persons. Stations will be safe and secure with the installation of high-resolution CCTVs and access control systems. Furthermore, these stations will be redeveloped using Green Building Techniques with solar energy, water conservation/recycling mechanisms, and greater tree cover.
This ambitious plan of station redevelopment will open about 20 million Sq. Ft. of real estate, attracting investment of more than INR 50,000 crores. This masterplan of Indian Railways has opened immense investment opportunities as the redevelopment of railway stations is envisioned to be done through leveraging commercial development of land and air space in and around the stations through innovative models. These would include setting up of retail spaces, hypermarkets, or hotels which will further boost the site's real estate, tourism, and investment prospects and consequently channel investments to boost local economies and create immense employment opportunities. 
With this vision, Union Cabinet approved the proposal for the redevelopment of three major railway stations - New Delhi, Ahmedabad, and CSMT Mumbai, on 28th September 2022 with an approximate investment of INR 10,000 crores. Hon'ble Prime Minister has recently laid the foundation stone for the redevelopment of Chhatrapati Shivaji Maharaj Terminus in Mumbai, signalling this project's formal start. 
This spate of modernization started some time back with the modernization of Gandhinagar Capital railway station in Gujarat and Rani Kamlapati railway station in Madhya Pradesh. Presently, re-development work is ongoing at five more stations, including Ayodhya (Uttar Pradesh), Bijwasan (Delhi), Safdarjung (Delhi), Gomtinagar (Uttar Pradesh), and Ajni (Maharashtra). Tendering is under process for Tirupati (Andhra Pradesh), Udhna (Gujarat), and Gaya (Bihar) railway stations. 
Gandhinagar Railway Station: Taking forward the idea of 'Naye Bharat Ke Naye Stations'
This first-of-its-kind project was taken up in partnership with the Govt. of Gujarat and the Ministry of Railways through IRSDC (Indian Railway Stations Development Corporation) by forming a joint venture company named GARUD (Gandhinagar Railway and Urban Development Corporation). With the aim of prioritizing passenger satisfaction, this station is jeweled with amenities that are at par with modern airports. A new five-star hotel, 'The Leela-Gandhinagar' is atop the railway station.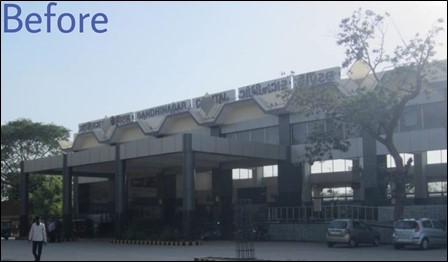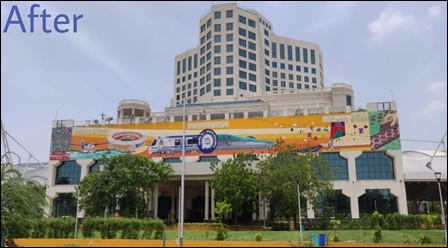 Developed on the 'Engineering, Procurement & Construction (EPC)' model, it is the Indian Railway's first station to have adopted this model for redevelopment. Of its kind column free sleek and economical space frame of a 99-meter (105 m curvilinear) which spans over the platform (the longest such span in Indian Railways consisting of 120 Kg/Sqm steel only) with all weatherproof seamless aluminium sheeting.  Providing subways and large foundations to support the tall building and launching the through-roof trusses were unique engineering challenges that were addressed successfully during the redevelopment. Key learnings from this project will surely guide the execution of upcoming complicated projects in crowded areas of cities.
The redeveloped station has been designed to handle 1,500 passengers in peak hours without the concourse. With the concourse, the capacity will go up to 2,200 passengers in the peak hours. 
Daily changeable theme-based lighting with 32 themes is another key highlight of this station. The idea of using the themed lighting at Gandhinagar Railway Station is to use the station as a big canvas. The station is fully functional and future-ready. Further, there are plans to open retail, food, and entertainment outlets in this area to serve the demands of the passengers as well as the local population. Market players such as Shopper's Stop have also shown interest in opening their mini outlets at the station. After this, the station will function like a 'city centre rail mall' where travel will be one of the several functions that it will serve.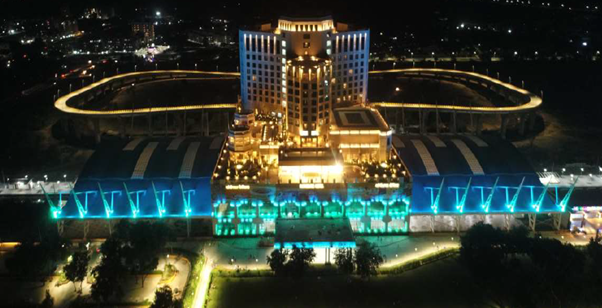 As India steps into Amrit Kaal, these modernized stations would not only provide better amenities and experience to the passengers but would also become 'economic hubs' in line with the vision of the Hon'ble Prime Minister.