Indian Prime Minster Narendra Modi addresses nation, extends lockdown in fight against COVID-19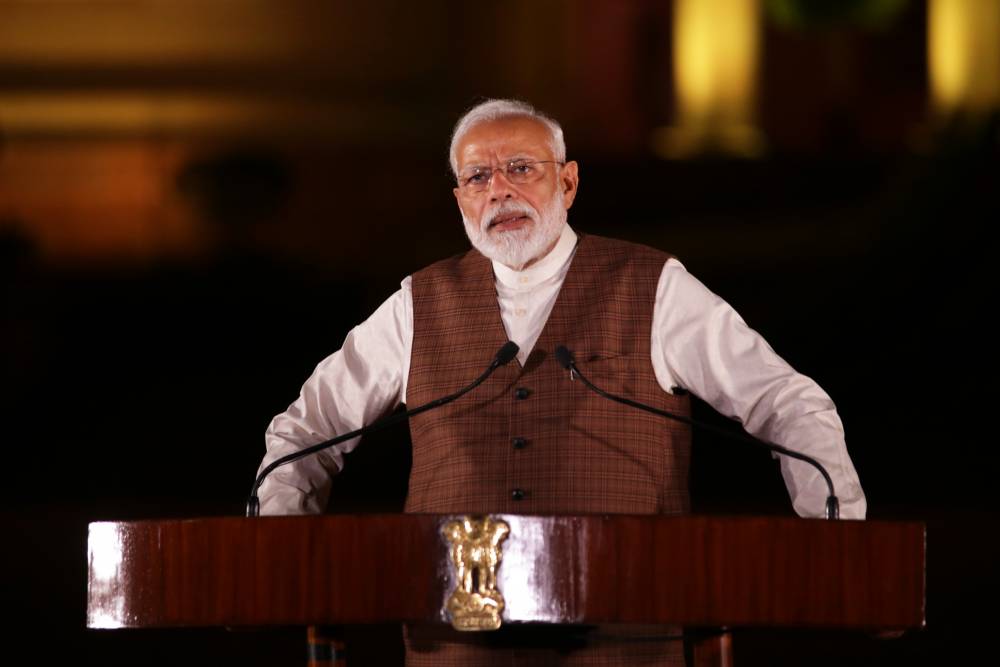 The Indian Prime Minister Narendra Modi announced a 21-day lockdown on March 24, 2020 in order to spread of COVID-19. As the lockdown draws to an end, the PM addressed the nation. 
Here are the key highlights:
-    Appreciated India and its citizens on their efforts and discipline towards this fight against corona during this lockdown period even while many faced problems of food and travel
-    This is a time of festivals for India. India is a land of festivals and comes alive with them. However, it is appreciable the way Indians are following the rules even during these festivities. This is a testament to our will.
-    The state of corona around the world is known to all of us. India has been a front runner in this fight against the pandemic
Even while there wasn't one case, India had started screening at the airport for passengers coming in from outside India.
As we reached 100 cases, India started quarantine for foreign return passengers and had shut all places of social congregation like malls, movie theaters, clubs etc. 
By 500 cases, India had announced a 21-day lockdown.
-    India did not wait for the situation to worsen. The country was quick to respond to the situation. 
-    While it is impossible to compare nations during the pandemic, India has displayed much better statistics than developed countries. Countries standing at par with us 25 days ago, now have 30% more cases. 
-    India took an integrated and timely approach towards this pandemic. The way we approached the pandemic, is the only solution. Social distancing is the only way to fight it.
-    There might be an economic burden, however the life of a citizen is of much more importance.
-    Each state and Union Territory has also been very responsible in this fight.
-    After consideration and consultation with state and UT governments on how to move forward, only one solution has surfaced: increase the lockdown! In fact, some states have already taken this decision.
-    The nation wide lockdown will be extended to May 3, 2020.
-    Each citizen needs to be disciplined and stay under strict lockdown during this time in order to help stop the spread to new places. 
-    Each case of corona is matter of concern. Hotspots will be isolated and need to be careful. The to-be hotspots will be checked regularly and might face stricter regulations.
-    India will face stricter regulations for the next one week.
-    Till April 20, each area will be monitored, and efforts will be regularly tracked.
-    Each area which is able to contain the spread, will be allowed some relaxation from the lockdown from April 20. However, this would come with strict guidelines and conditions. If the area sees an increase in the cases, strict regulations will be reinstated. 
-    Tomorrow, the guidelines on the lockdown will be released 
-    Efforts have been taken in order to ensure support for the poor through Pradhan Mantri Gareeb Kalyan Yojana. Even while making the new guidelines, the poor and needy are kept in mind. This is also the season for cultivation of ravi crops. Keeping this in mind, farmers will also be given support.
-    India has abundance of food and medicines and no citizen needs to worry. Our supply chain is intact.
-    India is continuously working towards improving the health infrastructure. For every 10,000 patients, there is a need for 1500-1600 beds, India has already prepared more than 1L beds. More than 600 hospitals are only working towards COVID-19
-    India has limited resources; however, PM requested India's scientists specially the youth scientist to come forth in this fight against corona by contributing towards development of vaccines.
-    If we are disciplined and patient, we can win this fight against corona.
-    PM requested support from each citizen in  7 ways during this time:
1.    Take care of senior citizens and those with previous illnesses.
2.    Follow the guidelines of lockdown and social distancing use homemade masks.
3.    To increase immunity, follow guidelines by AYUSH ministry.
4.    To stop the spread of corona, use Arogya Setu mobile app and encourage others.
5.    Help the poor and needy in this time.
6.    Have kindness towards employees and do not lay off staff.
7.    Respect the COVID warriors such as health workers, sanitation workers, security etc.