Indian Packaging sector – An outlook of the industry
"In coming years, the Indian packaging industry will see substantial growth. The increasing awareness regarding clean water, safe food, and pharmaceuticals along with adoption of next gen digital technologies will aggressively penetrate and drive the Indian packaging industry" - Thomas Schneider, President of the World Packaging Organisation (WPO).
Globally, the packaging industry sector has positioned itself as one of the fastest growing industry across all countries. The industry is worth over $ 917 billion (in 2019), growing at CAGR 2.8% to reach to $ 1.05 trillion by 2024. Packaging is an emerging science, an emerging engineering discipline, and a successful contributor to major industries such as pharmaceutical, FMCG and electronics. Packaging is the world's third largest industry following the food industry (1st) and energy (2nd) and the only industry that has to do with every single product produced in an economy.
In India's case, packaging is the fifth largest sector in its economy and is one of the highest growth sectors in the country. According to the Packaging Industry Association of India (PIAI), the sector is growing at CAGR 22% to 25%. Over the last few years, packaging industry has been an important sector driving technology and innovation growth in the country and adding value to the various manufacturing sectors including agriculture and FMCG segments. According to the Indian Institute of Packaging (IIP), the packaging consumption in India has increased 200% in the past decade, rising from 4.3 kg per person per annum (pppa) to 8.6 kg pppa as on FY20. Even with this steep rise in the last decade, there is significant headroom for growth in this sector when compared to other developed regions across the globe as seen in the following graph.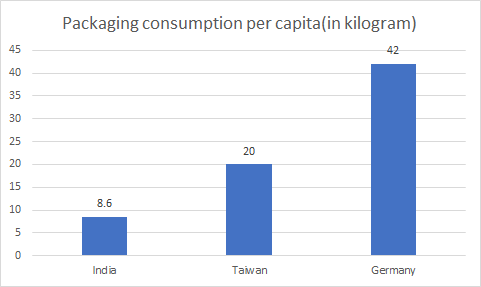 This rise in consumption is driven by key aspects of the rising Indian economy namely, strong favourable demographics, increasing disposable income levels, rising consumer awareness and demand for processed food. The growth of individual end user segments of food, beverages, FMCG and pharmaceuticals will trickle down into rising demand of packaging solutions. The current consumption of packaging materials by end user industries is as follows: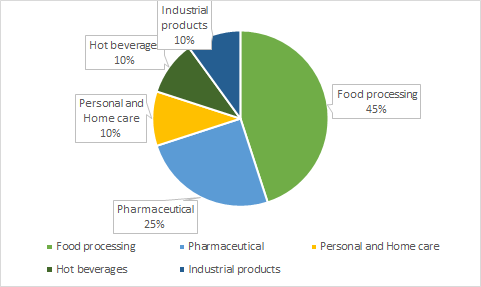 A bright future awaits Indian packaging industry
In the coming decade, India will focus on transitioning this industry towards sustainability and smart solutions. The implementation of single use plastic ban policy along with a focus on recycling and biodegradability will bring about a major transformation in this sector. Currently, Indian packaging industry consumes more polymers compared to the global average. This indicates a major dependence of the industry on upstream feedstock production (ethylene, propylene, styrene, etc). In fact, India currently imports nearly 1.7 MTPA of polyethylene (PE) in addition to utilizing around 73% of its domestic ethylene production towards PE. A major portion of this demand for PE is generated by the Indian packaging sector.
This creates a unique opportunity for India to drive this industry towards sustainability, bio-based/paper-based packaging and in effect reduce the import bill and divert the valuable domestic ethylene production towards import substitution of other crucial chemicals/polymers like methyl ethyl ketone, PVC and ethylene oxide.
The packaging sector has a much wider exposure to other sectors of our economy. The growth of these sectors in the coming decade will have a combined effect to take this sector to new heights. Government of India recognised the potential of this sector and released a slew of policies like the single use plastic ban policy, profit linked tax incentive for food packaging, adoption of National Packaging Initiative, to further incentivise innovation in this sector. As a result, there are numerous champions which have come up to the task and have posted significant profits in the last 5 years. There has also been a rise in material technology research-based startups to create new sustainable packaging materials.
With this growing awareness and governmental push, the research on eco-friendly and sustainable packaging is steadily on the rise in the country. Sustainability has become a key focus area of many of the packaging solutions manufacturers. Globally, Storopack has a new material called rEPS, made from 100% recycled EPS (Expanded Poly Styrene) providing an attractive solution for companies who wish to use environment friendly packages. In India, the corrugated boxes are becoming popular across industries over polymer-based alternatives such as (EPS) foams. Also, the rise of startups like Greendiamz Biotech and Envigreen are tackling different problems across the supply chain of packaging materials to ensure a sustainable and environment friendly growth of this industry in the coming years.
This blog has been authored by Lakshay Garg.