Indian economy's post-pandemic growth
The Indian economy is gradually picking up and is going from strength-to-strength post-pandemic. India is the world's sixth-largest economy, with a Gross Domestic Product (GDP) of $ 3.2 trillion. Piyush Goyal, Commerce and Industry Minister has said that as India is one of the world's fastest-growing economies, "if it keeps on growing around 8 per cent every year, then it will be a $ 30 trillion economy in 30 years". 
As the pandemic restrictions were lifted, the pent-up demand for services and increased production from industries continued to fuel India's economic growth. Several factors played an essential role in this. The increase in service activity and sturdy growth in the core infrastructure industries provided much-needed support for economic growth. The growth-promoting policies and schemes of the Government of India (like self-reliance and production-linked incentives) have increased infrastructure, productivity, and jobs leading to an acceleration in economic growth. Further, increased manufacturing, services exports and technological advancements have also aided growth. There has also been growth in credit uptake in financial year (FY) 2021-22. The availability of personal loans and increased activity in agricultural and industrial sectors are aiding this increase in credit uptake.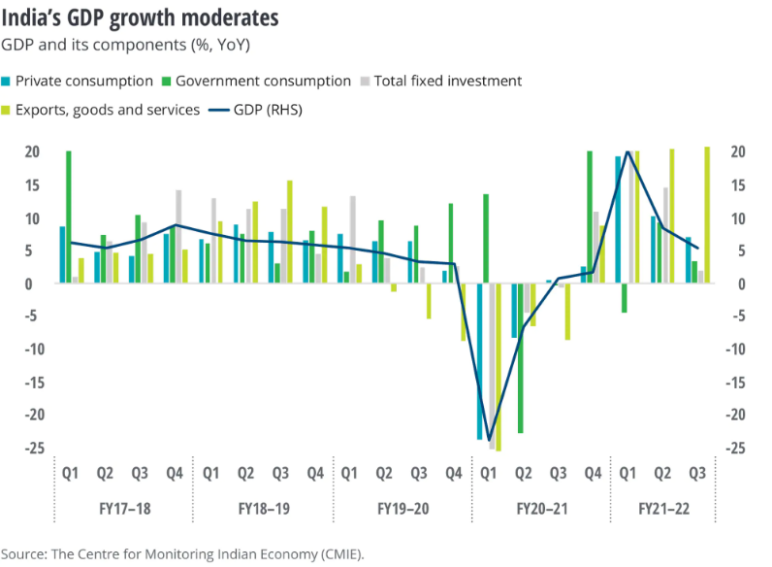 Lending to these sectors increased significantly due to declining gross non-performing asset (GNPA) ratios in the industry sector (down by 7.6 per cent in three years). While the gross non-performing asset (GNPA) ratio remained higher than pre-pandemic levels, credit growth in the services sector remained subdued. Compared to levels in 2018, banks and non-banking financial firms (NBFCs) had improved balance sheets and provisions. When compared to where it was in 2019, loan growth is still far below what is needed for a sustainable increase.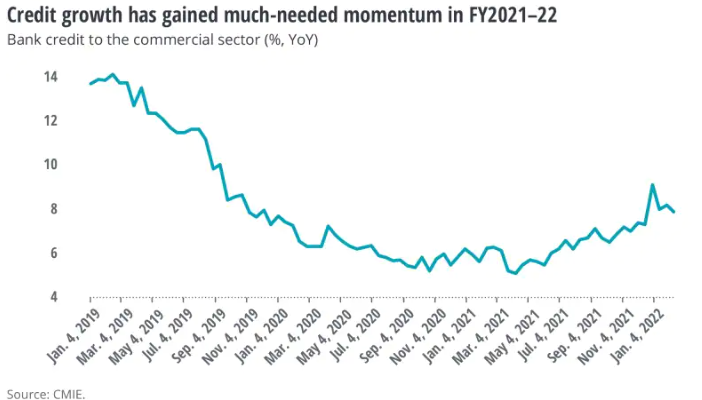 However, other factors are posing a threat to the economy's growth not only in India but also globally. Due to the ongoing Russia-Ukraine crisis, the price of crude oil, gas, food grains and other commodities has increased. The unpredictable weather and hike in Covid-19 cases also act as an obstacle to growth. This forced the central banks to give price stability precedence over growth. 
Despite all this, there has been a modest recovery in a few sectors like the services sector, manufacturing and industries. In an interview, Bimal Jalan, Former Governor of the Reserve Bank of India (RBI), said, "India's current macroeconomic situation is quite positive in the sense that the rate of growth is high. India's foreign exchange reserve is also very high". He added that the Indian economy is in good shape and has recovered well from the impact of a pandemic.
Business and Consumer Activity 
Different surveys, including the Purchasing Manager's surveys, have pointed out that the dominant services sector in India has shown an increase in its activity. On the other hand, growth in the manufacturing sector has continued to remain steady. Despite the initial hiccups, the automobile sector also shows signs of an increase in sales. 
Another indicator of consumer activity is bank credit which witnessed growth. It increased from 11.1 per cent in April 2022 to 12.1 per cent at the end of May 2022. In the case of liquidity in the market, the conditions are favourable, and it continues to be in surplus. 
Industrial Activity 
The two key indicators of industrial activity are growth in factory output and manufacturing or mining. Both these areas showed robust growth in April 2022. 
Compared to the previous year, factory output growth increased by 7.1 per cent that further increased electricity production by two folds. In the case of the manufacturing and mining sector, there was a steady and healthy growth visible. The output growth of eight important infrastructure industries jumped to 8.4 per cent from 4.9 per cent in March 2022. 
Exports 
There has been a small gap in the imports and exports of India. According to official figures, rising commodity prices kept goods imports above $ 60 billion for the third consecutive month. India's main exports include refined petroleum, pharmaceuticals and rice. Overall exports from India combining merchandise and services are estimated to be $ 62.21 billion in May 2022. This shows a positive growth of around 24.03 per cent compared to the previous year.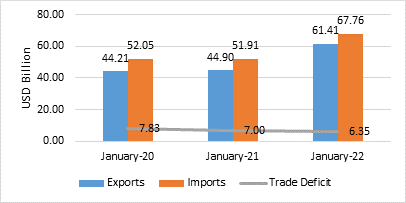 India has showcased itself as a strong economy. It has endured the pandemic and economic uncertainties due to market shutdowns during the lockdown. Thus, it comes out of it as a more resilient economy and continues its broad-based growth. 
This blog has been authored by Bhakti Jain and Ishita Dhar.