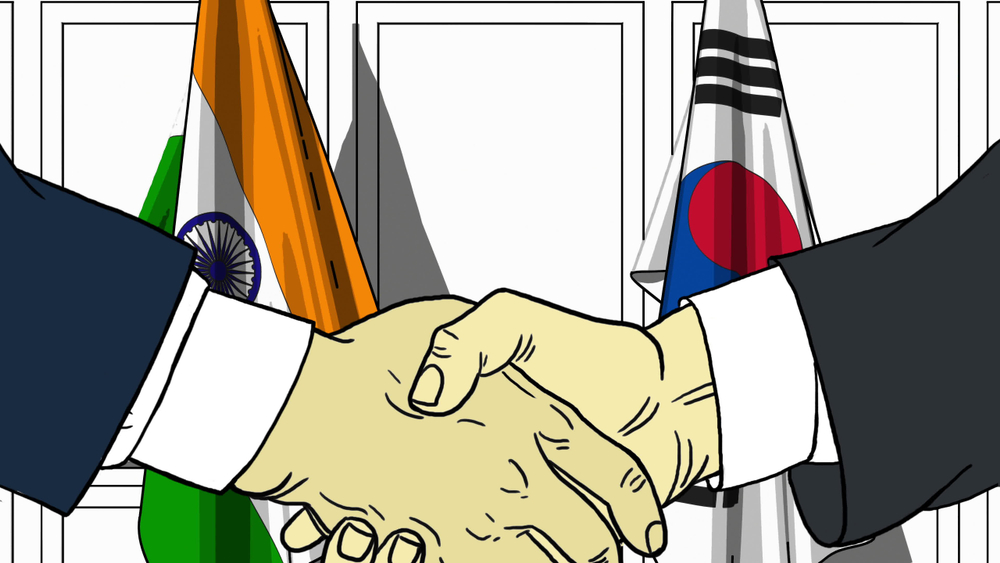 There was once a legendary Korean queen who came from the historic city of Ayodhya in India. Today 500 South Korean companies are spread across the country making Korea one of the most active business partners of India.
India is a key focus area in South Korean President Moon Jae-in's New Southern Policy (NSP) which complements Prime Minister Narendra Modi's emphasis on an Act East Policy (AEP). The South Korean leader came to India for a four-day tour – the longest by a leader of either country – in 2018. During the visit, businesses and entrepreneurs on both sides welcomed the openness between the leaders and their common vision for cooperation and growth. South Korea's technological expertise and capital base found a very attractive match in India's expanding consumer base and lucrative market potential, evident in the six Memorandum of Understanding (MoU) and bilateral agreements signed during the visit.

Popular South Korean brands in India are on expansion mode. Research and Development (R&D) centres of Samsung and LG Electronics in Bengaluru are their latest, outside of Korea, and Hyundai's R&D centre at Hyderabad is one of its five global hubs (others being in Korea, the United States, Germany and China).
Samsung's spruced up factory in Noida is supposed to be the largest mobile phone manufacturing unit anywhere in the world. Others, including LG are looking to create export hubs in India, and Hyundai Motors has declared that it aims to further its manufacturing capability spending nearly INR 7,000 crore (around $1 bn).
Many South Korean brands have become so ubiquitous in India that by some estimates around 150 million Indians use a Samsung product every day, from a Samsung mobile phone, a Hyundai vehicle or an LG home device.
Other, newer, companies from South Korea have also been making a mark in India. The Lotte Group, a beverages-to-construction conglomerate, has lined up approximately $3 - 5 bn in potential India investment in the next five years. Kia Motors has made a splash with their Seltos car which has had around 50,000 bookings. The company plans to invest around $2 bn in building a factory in Andhra Pradesh.
To propel this relationship and ease business issues, the Indian government has set up a Korea Plus initiative under Invest India which has facilitated numerous business queries. On its part, the South Korean government has established a New Trade Order Strategy Office and decided to form a Korea-India Future Strategy Group and the India-Korea Centre for Research and Innovation Cooperation. The Korea Trade Investment Promotion Agency is also spreading its work in India.
As the two countries come closer, it is pertinent to reflect on poet and Nobel laureate Rabindranath Tagore's evocative poem Lamp of the East which revolves around Korea's promising bright future: "In the golden age of Asia Korea was one of its lamp bearers, and that lamp is waiting to be lit once again for the illumination of the East". India and Korea seem set to light that lamp together.