Highlights of the Indian Prime Minister Narendra Modi's second national address on Covid-19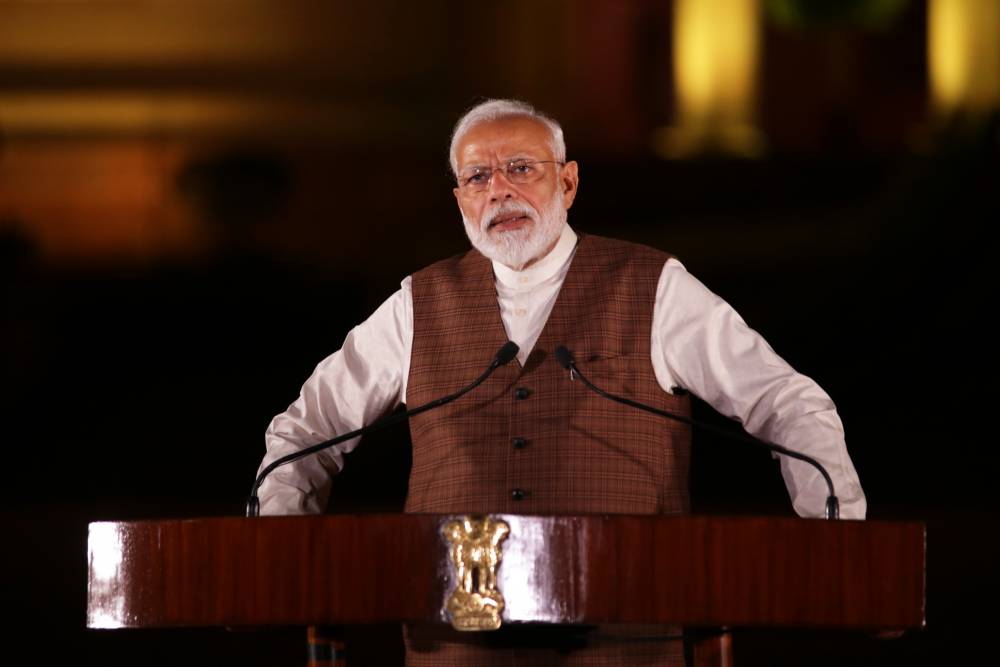 The following are the highlights of Prime Minister Narendra Modi's second live broadcast announcing a 21-day lockdown across India to fight Covid-19 (Coronavirus) on March 24, 2020. His first address was on March 20, 2020.  
Prime Minister Modi said: 
·       'Janta Curfew' (March 22nd) – all citizens, small, big, poor, middle- and upper-class came together to make the Janata Curfew successful.
·       It shows when the nation is under threat citizens unite to fight together.
·       Even empowered nations are being rendered helpless. Coronavirus is spreading so quickly that despite all efforts they are not being successful.
·       Experts are saying social distancing is the only option to combat coronavirus.
·       Social distancing is for everyone, not just sick people.
·       It is impossible to fathom the cost that India may have to pay for irresponsible behavior.
·       In the last 2 days many parts of the country have been lockdown.
·       From midnight today, the entire nation is going into lockdown.
·       Total ban on leaving homes.
·       More stringent than Janata Curfew.
·       The lockdown will entail an economic cost; however, it is the responsibility of the Prime Minister and Government to ensure the safety of its citizens.
·       People must stay wherever they are in the country.
·       Lockdown will be 21 days.
·       A minimum of 21 days is needed to break the cycle of infection.
·       If this (lockdown) doesn't happen, your country and family will be set back by 21 years.
·       Stay at home.
·       Many people who are infected don't show symptoms initially. Experts have said that it takes many days sometimes for symptoms to show.
·       Therefore, it is important to stay home.
·       People at home are explaining this over social media.
·       Koi Road Par Na Nikalana (no one should come out on the road)
·       World Health Organisation report says that one person infected by this virus can infect a 100 people over a couple days.
·       It took 67 days for the number of cases worldwide to reach 1 lakh (one hundred thousand).
·       Then it took 11 days for another lakh.
·       Then it took 4 days to reach another lakh.
·       From this one can estimate the speed at which the coronavirus is spreading.
·       When it started to spread in other countries the situation became uncontrollable.
·       Remember, the healthcare services in Italy and the US are deemed very good.
·       The ray of hope comes from those countries which have been able to control the coronavirus. This can be seen in countries where countries have remained at home.
·       There is only one way forward – ghar se bahar nahi nikalna hai (do not leave your house).
·       It is time to strengthen our resolve again and again.
·       Where there is life there is hope.
·       This is the time for patience and discipline.
·       As long as there is a lockdown in the country we have to stand by our resolve and promise.
·       While at home, think and pray for those who are putting their lives at risk and working on the front line – doctors, nurses, paramedics, pathologists, ambulance drivers, sanitation workers.
·       Think also about the media persons who are working 24/7 to provide news and updates. And about the police who are out there ensuring order.
·       Government is taking steps to ensure the supply of essential items. This will be continued.
·       Central government, state governments, non-profits and civil society are working to reduce difficulties for the poor.
·       Government is making efforts to provide what is needed to live life and also to protect life.
·       Government has allocated 15,000 crore rupees for strengthening healthcare infrastructure.  
·       Along with this training of medical and healthcare staff will also be done.
·       Urging state governments to make sure the first priority for all states is healthcare.
·       The private sector is also working shoulder to shoulder with the citizens of the country - from private labs to private hospitals.
·       Remember to be cautious and avoid rumours.
·       Appeal to not take medications without doctor's prescription or indication.
·       I am confident that all Indians will not only successfully tackle the challenge but also emerge victorious.
·       Take care of yourself and take care of your near and dear ones.