Green Revolution 2.0: Sustainability in the Indian Economy
The age-old economic questions regarding the distribution of the available resources always looms over us. With the continued advancement of the world, the demand for resources will invariably grow. While resources are finite, human wants are infinite. Here arises the problem of resource distribution. Should you use your production capacity to produce capital goods or consumer goods, for final consumption? Economic growth is a direct reflection of how these resources are efficiently utilised. The long-term solution is structured management of local resources through a sustainable approach. 
The concept of sustainability extends across economic, environmental and social development. Implementing sustainability across sectors means judiciously planning according to the available resources, keeping in mind green practices and monitoring their progress. A holistic approach towards sustainability directs us towards practices that enhance the quality of life, access to natural resources without degrading their condition and upholding the notion of mindfulness. It includes environmental ecosystems and the way in which they interact with artificial systems including societal behaviours. In short, to fulfil our own needs without compromising the needs of the future generation is the core notion of sustainability. 
With advancements in how we conduct our lives, including the updating technology, human demands have grown unprecedentedly. Integrating that with the global population growth, we find natural resources shrinking to accommodate our wants. A catastrophic drawback of this is climate change. Rapid melting of polar ice caps, unforeseen weather patterns, loss of ecosystems, and increased global temperatures inevitably affect human habitation. The long-term solution to climate change is to ensure that resources are used in a planned manner with the principles of sustainability consolidated in its implementation. Championing human development goals alongside the protection of natural systems and resources is called sustainable development. This was recognised in the Brundtland Report of the World Commission on Environment and Development (WCED), published in the year 1987. 
The path to sustainable development was adopted via the 2030 Agenda for Sustainable Development Goals (SDGs) by the United Nations Organisation, which is a list of seventeen goals that are designed for the member states to achieve sustainable development across fields. India has welcomed the adoption of this agenda with open arms. NITI Aayog, the think tank of the Indian government, has been entrusted with the responsibility to coordinate the targets of these comprehensive goals.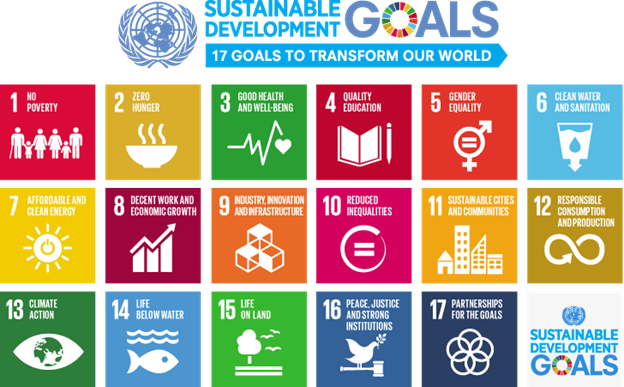 India is approaching the pathway to achieving these targets by mapping the schemes and monitoring them across the identified verticals. These include centrally sponsored schemes as well as state-sponsored schemes. It is only through the collective efforts of states that India can achieve these targets as a whole. State governments and their efforts remain crucial to advancing sustainable development as they have the framework to implement these at the grassroots level. SDGs also bring in the factor of inclusivity. For the process of development to be sustainable we must unite and include the diversity of Indian society. Initiatives like Satat Bharat – Sanatan Bharat (Sustainable India), Swacch Bharat Mission (Clean India), Sashakt Bharat – Sabal Bharat (Empowered and Resilient India), Ayushmaan Bharat (Universal Health Coverage) and Samagra Bharat – Saksham Bharat (Inclusive and Entrepreneurial India) are the steppingstones for the execution of the broader sustainability agenda. These initiatives are reflective of reforms in economic empowerment, climate action, infrastructure development, renewable energy, hygiene and healthcare. 
Identifying, planning, and implementing the SDGs needs to be followed up with its monitoring in terms of progress. One such indicator that presents a fair evaluation of the targets achieved is the SDG India Index and Dashboard developed by NITI Aayog. The Index showed significant improvement with a score of 66 in 2020-21 from 60 in 2019-20 and 57 in 2018-19. Under this, it was observed that India's forest area grew tremendously over the last decade and is ranked third based on average annual net gain.
This contributed to the increase of India's dense forest cover, which grew by 3% between 2011 and 2021. The index also takes policy changes into account, thereby presenting a monitoring mechanism that assesses both qualitative and quantitative aspects. The Plastic Waste Management Amendment Rules, 2021 calls for discontinuing single-use plastics is a noted policy initiative. With a definite plan of action that is in execution, India is well on track to becoming a green economy.
Sustainability as a practice should extend beyond the sole efforts of the government. In a country like India, with a diverse set of stakeholders at play - it is important for individual stakeholders to contribute their share towards the achievement of SDGs. The private sector has also picked up on this revolution and is facilitating sustainability in practice. Good corporate governance that is transparent towards the organization's norms and efforts for sustainable development is a growing action.
Going green also requires heavy investment, thereby financial instruments such as green bonds that specifically invest in green infrastructure are taking the market by storm. Private investment in ventures that are creating sustainable impact is another means through which companies are taking part in the sustainability haul. As India integrates and provides continues to bring out compliances in the form of Economic, Social and Governance (ESG) Reporting, as well as the formulation of Business Responsibility and Sustainability Report by companies, we can be certain that businesses will be transparent towards their practices. On a larger scale of impact, the implementation will also require the said businesses to practice the same sustainable development framework as an internal measure. With thorough participation, the Indian economy can be a leader in sustainable development. 
 
This is co-authored by Kamiya Arya and Karthik Vadapalli.