FDI in FinTech
The global FinTech industry has been witnessing unprecedented growth in recent years, and India is no exception. With its vast population and increasing digital adoption, India has emerged as a hotbed for FinTech innovation.
In India, the FinTech industry has recently experienced remarkable growth. The integration of new technologies and the digitization of society have created a favourable environment for international investment in the FinTech sector. This blog discusses foreign direct investment (FDI) in India's FinTech sector, its effects, current fundings in this sector, and the regulatory environment that oversees it. 
India is emerging as one of the fastest-growing FinTech marketplaces globally. With over 2,000 FinTech businesses officially recognized by DPIIT  (Department for Promotion of Industry and Internal Trade), the Indian FinTech sector is experiencing exponential growth. Projections indicate that the total addressable market for the Indian FinTech industry is set to reach $ 1.3 trillion by 2025. Furthermore, by 2030, it is expected that assets under management will amount to $ 1 trillion, while revenue is predicted to reach $ 200 billion.  The Indian FinTech landscape is undoubtedly poised for significant expansion in the coming years.
Industry trends: Current state of FinTech
The Indian government has actively promoted FDI in the FinTech sector through a number of programmes and initiatives, including the Make in India campaign, the Digital India campaign, and the Start-up India initiative. The Indian government's liberalisation of FDI regulations has made the FinTech business more appealing to overseas investors.
FinTech companies, ranging from digital payment providers to online lending platforms, have disrupted traditional financial services, offering convenience, accessibility, and personalized solutions. The adoption of digital payment systems, mobile wallets, and peer-to-peer lending platforms has soared, reflecting the increasing trust and acceptance of FinTech services among Indian consumers.
The Indian FinTech market is expected to reach $ 150 billion by 2025. The value of FinTech transactions is anticipated to rise from $ 66 billion in 2019 to $ 100 trillion in transaction volume and $ 50 billion in terms of revenue by 2030.
India, one of the world's marketplaces for FinTech that is expanding the quickest, has one of the greatest adoption rates (87 per cent), which is far higher than the worldwide average of 64 per cent. Additionally, it is anticipated that the market for digital payments will surpass $1 trillion by 2023. By 2026, India's digital payments will be worth $10 trillion, up from today's $ 3 trillion.
FinTech funding
Findings from a PwC report  suggest that Indian start-ups experienced a record-breaking CY21, raising almost $ 35 billion, a three-fold increase over CY20, mostly driven by FinTech, EdTech, and software as a service (SaaS).
There were 959 unicorns in the world, 44 of which were deca-corns, and the FinTech industry had the most presence.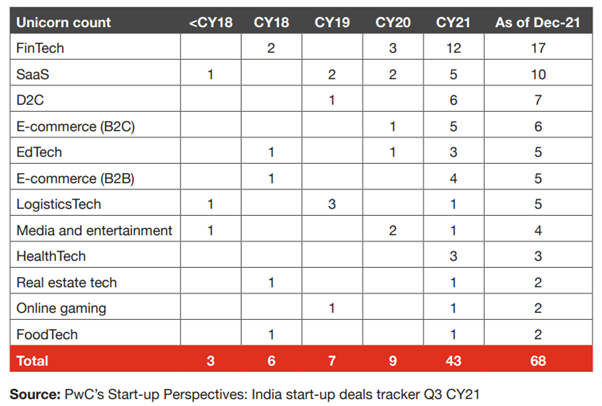 FinTech raised roughly four times as much money in CY21 as it did in CY20. The top three businesses, Pine Labs, OfBusiness, and CRED, raised $ 2.3 billion in total, and 12 FinTech startups achieved unicorn status.
The first quarter of 2023 saw investments in the nation's FinTech firms totalling $1.2 billion, a 55 per cent decrease from the $ 2.6 billion raised in the first quarter of 2022. But when compared to the $ 523 million raised in the fourth quarter of 2022, a sharp increase of 126 per cent can be seen. 
In the first three months of 2023, there were six $100 million fundraising rounds in the FinTech sector. During this time, businesses like PhonePe, Mintify, Insurance Dekho, and KreditBee raised more than $100 million in funding.
India is the second-highest financed territory in the FinTech sector after the United States in Q1 2023, according to Tracxn's Geo Quarterly FinTech India Report - Q1 2023. It also ranks among the top five geographies in terms of overall financing activities. Despite an increase in funding over the past few quarters, the funding is still on a downward trend when compared to prior years. 
In the first three months of 2023, the industry saw late-stage investments total $977 million, up 325 per cent from Q4 2022 but down 44 per cent from Q1 2022. Early-stage financing fell by 30 per cent and 76 per cent from Q4 2022 and Q1 2022, respectively, during the period to $177 million. This quarter saw $30.2 million in seed-stage funding, which is down 21 per cent and 74 per cent from Q4 2022 and Q1 2022, respectively.
Y Combinator, Sequoia Capital, and AngelList are the most prevalent investors in India's FinTech industry. In the first quarter of 2023, the biggest investors were Y Combinator, LetsVenture, and Premji Invest. The three leading seed-stage investors were Y Combinator, 100X.VC, and LetsVenture. The top early-stage investors were Xceedance, Telama Family Office, and CourtsideVC, while the top late-stage investors were Premji Invest, General Atlantic, and TVS Capital Funds.
The study states that in terms of IPOs and unicorns, it was a quiet quarter. In the first quarter of 2023, no FinTech businesses went public, and there were no new members of the Unicorn club. Acquisitions, however, saw a modest increase. In Q1 2023, there were 11 acquisitions in the sector, compared to 6 in Q4 2022. 
India continues to be an attractive market for FinTech investors. Bengaluru takes the top spot among Indian cities for FinTech businesses, garnering $796 million in the first quarter of 2023. Mumbai and Gurugram raised $222 million and $151 million, respectively, in the following quarter.
Impact of FDI in the FinTech Space in India 
The Indian economy has been significantly impacted by FDI in the FinTech sector. It has accelerated economic growth, increased acceptance of new technology, and produced new job possibilities. Through the provision of access to financial services in isolated areas, FDI in the FinTech sector has additionally assisted in closing the gap between the urban and rural population.
By providing the unbanked people access to banking and financial services, the FinTech industry in India has also contributed to bettering financial inclusion. More than 190 million Indians lack access to formal financial services, according to a World Bank analysis . Through their mobile applications and online platforms, Indian FinTech companies have been successful in offering banking services to this population.
Regulations for FDI in India's FinTech Sector
The Foreign Exchange Management Act (FEMA) and Reserve Bank of India (RBI) rules control FDI in the FinTech sector in India. For FinTech businesses operating in India, the RBI has released guidelines that cover rules for electronic payments, know-your-customer requirements, and data localization.
Additionally, the RBI has established a regulatory sandbox for FinTech businesses to test their goods and services in a supervised setting. The regulatory sandbox enables FinTech businesses to test their goods and services without worrying about complying with regulations.
Conclusion
FDI has played a crucial role in propelling the growth of India's FinTech sector. With a supportive regulatory environment and increasing digital adoption, India has become an attractive destination for international investors seeking opportunities in FinTech innovation. FDI has not only accelerated economic growth but has also bridged gaps in access to financial services between urban and rural populations. The record-breaking funding raised by Indian FinTech start-ups showcases the industry's potential and the confidence of investors. As India continues to embrace digital payments and FinTech services, the sector's trajectory points towards sustained success and transformative impact on financial inclusion.