Explaining India's 'Janta Curfew' to fight Covid-19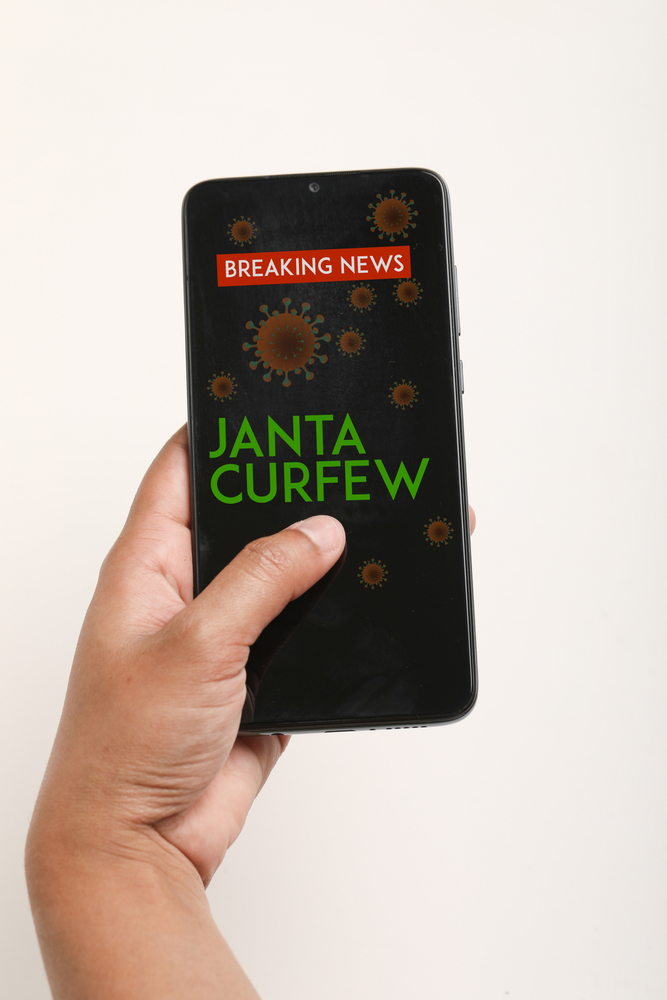 The word 'pandemic' is used to describe a virus that is spreading in various countries faster than containment can halt it. 
The WHO Director-General declared the COVID-19 outbreak as a pandemic on March 11, 2020. His comments came in at a time when European countries, especially Italy, witnessed a huge surge in COVID-19 cases, with a steep rise in the number of deaths as well. Following this, the Italian Prime Minister implemented a nationwide lockdown for Italy's 60 million residents; France and Spain followed suit and announced lockdowns for their citizens. 
To be certain, the word 'lockdown' is not a technical term and can be used by public-health officials to mean anything from mandatory geographic quarantines to non-mandatory recommendations to stay at home and bans on events and gatherings. In the context of the current situation surrounding the coronavirus, it is being used in reference to governments asking citizens to stay indoors in self-isolation. 
As such, it is deemed that the most ethical and reasonable course of action is social distancing and self-isolation as much as possible. The purpose of lockdowns, and indeed social distancing, is to suppress the reproduction number (R0) or the average number of secondary cases, each case generates, to below one. 
An alternative method to coronavirus has been seen in South Korea where authorities implemented a very aggressive and expansive testing program; testing anyone who had been in contact with a confirmed case, tracing those who are potentially exposed by way of credit card activity, surveillance camera footage, and mobile phone tracking. 
This practice of aggressive testing, however, is not hindered by the geography of a region and therefore the most practical and that is perhaps why an effective method to slow the spread of coronavirus for India is to impose some form of a lockdown- as recently announced by the Indian government.  
India has so far succeeded in keeping the spread reasonably contained. Compared to other countries, and despite our large size, the incidence is low, and the number of deaths is relatively lower than those seen across Europe, for instance. We have the benefit of knowing what worked in other countries and what mistakes worsened the situation there.
As a result, the Indian response to coronavirus is a calibrated approach factoring in our unique epidemiological, demographic, socio-economic and cultural context. The government has taken many measures to prevent the entry and spread of the virus in India with gradual restrictions on travel, visa and strict screening at airports and ports. We have strengthened our laboratory mechanisms and governments, both at the state and central levels, have deployed huge resources in terms of deploying skilled manpower, infrastructure and quarantine facilities across the country.  
Highlighting the country's preparedness against the outbreak, Prime Minister Narendra Modi delivered a video message to fellow countrymen on 19th March and announced that a "Janata Curfew" will be in place across the country from 7 am- 9 pm on Sunday, 22nd March, in order to stall the community spread of coronavirus and urged citizens to voluntarily participate and stay indoors for the entire day.   
"There is a need to follow two important things to fight this pandemic — Sankalp (resolve) and Sanyam (restraint)," he said in a televised address on Thursday. 
Coming at a time of growing panic among the public, the PM's speech was not only reassuring but also measured and sought to boost public morale in a way that each Indian becomes an active part in the nation's fight against the COVID-19 pandemic. 
The Prime Minister's address gave the people twin mantras of resolve and restraint to implement and ensure that the country is secured, lives are saved, and the economy is protected. People are pledging their participation; social media is abuzz and new steps are being taken on social distancing by states. 
The PM's appeal for Janata Curfew will birth a three-fold impact: 
It will demonstrate that our entire nation can voluntarily rise to avert a calamity bearing testimony to our collective determination, will power and discipline 
Even a single day of universal social distancing will be a blow to the transmission chain of the virus
It will prepare us for the next steps in case we experience a full-blown stage III scenario
Steps taken to promote Social Distancing in India: 
Railway concessions suspended to discourage travel. 
Work from home, alternate day attendance and staggered timings for Government employees. 
States to regulate working hours, except for essential services. 
States to explore staggered timings for industry, measures to check crowds. 
Schools, gyms etc must be closed, no sporting events or religious gatherings.  
The PM's key proposals against COVID-19 outbreak: 
Covid-19 Economic task force to be headed by the Finance Minister. It will take measures to boost the economy and ensure decisions are implemented.  
Don't cut wages of those working for you
Children under 10 years and those aged over 60 years should stay home
Avoid panic buying, India has enough supplies
At 5 pm on Sunday express gratitude to those working around the clock
Avoid routine health check-ups at hospitals and postpone elective surgery
Stay away from rumours