Digitalisation of Agriculture in India
The digitalisation of agriculture describes integrating cutting-edge digital technology into the farm production system, including artificial intelligence (AI), robotics, uncrewed aviation systems, sensors, and communication networks. Production of all food grains in India was predicted to be 275 million tonnes (MT) in 2017–18. India is the world's top producer of pulses (25 per cent of total output), consumer of pulses (27 per cent of total consumption), and importer of pulses (14 per cent). According to the Food and Agriculture Organization (FAO), this makes India the world's second-largest food producer.
India is the world's top producer of pulses, paddy, wheat, and wheat, respectively. The National Agricultural Research System (NARS), which includes the Indian Council of Agricultural Research (ICAR) institutes and State Agricultural Universities, is one of the largest agricultural research systems in the world. Agriculture in India employs over 42 per cent of the labour force (2019), contributes 19.9 per cent of the Gross Domestic Product (GDP) (2020-21), and provides food security for about 1.3 billion people. Hence, technology and the digitalisation of agriculture here play a role of a catalyst to improve and increase production.
According to the NITI Ayog research on artificial intelligence, agriculture must expand at a rate of 4 per cent or higher right now to maintain an annual growth rate of 8–10 per cent. Digitisation is crucial for achieving this level of success. The NITI Aayog predicted in a report that by 2025, AI in agriculture would be worth $ 2.6 Bn and rise at a pace of 22.5 per cent Compound Annual Growth Rate (CAGR). AI currently helps farmers increase yield by assisting them in choosing better crops, hybrid seeds, and resource-efficient farming techniques. It is also utilised to improve farming productivity and accuracy to assist farmers in creating seasonal forecasting models.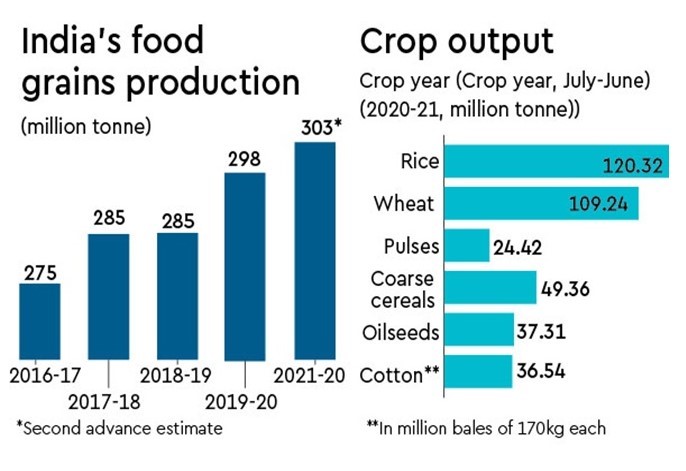 Digital Agriculture Initiatives in India
The Digital Agriculture Mission 2021–2025 was launched in September 2021 by Narendra Singh Tomar, Union Minister of Agriculture and Farmers Welfare. Five Memorandum of Understandings (MoUs) were signed to advance digital agriculture through pilot projects with Cisco, Ninjacart, Jio Platforms Limited, ITC Limited, and National Commodity and Derivatives Exchange (NCDEX) e-markets Limited (NeML). The Digital Agriculture Mission 2021–2025 aims to encourage and speed up projects based on cutting-edge technologies, including AI, blockchain, remote sensing, robots, and drones. 
Over 1,000 agri-tech start-ups are based in India, and various venture capital funds, loan funds, and angel investors have long supported the sector. These start-ups have innovative ideas that assist farmers in improving farming techniques and produce. 
To provide farmers with real-time data and the necessary advice, NITI Aayog has teamed up with International Business Machines (IBM) to create a crop production forecast model supported by AI. It aids in enhancing crop output, soil quality, agricultural input control, and early disease outbreak warning.
In August 2019, Cisco created an Agricultural Digital Infrastructure (ADI) solution to improve farming and knowledge exchange. This played an essential role in the data pool that the Department of Agriculture developed under the National Agri Stack.
The Jio Agri (Jio Krishi) platform was introduced in February 2020, and it digitalised the agricultural ecosystem along the entire value chain to empower farmers. The platform's primary function leverages data from standalone applications to offer counsel. Its advanced features use data from various sources, input it into AI algorithms, and then deliver precise, individualised advice.
India is gradually embracing climate-smart farming methods, which will assist in altering the country's ecology and cutting greenhouse gas emissions from agricultural activities. For instance, the farmers in Gujarat's Dhundi village have begun employing solar electricity and other sustainable energy sources for irrigation.
Microsoft and the Indian government have teamed up to support India's small-holder farmers by running a pilot programme called 'Unified Farmer Services Interface'. The alliance aims to boost farmers' incomes through improved price management and increased agricultural yield using AI sensors. The collaboration would accelerate the use of AI in farming.
Six institutions are a part of the government's Sensor-based Smart Agriculture (SENSAGRI) programme. Drones would be utilised in this concept to scout over land areas efficiently, acquire priceless information, and instantly communicate the data to farmers.
India is also helping the farmers by providing agricultural loans that will help increase natural farming practices and significantly modernise agriculture, emphasising agri-waste management. In addition, 11 crore farmers have received $ 26.4 Bn through the Pradhan Mantri (PM) Kisan Samman Nidhi initiative. Additionally, the market for organic products has grown to $ 1.5 Bn. The government is also encouraging AI to revolutionise agricultural and farming trends and giving financial support to agri-tech firms.
India is continually working to develop and implement regulations that would improve the sustainability of its agricultural industry. Partnerships between corporations and the government can aid in developing a smart agriculture industry, given India's dynamic corporate structure.
To reach goals like doubling farmer incomes and sustainable growth, the Indian government is undertaking these initiatives and programmes. The widespread adoption of digital agriculture in India would therefore require a multi-stakeholder strategy in which the government plays a significant enabler's role in the ecosystem.
This has been co-authored by Bhakti Jain and Ishita Dhar.