India has always been at the center stage of some of the greatest innovations in history – Aryabhatta – inventor of the digit '0', Sage Sushruta – father of modern surgery, Sage Caraka – father of Ayurveda, Sage Brahmagupta, S. Chandrashekhar, and Ramanujan – both Nobel Laureates and countless other scientific researchers. More recently, India sent its indigenously built Mars orbiter, at 1/10th of the cost of NASA's Maven explorer, in its first attempt, is a reflection of India's supremacy over leadership, technology, and efficiency. India's recent developments in IT and Digital space have placed the country at the fourth position in 'Break Out Economies', Digital Evolution Scorecard, and home to the world's third largest start-up ecosystem. Thirty per cent of Fortune 500 companies are led by CEOs of Indian heritage. Today, India is developing 60 per cent of the world's vaccines and is the second most attractive manufacturing hub globally. India has also improved its position in GII Index and is currently at the forty-sixth position. It is also placed third globally in the number of scientific publications as per the National Science Foundation (NSF) database.
Despite being the 7th largest in terms of PPP spending, India disappears in the top 15 Research and Development (R&D) spenders as a percentage of GDP at only 0.7 per cent (Figure 2). Moreover, the share of R&D spending of the business sector is only 37.2 per cent while the rest is funded through public expenditure. What seems to be missing is an innovation ecosystem that encourages private R&D.
Figure 1: Top 15 R&D Spenders as per total PPP$ spending (in $ billions)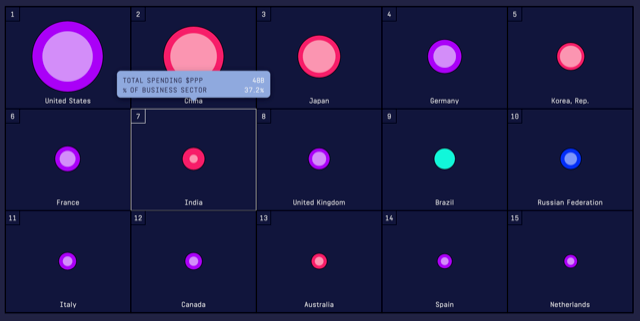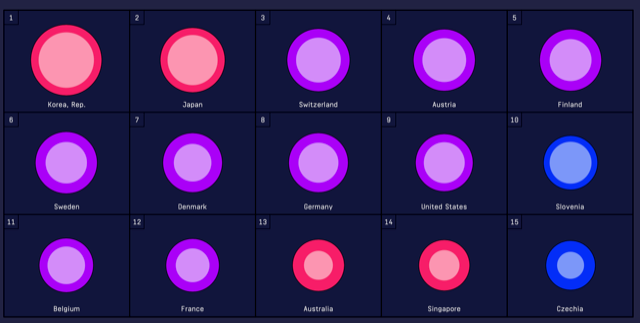 Budget 2022-23 is a step forward in creating and sustaining an innovation ecosystem in India by providing and promoting access to early-stage funding through venture capital and private equity, quality infrastructure, access to credit, simplified regulatory frameworks, skill enhancement opportunities, industry readiness, and effective knowledge economy. With this Budget, the government has displayed its determination to work hand-in-hand with the private sector, keeping sunrise opportunities as one of the four pillars of the Budget.
To encourage important sunrise sectors such as artificial intelligence, climate action, deep-tech, digital economy, pharma, and agri-tech, the government has decided to promote thematic funds for blended finance with the government share being limited to 20 per cent and the funds being managed by private fund managers.
Supportive policies, light-touch regulations, facilitative actions to build domestic capacities, and promotion of research and development will guide the government's approach with collaboration among academia, industry, public institutions and, government.
Recognising the importance of early-stage funding, the government has will set up an expert committee for "holistic examination of regulatory and other frictions" in order to scale up investments from venture capital and private equity, said the finance minister during her budget speech.
These measures will fuel investment and innovation in the private sector to complement public R&D spending.
This article was authored by Bhavya Tyagi.