B20 Conference on India Initiatives in the North East
The Business 20 (B20) conference on India Initiatives in the Northeast was held in Aizawl, Mizoram. Being second of the four B20 conference planned at Northeast, it focused on opportunities for multilateral business partnerships in Urban Planning, Infrastructure, Bamboo, Startups, Skill Development, Nursing, and Paramedics. Mr. Pu Zoramthanga, Chief Minister of Mizoram, and Mr. Som Parkash, Minister of State, Commerce and Industries, Government of India, Dr. R K Ranjan Singh, Minister of State, External Affairs, Government of India attended the event. 
The B20 Summit in Aizawl was attended by delegations from seventeen countries, including Argentina, Canada, China, France, Germany, Japan, Russia, and the United States. There were 48 international business delegates and 17 diplomats in attendance. Moreover, business and commercial delegations from Bhutan, Bangladesh, and Japan attended the meeting. The seminar centred on the potential for multilateral business relationships in a variety of industries, such as urban planning, infrastructure, bamboo, startups, skill development, nursing, and paramedicine.
Mr. Pradeep Bagla, Co-Chairman of the Confederation of Indian Industry, North East Council, opened the first session with some welcoming remarks. Mrs. Rupa Dutta, Principal Economic Adviser, Department for Development of Industry and Internal Trade, Government of India, and Dr. Renu Sharma, Chief Secretary, Government of Mizoram, subsequently delivered speeches.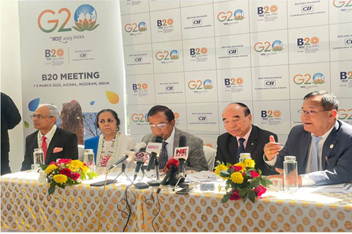 The Chief Minister of Mizoram highlighted the state's agricultural and horticultural products, strategic location, and bamboo sector's potential in an effort to attract investment in agro-forest products. The Minister of State for Trade and Industry discussed new companies and Mizoram's significant bamboo resources. The Minister of State for Foreign Affairs addressed Mizoram's education system and educated workforce, pushing international collaborations to utilise their knowledge in the hotel, healthcare, and retail industries. All speakers highlighted Mizoram's potential for commerce and investment.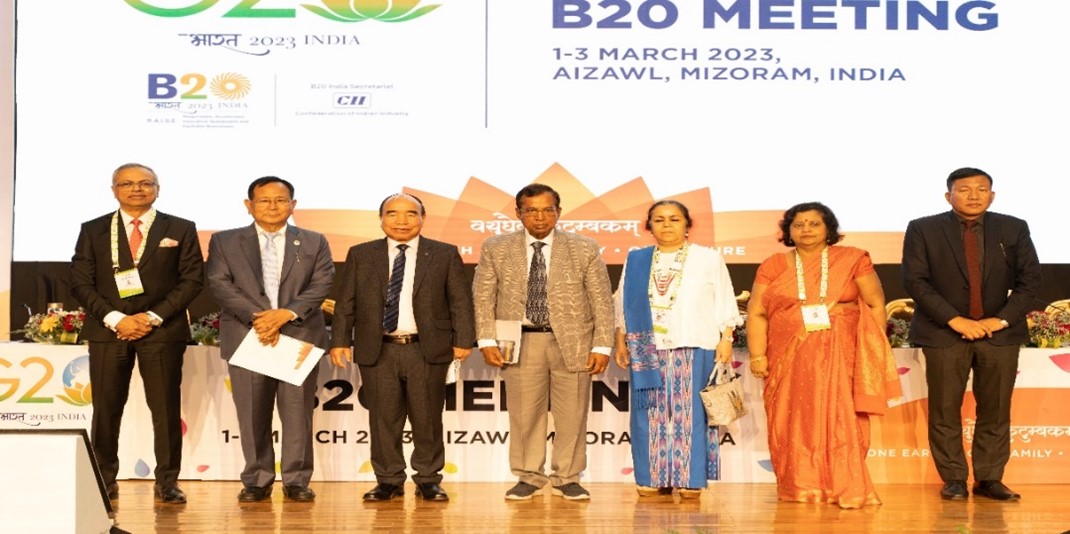 During the B20 event, the plenary session featured presentations from speakers such as Mr. Lalmalsawma Pachuau, Secretary Department of Planning and Program Government of Mizoram, and Mr. Rinzuala Managing Director, MIZOFED, who discussed the support ecosystem for doing business. Prof. Laldiliana Varte from the Department of Commerce at Mizoram University presented on the prospects in the core sectors of Bamboo, Nursing & Paramedics, Handloom and Handicraft, Start-ups, and Skill Development. In addition, entrepreneurs gave presentations on various topics, such as skill development and artificial intelligence. After the presentations and sharing of experiences on the core sectors, G20 representatives were invited to make remarks and interact with the audience. The session concluded with remarks by Pi Esther Lal Ruatkimi, Principal Secretary, Department of Commerce & Industries, Government of Mizoram.
The Strategic Investment and Research Unit (SIRU) team from Invest India deputed at the Department for Promotion of Industry and Internal Trade (DPIIT), were a part of the meeting as the team is closely working with the DPIIT for India's G20 presidency especially on B20, a prominent engagement group of G20. The meeting also discussed potential investment for northeast.