Accelerating Cleantech: FLCTD 3.0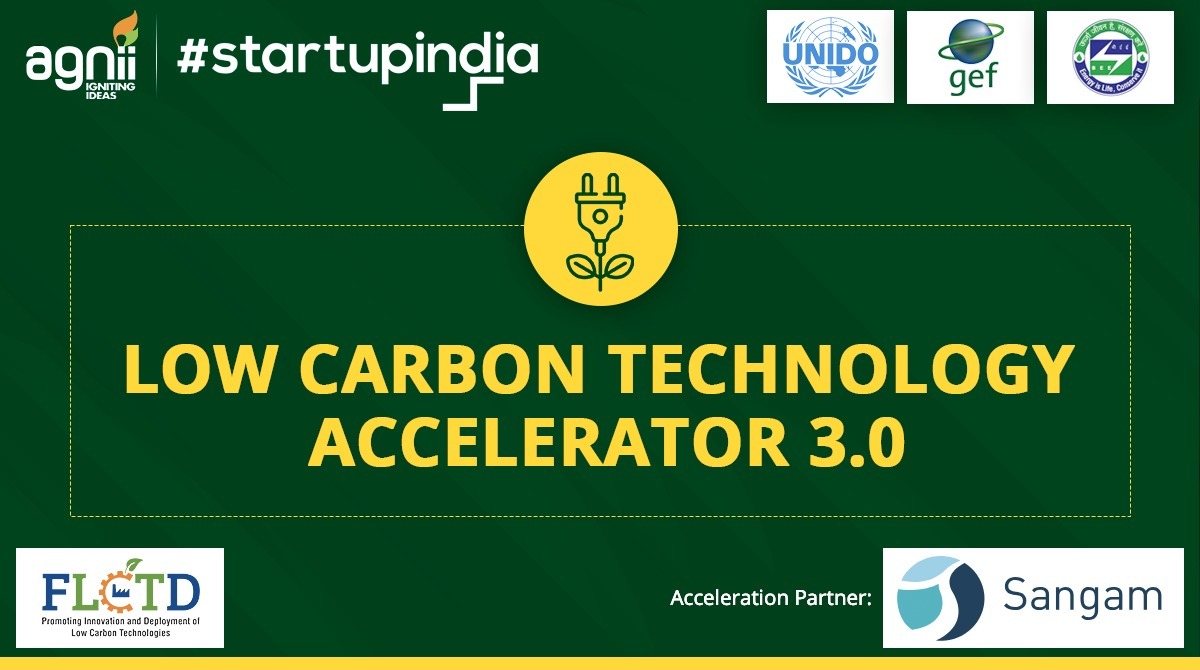 The AGNIi Mission has been actively involved in the Cleantech space, working with partners to ensure that promising technologies can highlight their innovations in tackling climate change.
AGNIi partnered with AIC-Sangam and the United Nations Industrial Development Organization (UNIDO) to support the third cohort of the Facility for Low Carbon Technology Deployment (FLCTD) Accelerator.
FLCTD is an acceleration program that is designed to identify promising innovations in need of technical and mentoring support for technology commercialization and go-to-market strategies for scaling up. The insights from the two previous cohorts demonstrated that startups should work towards reducing the impact of greenhouse gases, women entrepreneurs in the cleantech sector need to be promoted and startups require help in commercialising their innovations These learnings were incorporated in the third FLCTD Accelerator cohort.
The AGNIi Mission provided support in technology scouting and outreach for FLCTD. This iteration of FLCTD lists the shortlisted startups with various forms of support, including:
Technical and mentorship support
Capacity building to accelerate and "de-risk" cleantech start-ups to get them investor ready
Need-based support to mature organizations
Connecting innovators to existing cleantech incubators
Improving the quality of their follow-up applications to the FLCTD Innovation Challenge grant
The program announced final technologies shortlisted according to their sectors.
For AI, ML, ioT and DeepTech:
Charzera: A one-stop shop for all electric vehicle charging needs
Citygen: A platform to digitize the waste-management supply chain
LivNSense: An IoT and AI platform working to reduce carbon emissions
Living Things: Optimising energy consumption
For Commercial & Residential Low GHG Tech:
AHODS: Hydrogen-on-demand solutions for automobiles
HYMOTIV: A platform working to reduce carbon emissions
Nettoyer Automotives: Hybrid-electric powerstrains for two-wheelers.
Panjurli Labs: Solutions for capturing GHGs and particulate pollutants.
Rizel Automotives: High-performance, lightweight, and low-cost EV motor technology.
For Food and Agriculture:
Dtown Robotics: Drones and Robotics solutions
Fuselage innovations: Customized UAVs/drones.
Green Cross Agritech: Multipurpose organic waste decomposer
Neoperk: Low-cost rapid soil technology
Oscillo Machines: Indigenous modern farming solutions
Zerocircle: Ocean-safe packaging for brands using plant-cooling materials
For Industrial Low GHG Tech:
B&G Spray Solutions: India's first Zirconia-based oxygen analysers
EnvoProtect: Conversion of plastic waste into industrial fuel
For Resource Efficiency:
Green Trek: Recycling steel waste to manufacture steel and alloy casting
Himalayan Hemp: One of world's first hemp co-operatives focused on creating a holistic community around indigenous cannabis hemp.
Jivoule Biofuels: Creating biodiesel through edible oils
Orcura: Patented Air Purifier Technology.
For Storage Technologies:
Indigenous Energy: Revolutionizing energy-storage technologies using Sodium-ion batteries