UTTAR PRADESH | Niveshak Mitra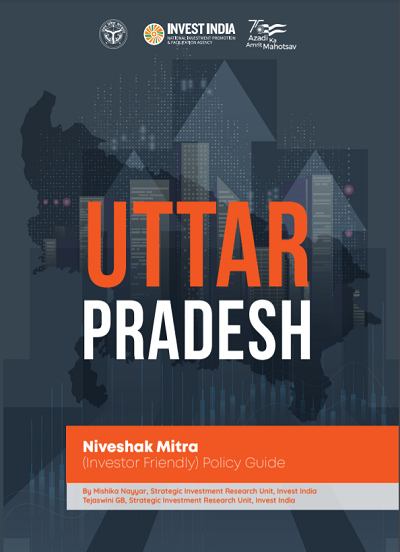 Pandemic struck world is gradually catching up the lost progress worth decades of innovation and improvement in human lives and businesses built. This essentially formulates the core of investor friendly policies introduced by the Government of Uttar Pradesh. Realising that this is the time to tweak business models, construct pandemic-proof prototypes and leverage futuristic technology to invent and reinvent commerce around the world, the Government of Uttar Pradesh has successfully combated the onslaught of the COVID-19 pandemic, welcomed several investors to the state and reinvented the wheels of the state economy. Uttar Pradesh, home to 17.22% of India's population, ranks number 2 in the Ease of Doing Business (EoDB) 2019 state ranking as per Business Reform Action Plan (BRAP). The state of Uttar Pradesh has portrayed exemplary performance in not only implementing notable reforms like Nivesh Mitra – single window system, but also attracting big names like PepsiCo, Von Wellx, IKEA, and AB Mauri among others bringing in huge investments.
Being a landlocked state, Uttar Pradesh boasts extensive connectivity through its 6-8 lane expressways, linking National Capital to provide a huge market for products and services. Apart from the upcoming Asia's largest international airport at Jewar, investors find the Government's hand holding process and time-bound clearances without procedural delays as a significant cause for choosing Uttar Pradesh as the right destination to do business. Making a significant jump of 12 positions in last three years to reach number 2 in the EoDB state rankings, Uttar Pradesh, the heartland of India, has managed to defy all odds amidst the pandemic. People, process, technology, and resources have been the hallmark of e-Governance practice by the Government of Uttar Pradesh which has not only increased the revenue by checking the loopholes and making the system transparent but also reduced the cost of administration for the state government.
This report will showcase the various investor friendly (Niveshak Mitra) of Uttar Pradesh which turned a crisis like the COVID-19 into an opportunity through its landmark initiatives like One District One Product, Nivesh Mitra Portal, Uttar Pradesh Skill Development Mission (UPSDM) to its recent ones like Abhyudaya Yojana and Geographic Information System (GIS) based land banks to attract foreign as well as domestic investors by highlighting its existing sector-specific policies and technological developments across the functions of government departments.