One District One Product (ODOP) Scheme: Uttar Pradesh Transforming at the Grassroots
Diversity, a key hallmark of our nation which is respected world over, is being further honed in a 'New India'. The government has assigned this diversity, existing in myriad dance forms, music, art, food and handicrafts, prime importance. Consequently, the government has accorded the highest priority to preserving, reviving and popularising local arts and crafts, to ensure sustainable livelihoods for the millions of people engaged in them.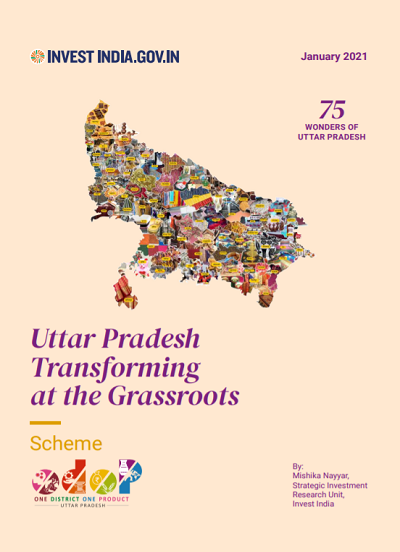 In India's largest state too, where food, textiles, languages, dance forms and art change every few kilometres, a comprehensive programme was the need of the hour to recognise, safeguard and nurture our traditional skills. We accomplished this feat on January 24, 2018, when the Government of Uttar Pradesh, inaugurated the One District One Product (ODOP) programme. The state government's vision was to identify one unique product from each of the 75 districts of Uttar Pradesh and create a product-specific traditional industrial hub. 
The smallest of towns and districts in Uttar Pradesh are hugely popular for their indigenous and specialised products and crafts. There are products found nowhere else – like the ancient and nutritious kalanamak chawal, the rare and intriguing wheat-stalk craft, world-famous chikankari and zari-zardozi work on clothes, and the intricate and stunning horn and bone work that uses the remains of dead animals rather than live ones, a nature-friendly replacement for ivory. Many of these products are GI tagged, which means they are certified as specific to that region in Uttar Pradesh. Many of these were also dying community traditions that needed reviving through modernisation and publicization.
Key Objectives of ODOP
Preservation and development of local crafts / skills and promotion of arts
To resolve issues of economic disparity and regional imbalance
To take ODOP products to national and international markets
Increase in incomes/local employment, thus minimising migration for jobs
Improvement in product quality and skill development
Assistance in key areas - technology, skill development, infrastructure, and finance
Resolve the issues of economic difference and regional imbalance
Increase overall exports of the selected products
To connect the production with tourism (Live demo and sales outlet – gifts and souvenir)
Under the ODOP programme, the state government of Uttar Pradesh offers various credit facilities and subsidies under four different categories of schemes for promoting infrastructure development, providing seamless access to finance, initiating skill development and providing marketing assistance to manufacturers of the unique product in a particular district.
Based on a district's strengths, ODOP has been a transformational step towards realising the true potential of a district, fuel economic growth and generate employment and rural entrepreneurship. The scheme's implementation in Uttar Pradesh has enhanced the state's export capacity by over 30 per cent since 2018 (the year ODOP was launched by Uttar Pradesh) recording a staggering export of around INR 89,000 crore ($12.1 bn) in 2019-20. Under the special drive of ODOP and Vishwakarma Shram Samman, 3.14 lakh entrepreneurs have been benefitted.
5 lakh youth have established their ventures under ODOP by receiving loans under Pradhan Mantri Mudra Yojana, Stand Up and Startup India. To provide easy access of finance, an online loan portal namely ODOPPSB59 (www.psbloansin59minutes.com/bob) has been launched in partnership Bank of Baroda. The portal has a dedicated tab, solely for ODOP artisans, manufacturers and traders to apply for a loan and get an approval for it within 59 minutes.
As ODOP programme completes three years in India's largest state, the success of the ODOP in Uttar Pradesh have inspired several other Indian states to adopt similar initiatives for district-level revival of local crafts and products. To realize the true economic potential of rural India and align it with the clarion call of the Prime Minister to make 'Vocal for Local, the Ministry of Commerce and Industry is putting in place an institutional mechanism to propagate 'One District One Product' as a movement with the help of all state governments and Union Territories. The objective will be to identify one product per district based on the potential and strength of a district and national priorities and develop a cluster for that product in the district capable of producing world-class product with quality, scalability, and a brand also provide market linkages.
Focus continues to be placed on enabling ecosystem and providing assistance schemes for a single commodity, including manufacturing infrastructure; and stable marketing platform to improve income, local employment, skills and livelihood beyond the urban areas and create productive manufacturing from a rural/semi urban area. ODOP now acquires further significance and relevance in the context of the pioneering "Aatma Nirbhar Bharat Abhiyan" campaign launched by Prime Minister Narendra Modi with the aim to strengthen the domestic industries and make India self-reliant.