Non-Leather Footwear Industry in India
Introduction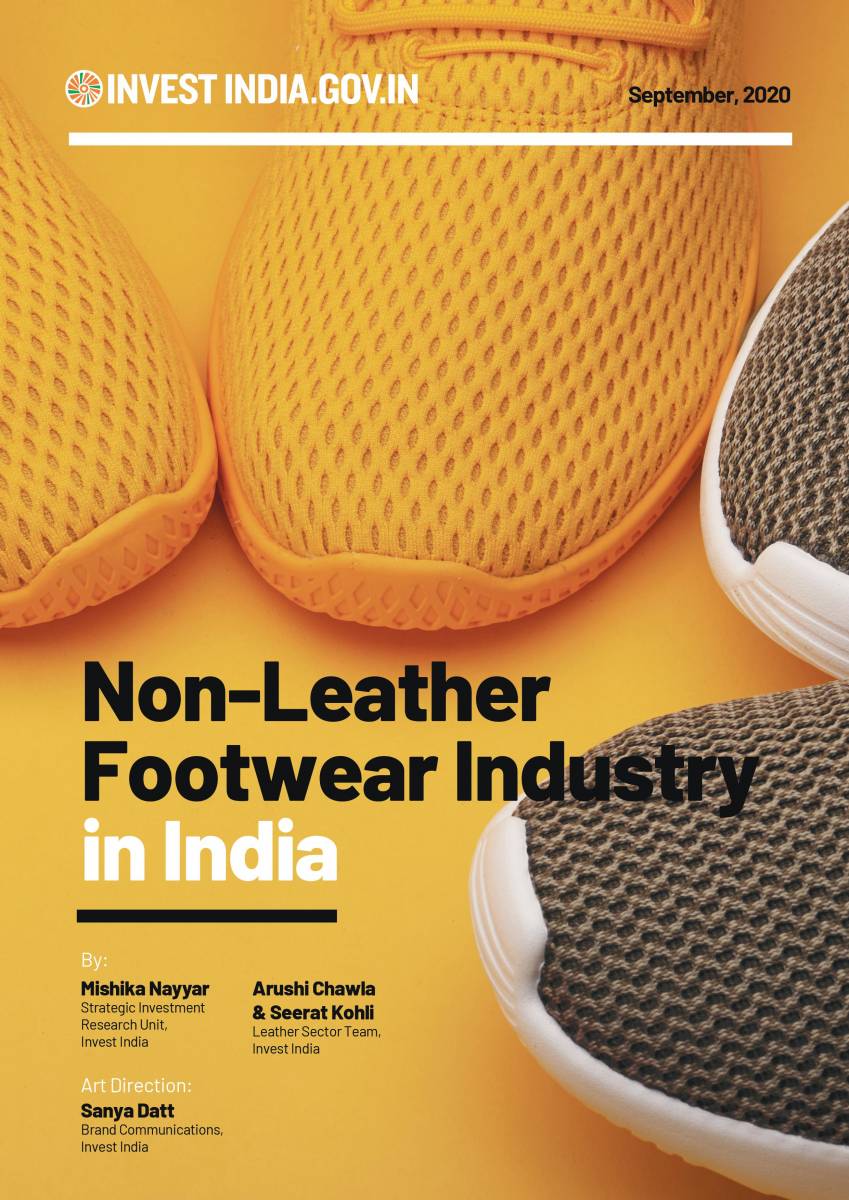 The leather and footwear industry in India is a high employment generating sector, contributing significantly to the country's export earnings and economic growth. From the simple padukas worn by priests in the 1st century to exquisite mojharis and juttis patronized by the Rajput and Mughal rulers respectively, to the widely popular Kolhapuri chappals which first became popular in the 18th century, India has had a long and rich history of diverse footwear. Being the 2nd largest producer of footwear, 2nd largest exporter of leather garments and 5th largest exporter of leather goods, the world now looks at India for a large proportion of its footwear and leather requirements. The footwear industry in India contributes about two per cent to India's overall GDP along with employing 2 Mn workers, making the sector one of the top employment generators in the country. Holding an important place in the Prime Minister's drive to Make in India, the footwear segment has been chosen as a Champion Sector. But it is not only leather footwear that is making waves these days. There is also a renewed focus on the non-leather footwear segment around the world. In worldwide consumption terms, 86 per cent of global footwear consumption has become non-leather by volume. Herein, lies a double-digit growth opportunity which India, the second largest producer and consumer of footwear in the world, is ready to tap into. Already a leader in the traditional leather sector, it is now gaining steady ground in the production of non-leather footwear.
The non-leather footwear industry in India is fragmented and close to 75 per cent production comes from the unorganised sector, which includes micro, small, and medium enterprises (MSMEs). Chennai, Ranipet, Ambur in Tamil Nadu; Mumbai in Maharashtra, Kanpur and Agra in Uttar Pradesh, Jalandhar and Ludhiana in Punjab, Delhi, Karnal, Sonepat, Faridabad, Pune, Kolkata, Calicut and Ernakulam are some of the major non-leather footwear production centres in India. Today, there are several factors driving this market, providing a level playing field for both, major global and domestic brands, to drive innovation in their product lines and capture the expanding market. The footwear sector in India is now de-licensed and de-reserved, paving the way for growth of capacities on modern lines with state-of-the-art machinery. To further assist this process, the government has permitted 100 per cent foreign direct investment (FDI) through the automatic route for the footwear sector.
Diving deeper into the transformative powers of this industry, this report elaborates on the domestic and global overview of the non-leather footwear segment and India's rising potential to tap global market in this segment.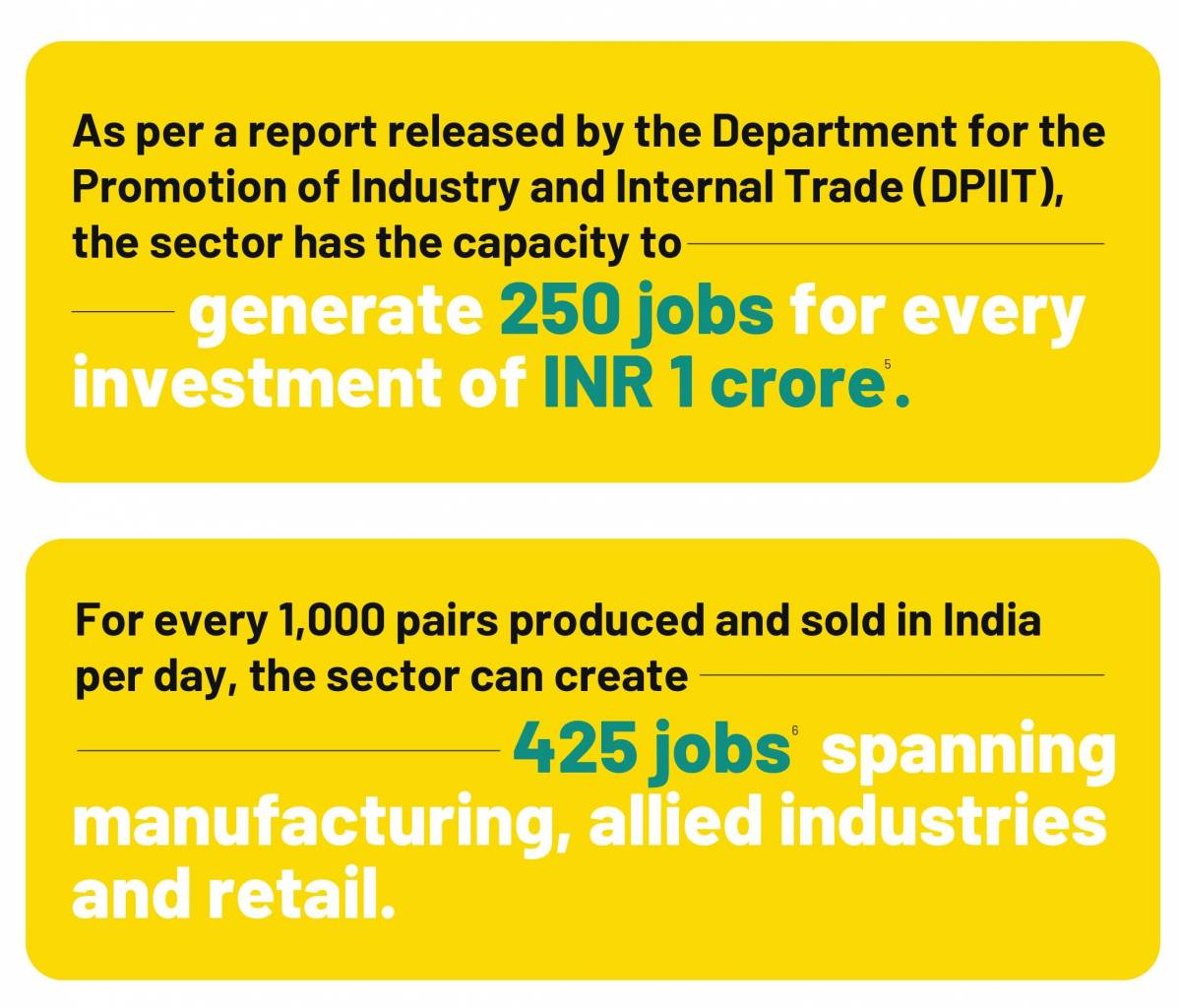 Global Overview
The global footwear market size is valued at $ 365.5 Bn in 2020 and is estimated to reach $ 530.3 Bn by 2027 with a Compound Annual Growth Rate (CAGR) of 5.5 per cent from 2020 to 2027. The global footwear market is segmented into type, material, end users, distribution channel, and region. By type, the market is categorized into athletic and non-athletic. Depending on material, it is bifurcated into leather and non-leather. On the basis of distribution channel, it is classified into hypermarket/supermarket, specialty stores, brand outlets, online sales channels and others.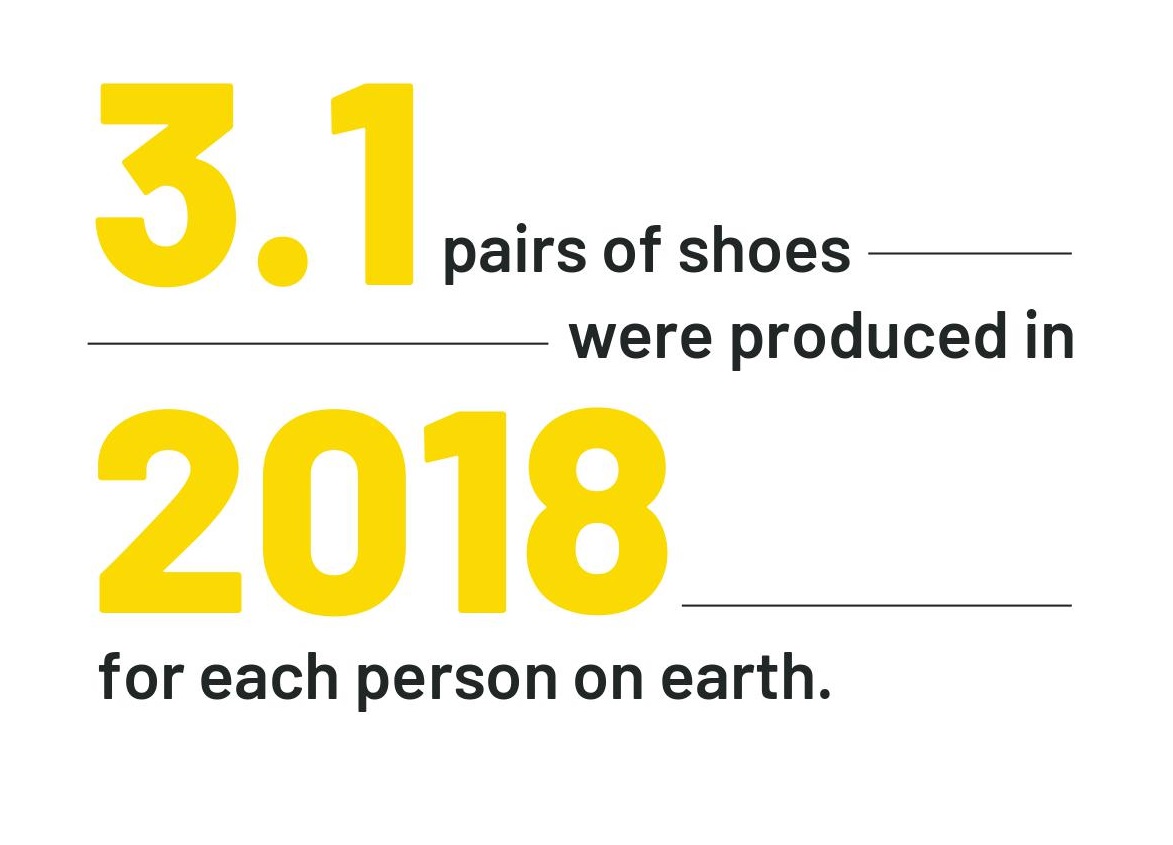 Production
As of 2018, the total number of shoes produced globally were 24.2 Bn pairs. As of 2010, the footwear production stood at 20.1 Bn pairs resulting in 20.5 per cent increase up till 2018. Out of the total production, 86.2 per cent of the shoes were being produced in Asia. The global leaders in footwear production are China, India, Vietnam and Indonesia, which highlights the domination of the Asia-Pacific region in the industry.

China is the largest producer of footwear in the world with a share of 55.8 per cent followed by India at 10.7 per cent. The industry in China is largely export oriented where 70.8 per cent of the production is exported. Similarly, Vietnam is also outward oriented where 97.8 per cent of the production is exported. On the other hand, India's and Indonesia's industries are driven by the domestic market.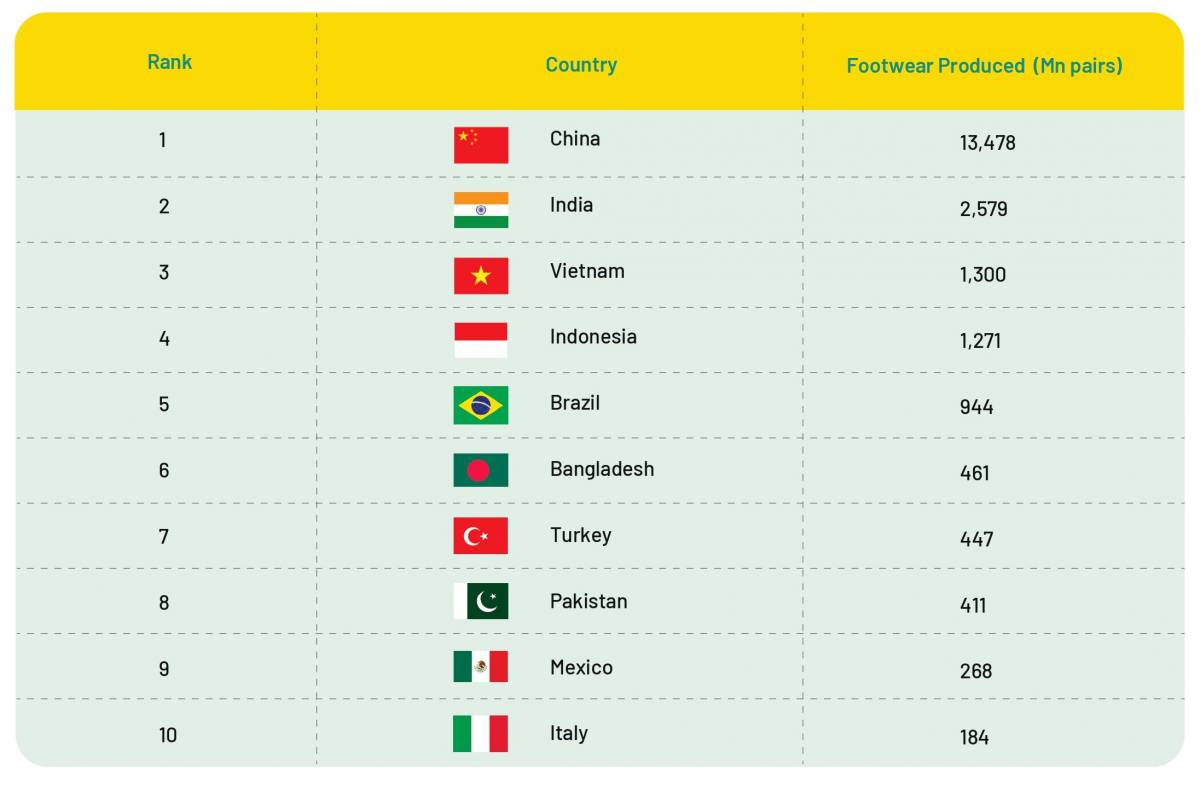 Consumption
Asia is the largest consumer of footwear globally with a share of 53.8 per cent followed by Europe and North America with shares of 15.2 per cent and 14.5 per cent respectively.
In terms of the countries, China is the largest consumer of footwear with a world share of 18.4 per cent followed by India at 11.7 per cent and US at 10.7 per cent (Annexure 1).
Exports
The value of global export of footwear is valued at $ 142 Bn as of 2018. Asia is the largest exporter of footwear having a world share of 83.8 per cent. China is the largest exporter of shoes with a world share of 64.7 per cent. There have been increasing trends towards textile footwear. In 2009, only 17 per cent of the footwear in terms of the number of pairs being exported were textile. However, this percentage has almost doubled to 32 per cent as of 2018. On the contrary, the share of leather footwear in terms of number of pairs has reduced from 19 per cent in 2009 to 14 per cent in 2016. Although given the higher average price, the leather footwear represents 39 per cent of the value exported.
Imports
Europe is the leading continent for footwear imports, accounting for more than one third of total world trade at 35.5 per cent followed by Asia at 27.5 per cent. In terms of countries, USA has the largest world share at 18.9 per cent.
Domestic Overview

India is the 2nd largest producer and consumer of footwear in the world, generating employment for over 2 Mn people. The current market size of the footwear industry is estimated be at $ 10.6 Bn in 2019, estimated to grow to $ 15.5 Bn by 2024, registering a CAGR of 13 per cent from 2018 to 2019.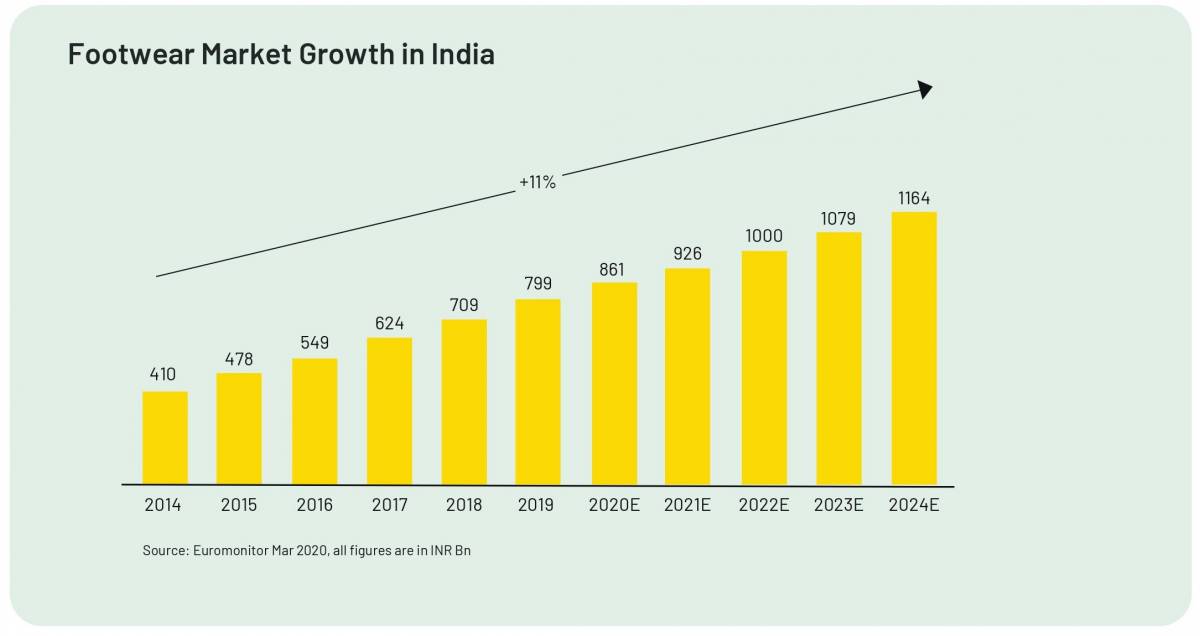 Production
As of 2018, the total number of shoes produced in India were 2,579 Mn pairs. Out of the global pro- duction, India's share was pegged at 10.7 per cent.
Exports
India exported 262 Mn pairs in 2018, making it the 6th largest exporter of footwear, having a world share of 1.8 per cent having an export orientation of 10.2 per cent. The total value of exports in 2018 was $ 2,493 Mn, having an average price of $ 9.50. Footwear holds the major share of 47.59 per cent in the total exports of leather and non- leather products, with an export value of $ 1,083.33 Mn ($ 937.13 Mn for exports of leather footwear and 146.20 for non-leather footwear). Different performances within the two categories were registered as exports of leather footwear declined by 4.4 per cent in the period, while exports of non-leather footwear increased by 42.7 per cent. Amongst the different categories of products of the industry, export of leather footwear, accounting for 38.57 per cent of total exports, increased by 0.95 per cent in the period.
Imports
India imported 289 Mn pairs in 2018 and is the world's 10th largest importer, in terms of quantity, having a world share of 2.2 per cent. Total value of imports is over $ 808 Mn.
Consumption
Over the last three years, India has surpassed US in terms of 'consumption by volume'. India is the second largest consumer of footwear globally with a share of 11.7 per cent followed by US at 10.7 per cent and Indonesia at 4.5 per cent (Annexure 1).
The largest growth rate was registered by non-leather footwear with an increase in exports of 13.7 per cent. The overall footwear market in India is pegged to grow at 11 per cent over the next five years propelled by developments in the non-leather footwear segment. Globally, 86 per cent of footwear consumption has become non-leather by volume and India is witnessing a similar trend. This growth in consumption has contributed to a major growth in revenue generated by the non-leather footwear industry.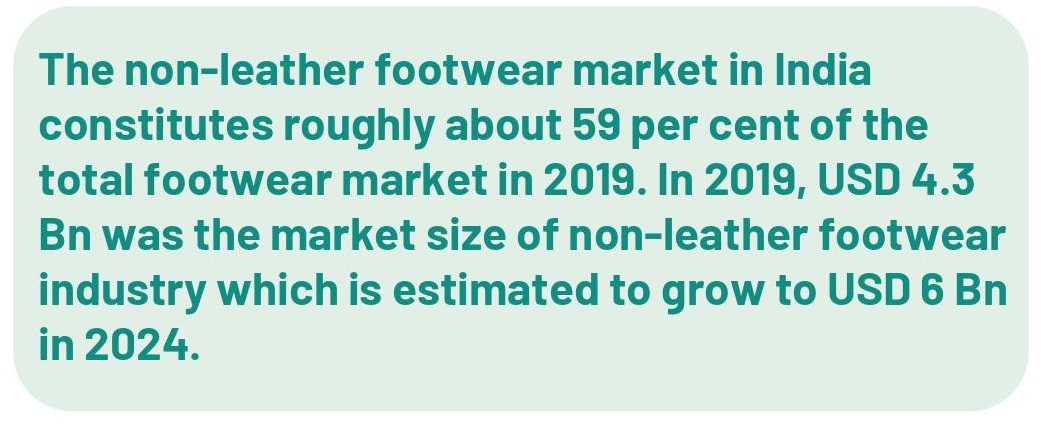 Apart from being a top producer and consumer of footwear, India is the 6th largest exporter globally, commanding a share of only 1.8 per cent. This is because majori ty of the production stays in the country and feeds the growing domestic market comprising of roughly 1.4 Bn people.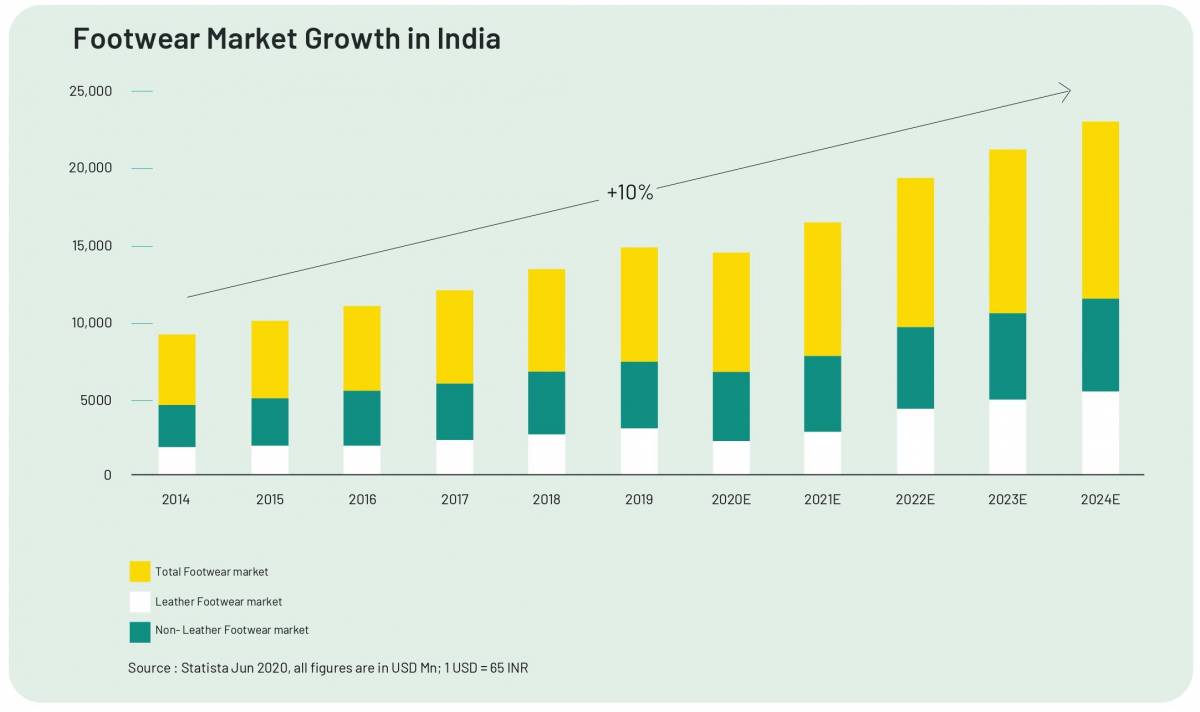 Non-Leather Footwear Industry in India
By Material
As per industry estimates, the synthetic/non-leather footwear market in India is approximately 59 per cent of the total footwear market in India.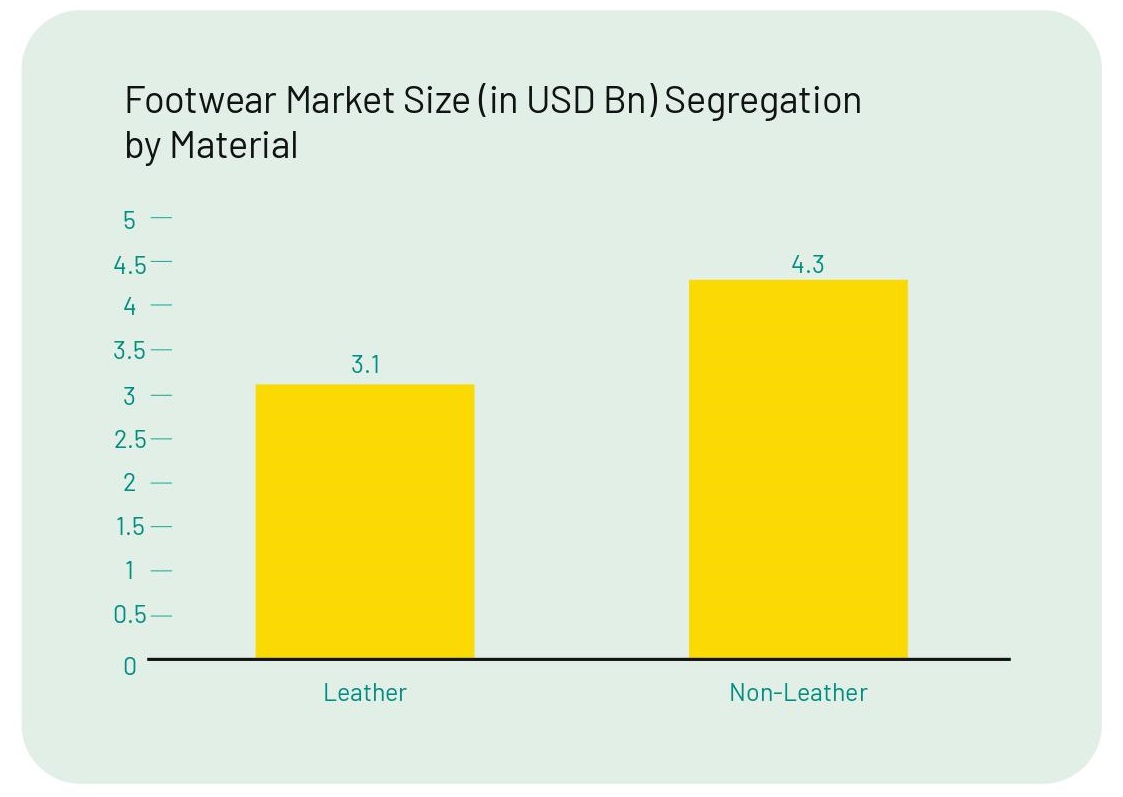 By Product Type
In terms of product type, the non-leather footwear accounts for 59 per cent of the overall footwear market in India. This 59 per cent share can be further subdivided in textile & other footwear (46 per cent) and athletic footwear (13 per cent).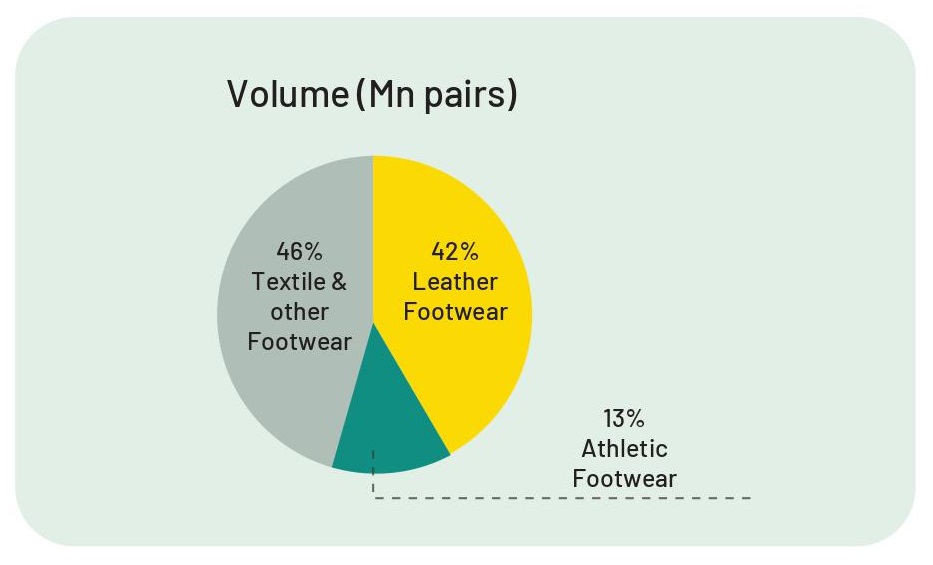 Athletic Footwear
The Athletic footwear market in India is expected to grow annually by 14.3 per cent (CAGR 2020-2023). Dominated by international players such as NIKE, ADIDAS, PUMA, REEBOK, SKECHERS, this sub-segment has also witnessed the proliferation of large domestic players such as Liberty Shoes, Campus, Action Shoes and many others.

Textile & Other Footwear
The textile & other footwear market in India is expected to grow annually by 12.9 per cent (CAGR 2020-2023).

By Product Type

In terms of product type, casual footwear is the largest product segment in India's footwear market that contributes approximately 67 per cent of the total footwear retail market.
While the industry is currently dominated by the organized domestic SME footwear manufacturers, with changing consumer behavior and modern lifestyle, the footwear products made by those medium and large brands are likely to witness bigger sales in the near future.
By Gender
While the industry is currently dominated by the organized domestic SME footwear manufacturers, with changing consumer behavior and modern lifestyle, the footwear products made by those medium and large brands are likely to witness bigger sales in the near future.

The footwear market in India is now dominated by men's footwear which contributes close to 58 per cent of the total Indian footwear retail market and is expected to grow at a CAGR of 10 per cent by 2020.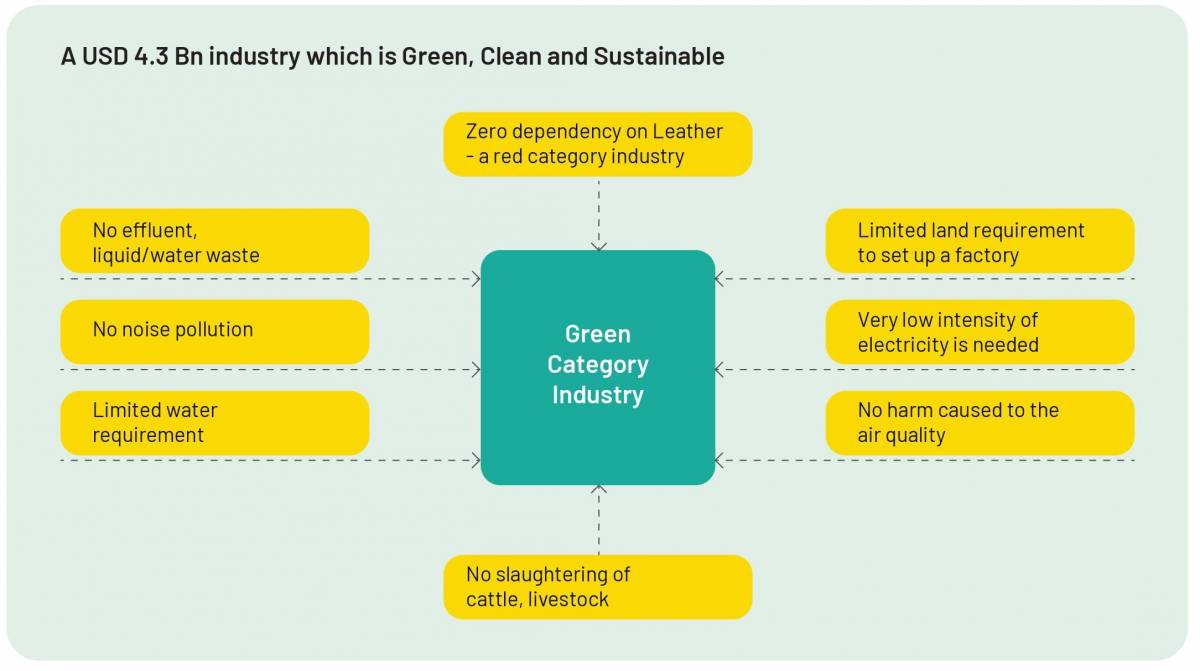 The footwear sector can create up to four Mn jobs in the next five years in India by imparting basic skills and creating blue collar jobs in a short span of six weeks. Having the potential to grow up to eight times more than its current size by 2030, this industry does not cause any harm to the environment nor adds pressure to existing resources such as land, water, energy.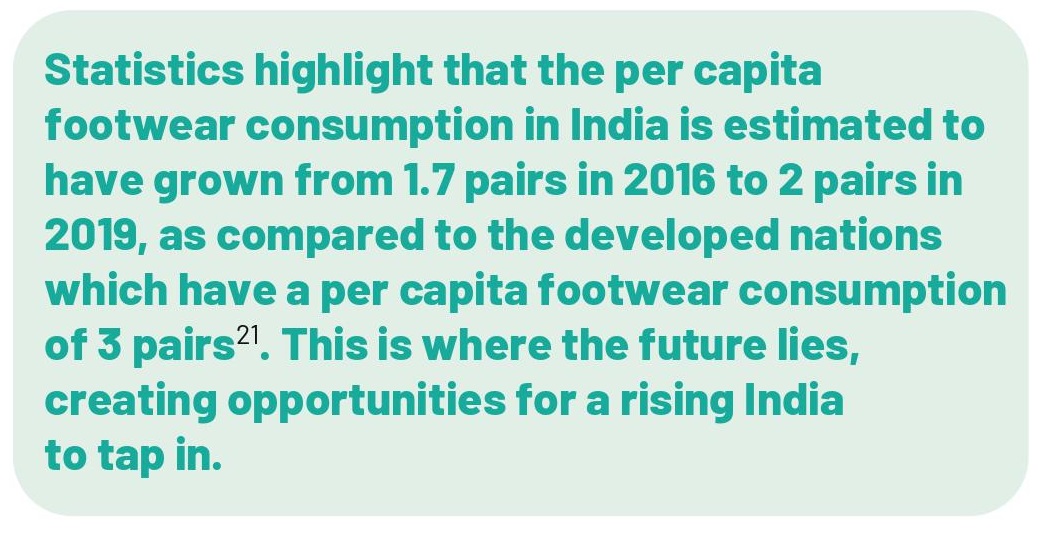 Demand Drivers
Rising demand of athleisure
Changing consumer lifestyle alongside increasing consciousness towards fitness is pushing the demand for athleisure footwear to greater heights. The global athleisure footwear market is valued at $ 114.8 Bn by 2022, growing at a CAGR of 2.1 per cent during the forecast period 2016 – 2022. Presence of prominent players such as Nike, Adidas, PUMA, Reebok, Asics Corporation have further fueled the growth of the athletic footwear market size by sales expansion through online channels, innovative product launches, and attractive marketing and promotional strategies.
Decrease in leather production
Leather is being consistently replaced by non-leathers material due to increasing awareness about sustainability and leather being a relatively more expensive material. Going forward, the usage in leather is going to be restricted for mostly niche products.
Emergence of the organized retail sector
The retail market in India has undergone a major transformation and witnessed tremendous growth in the last 10 years. The overall retail market, that grew to $ 0.7 Trillion (Tn) in 2019, is expected to cross the $ 1.1 Tn mark by 2025. Factors that make India so attractive include its large population, a middle-class of 600 Mn people, increasing urbanisation, rising household incomes, connected rural consumers and increasing consumer spending.
Apparel and footwear brands in the country are exhibiting a growing consciousness about their retail presence. The brands are looking to tap the emerging opportunities available in tier-2 and 3 markets.


Apparel and footwear have seen double-digit growth in the last few years and are likely to propel growth in organised retail in the coming decade.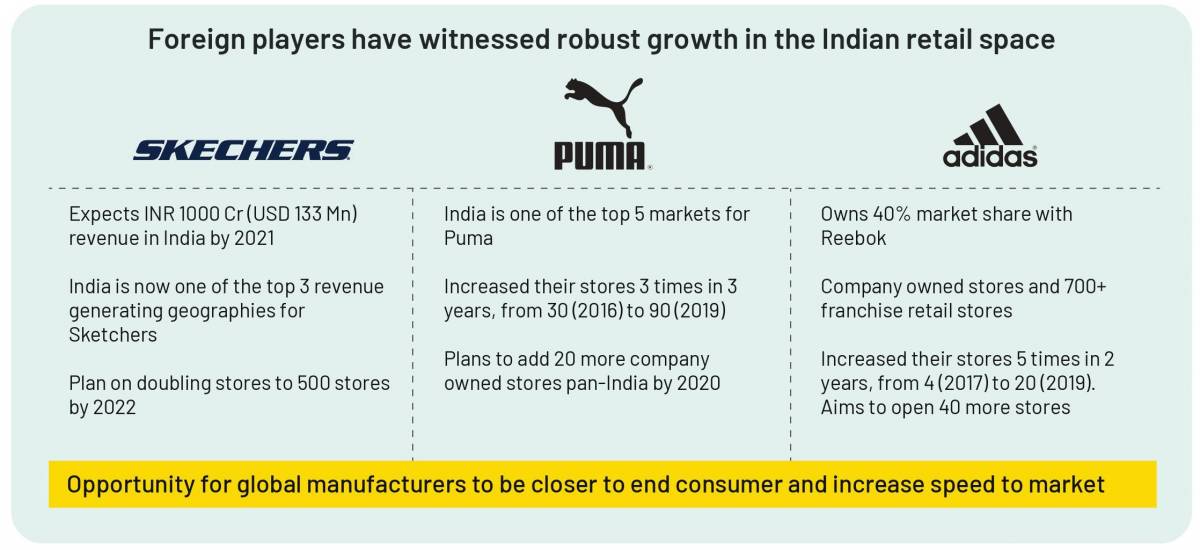 Emerging role of e-commerce
The Indian e-commerce industry, especially, has been on an upward growth trajectory. By 2026, it is expected to reach $ 200 Bn and by 2034, it is predicted to surpass the United States to become the second largest e-commerce market globally. A young demography, increasing internet and smartphone penetration, and relatively better economic performance are some of the key drivers of this sector. Internet penetration in India grew from just 4 per cent in 2007 to 52 per cent in 2019, registering a CAGR of 24 per cent during the same period. The advent of e-retail has already democratised the shopping space and has also been successful in empowering India's small sellers while breaking go-to-market barriers for insurgent footwear brands.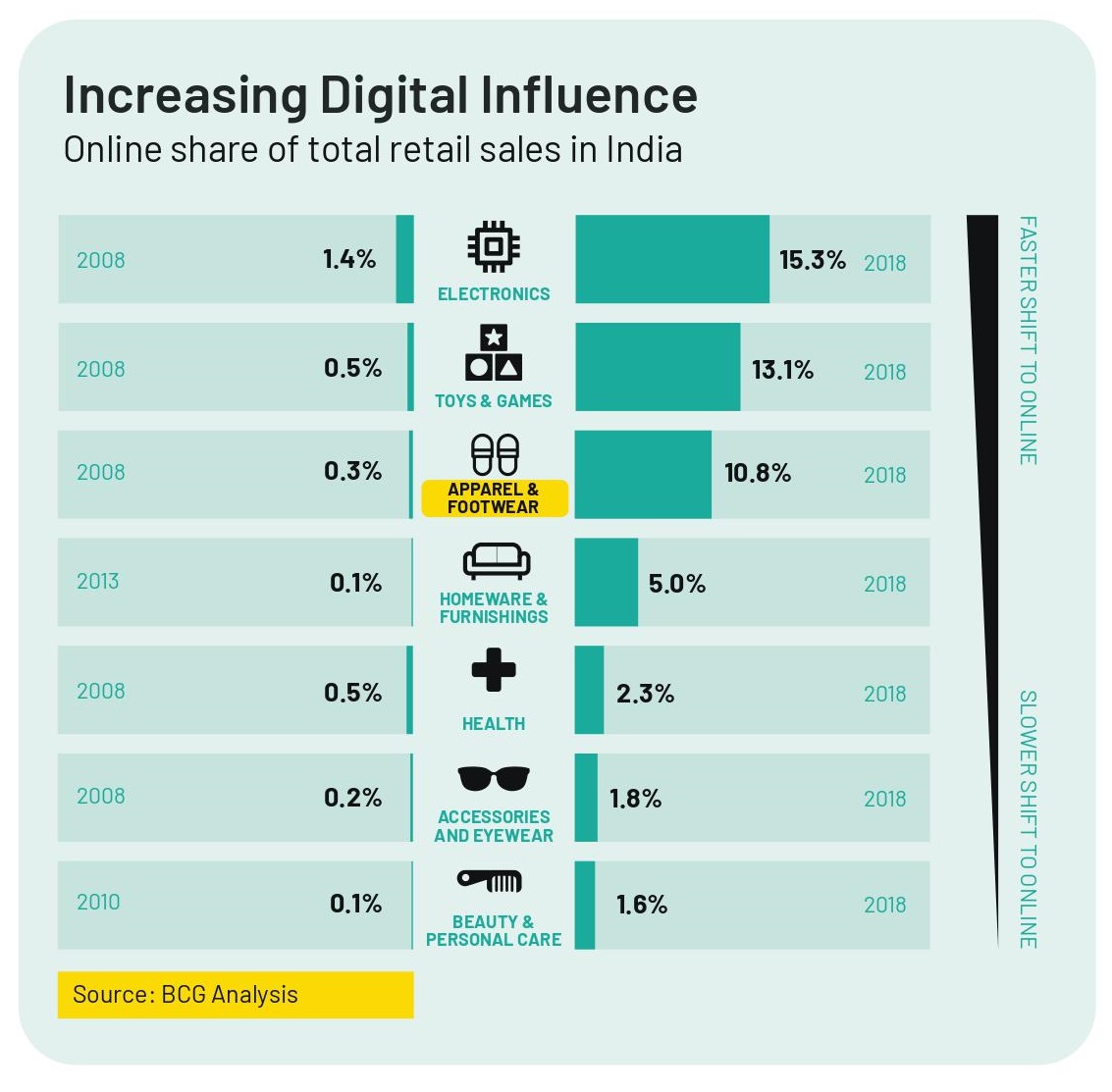 Clusters of non-leather footwear manufacturing in India
The rising demand for synthetic footwear has resulted in it emerging as a successful alternative for leather products. Due to awareness of global warming and better scope of designs in synthetic products, many countries, have aggressively changed their preferences from leather to synthetic. Major production centres for footwear in India have been established from the existing leather cluster ecosystem in the country.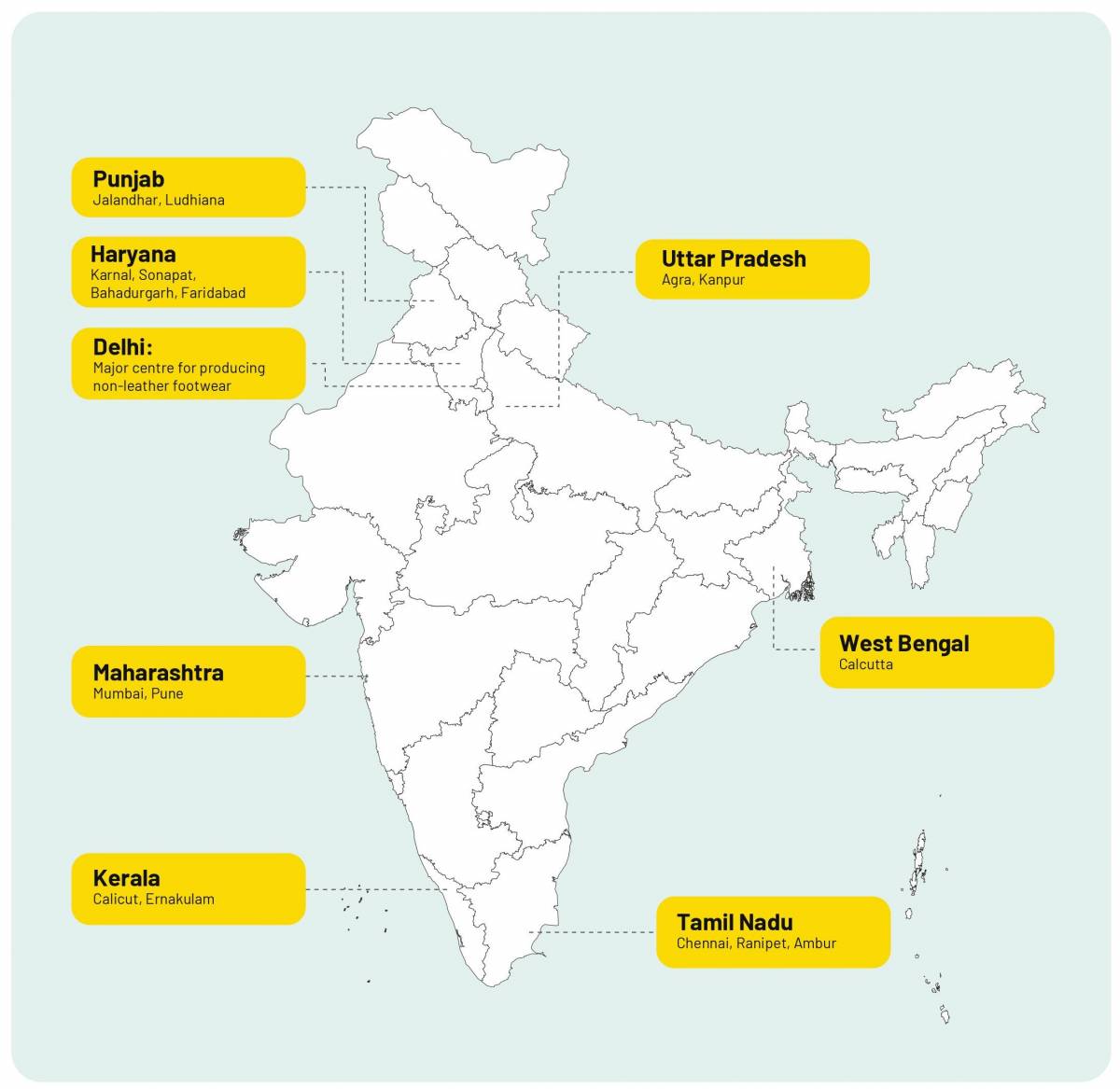 FDI trends
The footwear sector is a very significant segment and the engine of growth for the entire Indian leather industry. India is the second largest producer of footwear after China, accounting for 13 per cent of global footwear production. Nearly 95 per cent of its production goes to meet its own domestic demand. The footwear sector is now de-licensed and de-reserved and the government has permitted 100 per cent FDI through the automatic route for this sector.
The government has undertaken various measures to create a conducive investment climate for attracting overseas investments and increasing cost competitiveness. As a result, India has jumped to 63rd position in World Bank's Ease of Doing Business 2020 report.
Many foreign companies such as Apache and Feng Tay have set up production of non-leather footwear in India, many footwear brands source from India and many other footwear companies have entered India through joint ventures with domestic players.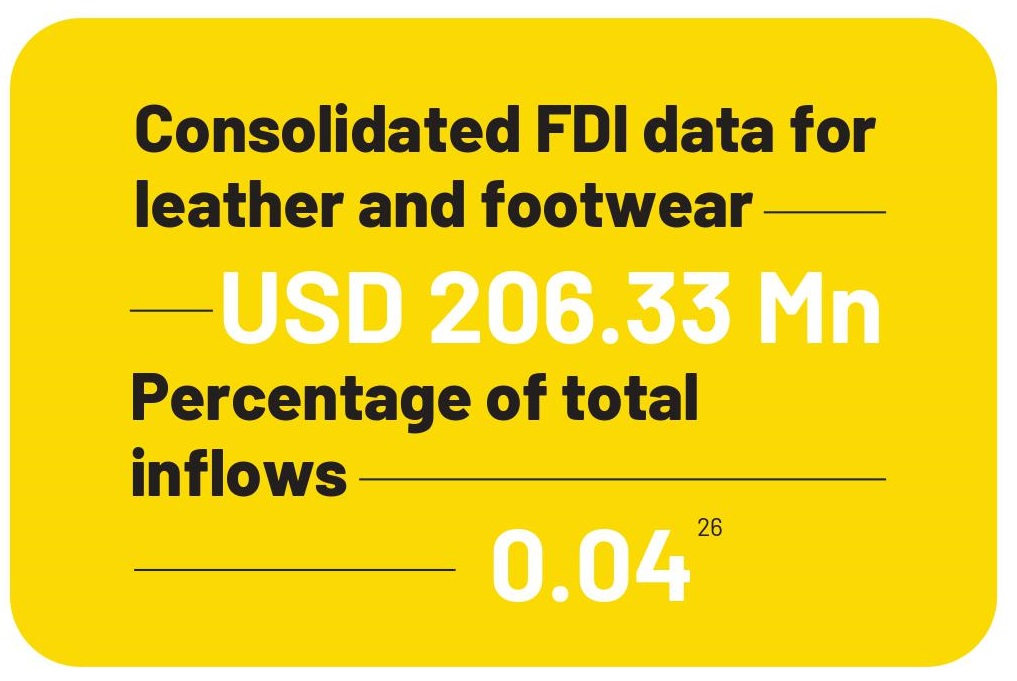 One such successful example is Clarks Future Footwear, the equal joint venture (JV) company between the UK-based C&J Clarks and Future Lifestyle Fashions which was founded in 2010. The sales by retail value for the company in India is around INR 350 crore ($ 47.8 Mn), of which, net sale value is INR 180 crore ($ 24.6 Mn). The company expects to grow the sales by retail value to close to INR 500 crore ($ 68 Mn) over a period of three years. Almost 50 to 60 per cent of the products it sells in India are sourced from the country itself to promote 'Make in India'.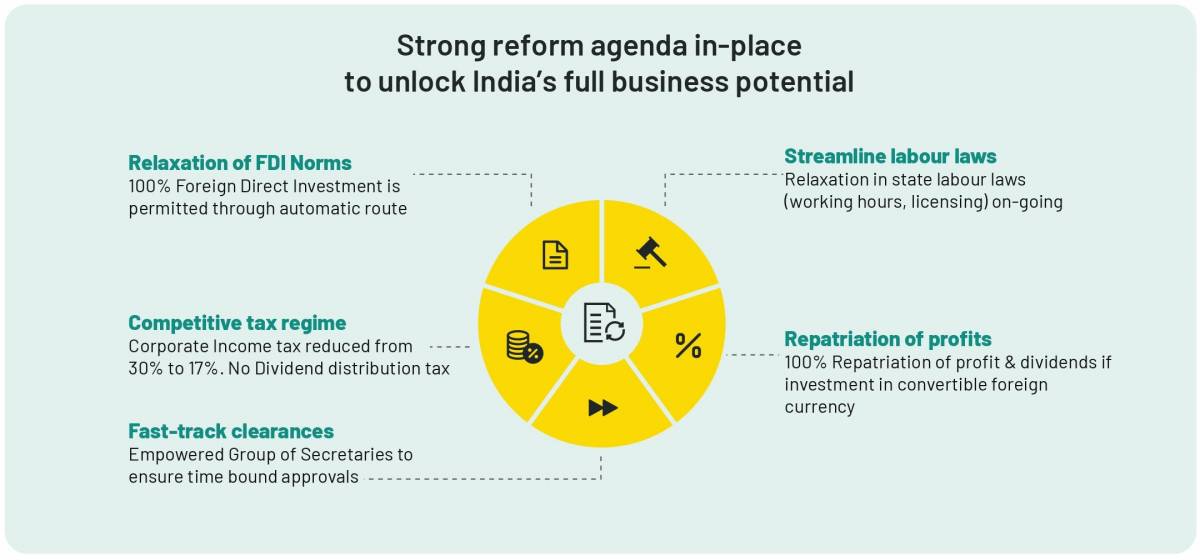 India advantages
India is a rapidly growing industrial economy which can capitalize on its strengths of ready availability of key resources such as land, power, water, manpower and a conducive regulatory framework for non-leather footwear industry to thrive.
Large and Growing Domestic Market
Indian domestic market has performed better than the largest consumption regions such as United States, European Union and Japan combined. Beyond the increasing income of Indian consumers, the market growth is led by following important drivers:
Indian consumers shifting from need-based to aspiration-based buying
40 per cent of the Indian population is expected to be in urban areas by 2030, up from 21 per cent in 2011
India is expected to become the world's fastest growing e-commerce market
Increasing participation of women in workforce e) Growing presence of international brands and retailers and the emergence of new product categories
Ready state-of-the-art Infrastructure
India, having the 2nd largest road network in the world, 4th largest rail network in the world and being the 16th largest maritime country in the world, has been receiving much impetus for bolstering up infrastructure furthermore.
To make India a global hub for manufacturing, the government has dedicated a significant proportion of fiscal stimulus to infrastructure spending by means of launching priority mega projects, creating a multiplier effect on the economy. Strategic focus on economic corridors, investments in high speed rail, and dedicated freight corridors are causing India to undergo an unprecedented physical transformation. The National Infrastructure Pipeline (NIP) is a major step in that direction, with investments over $ 1.4 Tn to be made by the government to build world-class infrastructural facilities (Annexure 5).
Availability of Manpower
Footwear manufacturing, being labour-intensive majorly factors in the cost competitiveness in terms of manpower. India not only offers the most competitive labour costs worldwide but has a ready pool of a large, young trained workforce with 62 per cent of population in the working age group of 15 to 59 years. Based on the current demographics of India, the current workforce is expected to work until 2055.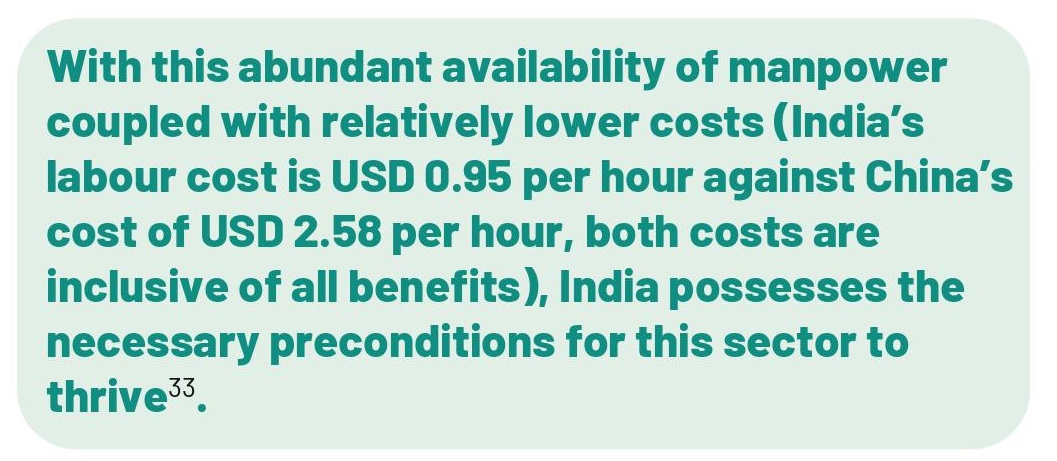 Comparative Factors of Production
India has taken a quantum leap and continues to position its labour costs, power and water costs as competitively as possible.

Favourable policy ecosystem and support by the government
The government of India has approved a special package for employment generation in leather and footwear sector called Indian Footwear, Leather & Accessories Development Programme (IFLADP) with an approved expenditure of INR 2600 crore ($ 348 Mn) over three financial years from 2017-18 to 2019-20. (Annexure 4)
In order to spur local medium and small enterprises that are involved in manufacture of footwear, the Union Budget 2020 has pushed to increase the custom duty on footwear from 25 to 35 per cent.
India has significant transit time advantage for supply to US Ea st Coast and Europe, as shown in the table below.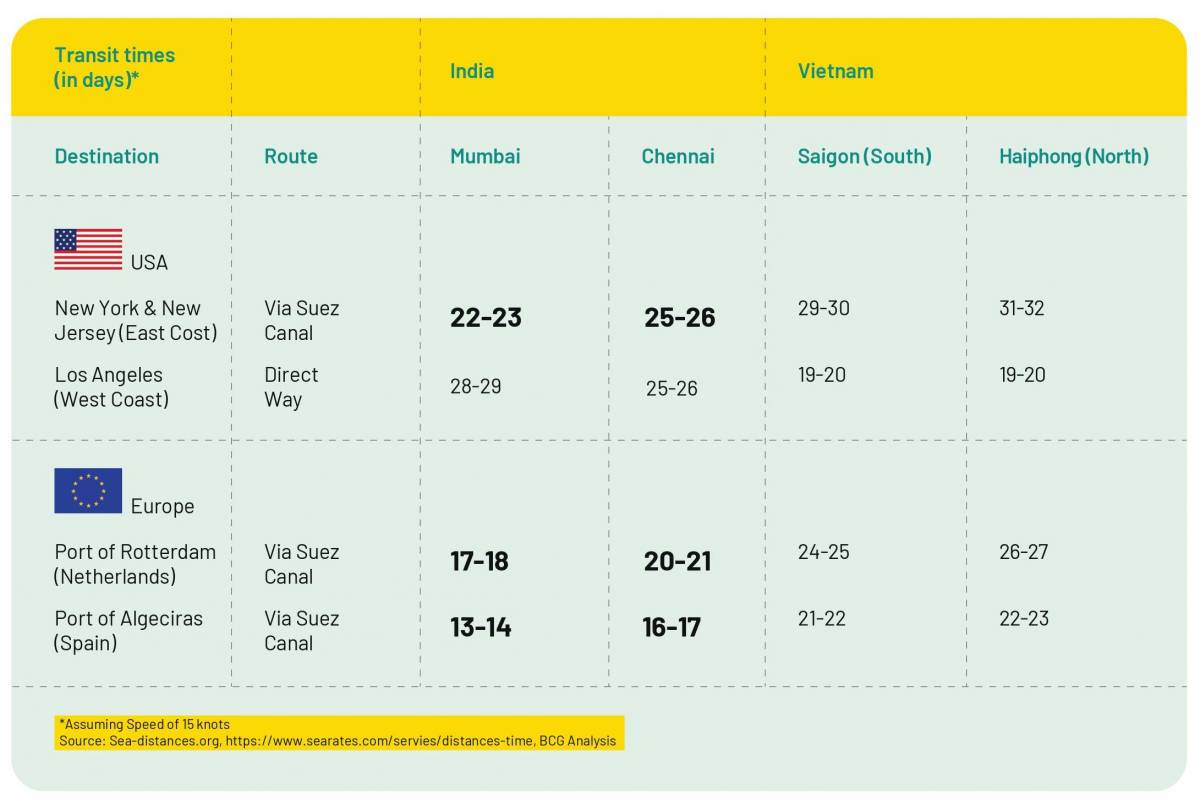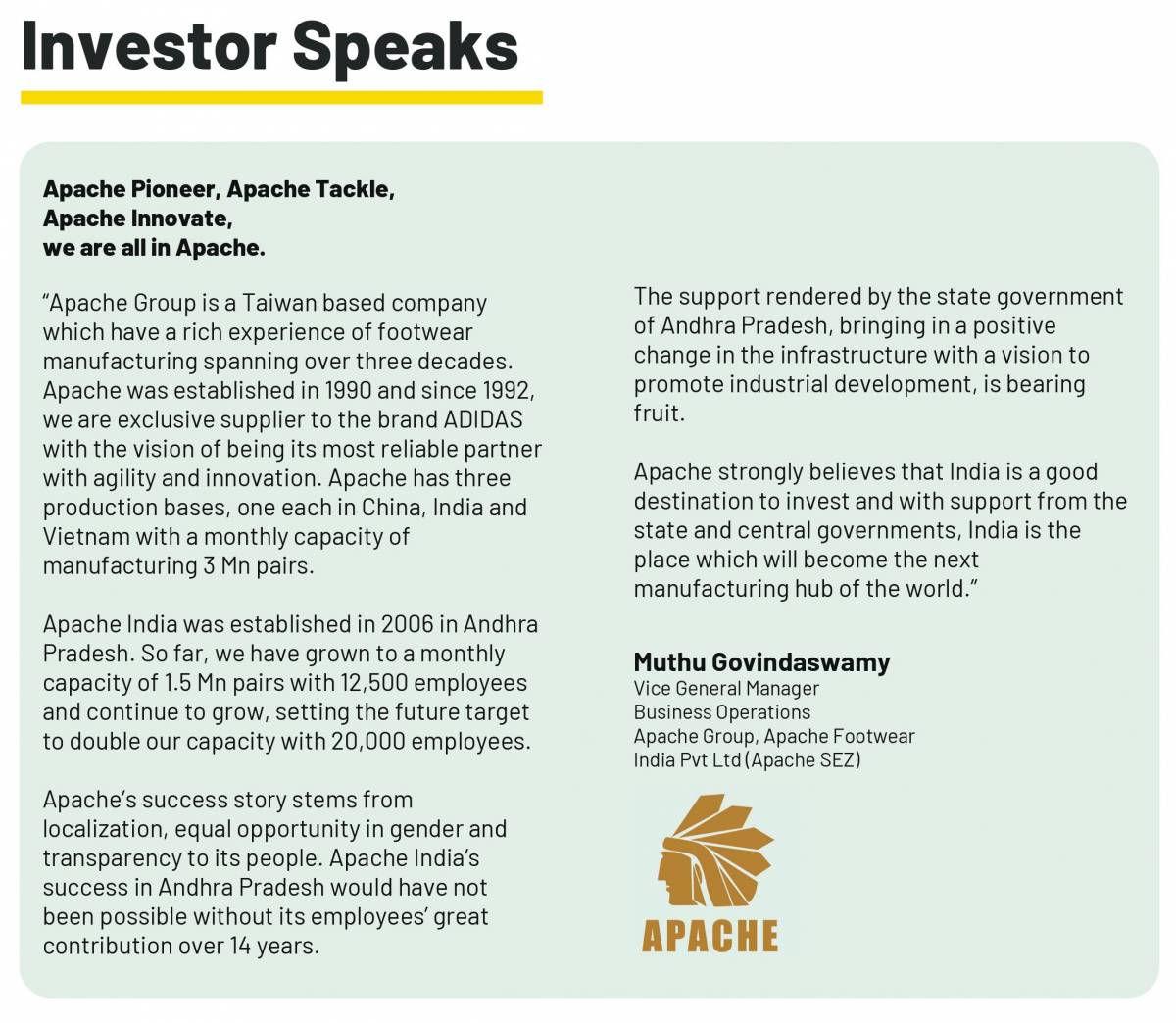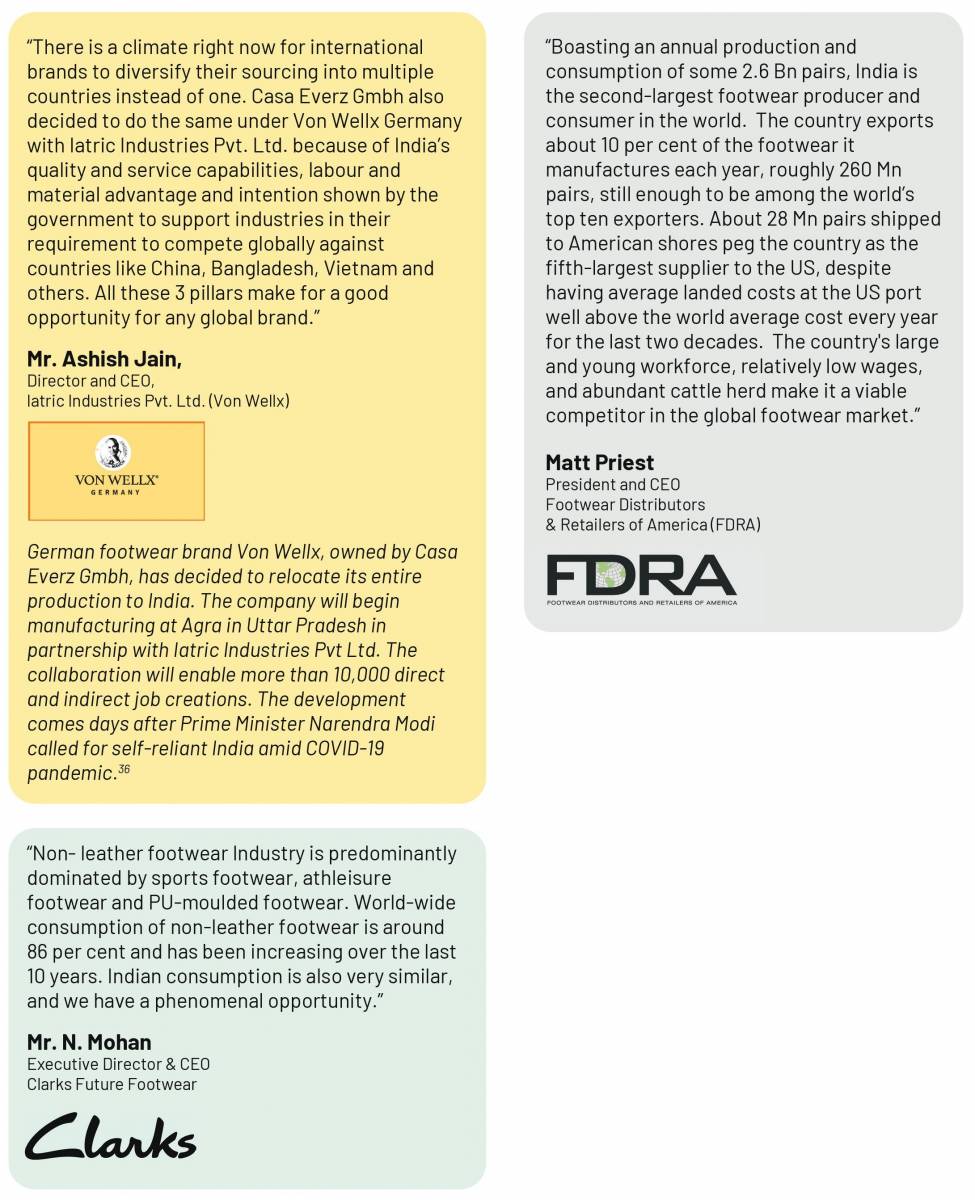 Impact of COVID-19 on the footwear industry in India
The ongoing coronavirus pandemic across the globe is severely affecting the production, import, and export of leather and non-leather footwear, which, in turn, is anticipated to negatively affect the growth of the global market.
Issues and Challenges
Lack of Supply of Footwear Components
Supply of raw material imports such as laces, shoe lining, buckles, ornaments, insoles, outsoles, cellulose board, shank board, foam and packing material from China had stopped completely since January.
In Agra, which is the largest footwear hub in India, the industry is adversely impacted. According to industry sources, raw material worth INR 15 crore ($ 2 Mn) for manufacturing finished footwear is imported from different parts of China to Agra every month.
Footwear components can be imported from Italy or Spain, but they cost more as compared to China and these are not manufactured in India, as it is too expensive here.
Impact on Export
The spread of coronavirus has affected the shoe industry at a crucial time. January and February are peak months when manufacturing is done for exports during summer, especially keeping in mind that footwear alone accounts for 46 per cent of the overall exports from India's leather
Strategy to address the crisis
To tackle any such future irregularity in supply chains, Indian importers need to diversify risks and reduce dependency on one single market to meet 70-80 per cent of their sourcing demands by exploring other markets for footwear components.
Reduction on duties of footwear components (at present 20 per cent) could cushion the impact as Indian manufacturers explore other markets to import from.
Way Forward
The footwear industry in India is expected to grow significantly in the coming years. However, below are a few areas where much scope for improvement exists and the government is taking major strides to ensure a conducive industry ecosystem to transform India into a global footwear manufacturing hub: 
Bolstering up Trade and Commerce end-to-end
Promoting indigenous manufacturing of raw material:
Currently, almost all raw materials and footwear components are imported in India, owing to little or no domestic manufacturing of products such as PVC, PU, heels, in-soles, and hardware. The government needs to incentivize manufacturing of raw material and footwear components through change in policies for reducing import dependence and help in reducing the overall manufacturing costs.
Enhance scalability:
One of the biggest challenges faced by the sector is the small size of production units and fragmented nature of manufacturing. This makes it difficult for the domestic industry to reap the benefits that large economies of scale have to offer. The bigger size of companies would also allow for investment in technologies which would allow them to tap into higher value-added items. There is a need for robust infrastructure development which can be done through the development of leather and footwear products complex with plug and play facilities ready for factories to move in.
Promoting indigenous manufacturing of raw material:
It would be key to improve the lead times which would allow India to be globally more competitive. This would also involve investments in improvement of inland logistics through infrastructural development in roads and ports. Furthermore, there are very few 'Very Large Capacity Containers' (VLCC) that come to Indian ports to load cargo and thus, exports have to be trans-shipped through Colombo which increases costs.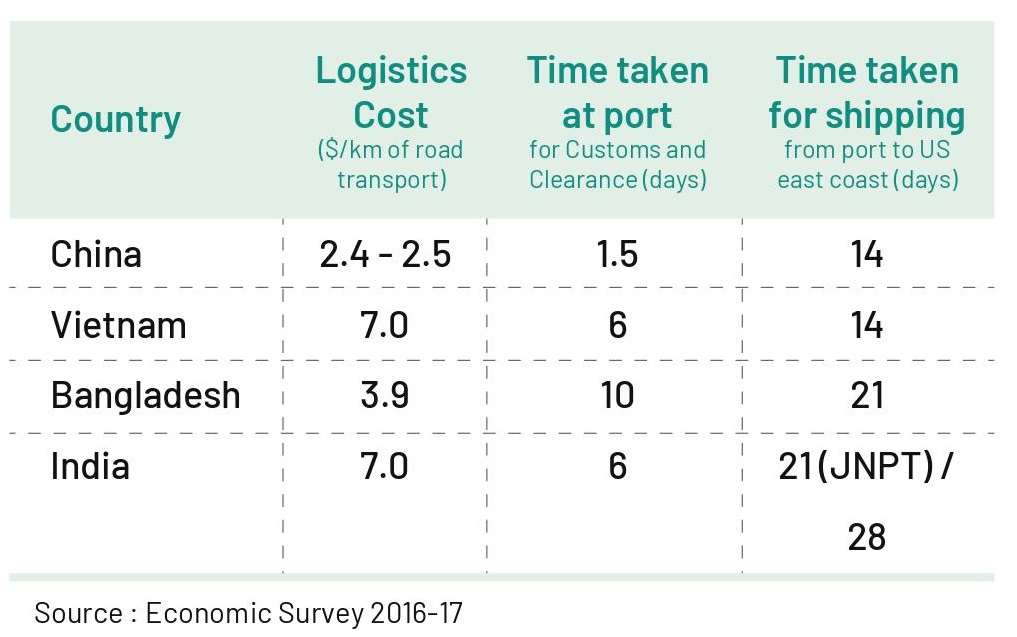 Leveraging India's Market Access Arrangements:
India's competitor nations have gained a significant edge as result of their Least Developed Countries (LDCs) status and trade agreements. For example, Vietnam has zero duty access to both the EU and US whereas Bangladesh has zero duty access to EU, giving them access to these huge consuming markets. India currently has Free Trade Agreements (FTAs) with the ASEAN countries where our trade has been limited to importing raw materials and finished products at a lower price than incentivising indigenous manufacturing, thereby, inhibiting the growth of the domestic footwear sector. Instead, India needs to focus on having Preferential Trade Agreements (PTAs) / FTAs with key consuming markets to give a boost to the labour intensive manufacturing industries.
Creation of a seamless tax structure
Increase in custom duties only in the long run:
In order to promote domestic manufacturing and generate employment in the footwear sector, customs duty has been hiked on components specifically, from 15 per cent to 20 per cent. Although, the measure was taken to avoid the import of low value-added products, it has not borne fruit owing to illicit practices. Since the ecosystem for manufacturing of raw materials in India is at a nascent stage, the increase in import duty on raw materials increases the overall cost of manufacturing finished products. Hence, it will be useful to increase the custom duty on components only in the long run, as also resonated by the industry wide opinion.
Resolving inverted duty structure and rationalization of GST:
Currently, the uneven GST rates in the footwear value chain have led to an inverted duty structure where lower duties are levied on the finished product while duties on raw materials are higher (Annexure 2), discouraging domestic value addition.
The existing challenge with our tax structure, wherein the footwear below INR 1000 is taxed at 5 per cent and anything higher than INR 1000 is taxed at 18 per cent, has been discouraging value addition as the tax increase is steep. The large difference of this tax between the two categories creates a distortion by having a significant effect on the demand for the category that is over INR 1000. Due to the low consumer demand of this category, manufacturers do not get the incentive to produce large volumes and increase their scale of production. This ultimately affects the demand from the manufacturers' side to set up a supply chain in India.
This dual rate of GST also causes possible evasion by under-invoicing to below INR 1000. Major footwear manufacturers have lobbied for a uniform tax rate across the footwear value chain at 12 per cent.
Undertaking skilling initiatives
One of the youngest countries in the world, India has the advantage of a productive workforce owing to its promising demographic dividend where over 65 per cent population is below 35 years of age. The Indian workforce is expected to increase to approximately 600 Mn by the year 2022 from the current estimate of 473 Mn.
Multi-skilling of shop floor workers:
The footwear industry in India currently employs over 2 Mn employees and is slated to add double the number of workers by 2022. India's footwear industry has the lowest cost structure in terms of labour in the world, making India highly competitive in this segment.
However, entry-level operators, cutters, stitchers, skivers, finishers have limited knowledge on machine handling and troubleshooting aspects, directly affecting productivity since training provided to process line workers is time consuming and eats into the production time.
There is a need to extend financial support for multi-skilling of shop floor workers. A separate scheme for training qualified industrial engineers with defined minimum qualifications for implementing modern industrial engineering techniques on shop floors may be introduced.
Collaboration between government and industry:
There should be investments in improving skills as a collaborative effort between the private sector and the government. Abundant availability of trained and certified manpower should become the norm and efforts must be made to achieve per man hour, per machine output in terms of quality and quantity of the levels prevailing in competing countries. Existing skill development initiatives through the National Skill Development Corporation should be appropriately scaled up in partnership with the industry along with putting in place a credible mechanism for assessing quality and productivity of workers to hold them more accountable.
Dedicated courses on footwear manufacturing, design and retailing:
India is currently witnessing a boom in entrepreneurial spirit with fresh graduates from various institutes opting for entrepreneurship. India has the 3rd largest startup ecosystem in the world. The government needs to work with various entrepreneurship development institutes for initiating courses on entrepreneurship in footwear manufacturing and designing. This would help in creating a pool of energetic youth transforming the sector. Introduction of specific courses in various educational institutions may also hold the key to ensure that we have abundant workforce with specialised skills required for footwear manufacturing, designing and retailing.
Technical training:
There is a growing need to train more specialised staff with technical skills and capability of working on imported machines in this specific sub-segment as the industry transitions from a cottage-based model to a factory model. Domestic companies such as Mochiko and SSIPL manufacturing in the athleisure segment are employing close to 5,000 workers and spend a minimum of three months to train their workers in-house.
Building 'Brand India'
Strategic branding:
The nature of the footwear industry in India is highly fragmented, comprising mainly of MSME players which are often unable to give due importance to marketing and branding activities unlike the large players such as NIKE, PUMA, ADIDAS and others, that place major emphasis on strategic branding. At a company level, low marketing budgets result in ineffective and short-term marketing campaigns which do not go beyond generating awareness. Hence, it is imperative to create a larger 'Brand India' that can subsume the marketing activities of such MSME players in the footwear industry.
Penetrating the global market:
To change the perception of quality associated with Indian footwear, marketing efforts must be made to showcase India as a manufacturing destination for quality products at competitive prices. Stepping up execution of "Made in India" branding through co-funding would expand the attributes such as sustainability, which both global as well as domestic buyers, value. Investing in "go-to-market" strategies by supporting Indian exporters to participate in large global trade events of a significant scale would allow Indian players to create 'Brand India' and collectively create a place in the global ecosystem.
Institutionalizing the $ 4.3 Bn non-leather footwear industry
Creation of an ecosystem for innovation and development:
The footwear industry in India is largely unorganized. Furthermore, the supply chain of the footwear industry is largely dispersed leading to longer lead times and higher costs when compared to other countries. This fragmented nature calls for consolidation of industry as a hub through cluster-isation, which would be a key to robust infrastructure development and the creation of an ecosystem for innovation within the country. Establishment of a footwear hub, research centers, laboratories, will lead to the improvement of the supply chain of this sector. The development of large clusters for small-scale and large-scale factories in this category would be one of the biggest factors that can contribute to the growth of this industry.
Segregation of leather and non-leather as sectors:
Roughly 59 per cent of the footwear market in India is constituted of non-leather footwear. Segregating the non-leather and leather footwear segments will be a major step in the direction of giving recognition to the growing non-leather sub-sector. Presently, all the associations are for leather and non-leather footwear combined, which does not entirely recognise the interests of non-leather footwear sector separately. Additionally, having a dedicated association for non-leather footwear would promote the interests of non-leather footwear manufacturers.
Resource optimization and industrial upgradation:
The government of India is developing a national level land bank by integrating the Industrial Information System (IIS) with state industrial GIS systems to serve as a one-stop solution for free and easy accessibility of all industrial information.
Classification of footwear category:
Footwear and leather products industry (excluding tanning and hide processing) has been classified under the "Green" category, currently. To further boost domestic manufacturing and streamline environmental clearances, the industry should be classified under the "White" category which requires no green clearance at all.
Annexures: