Electronic Systems Design and Manufacturing in India: A $120 Bn Market Opportunity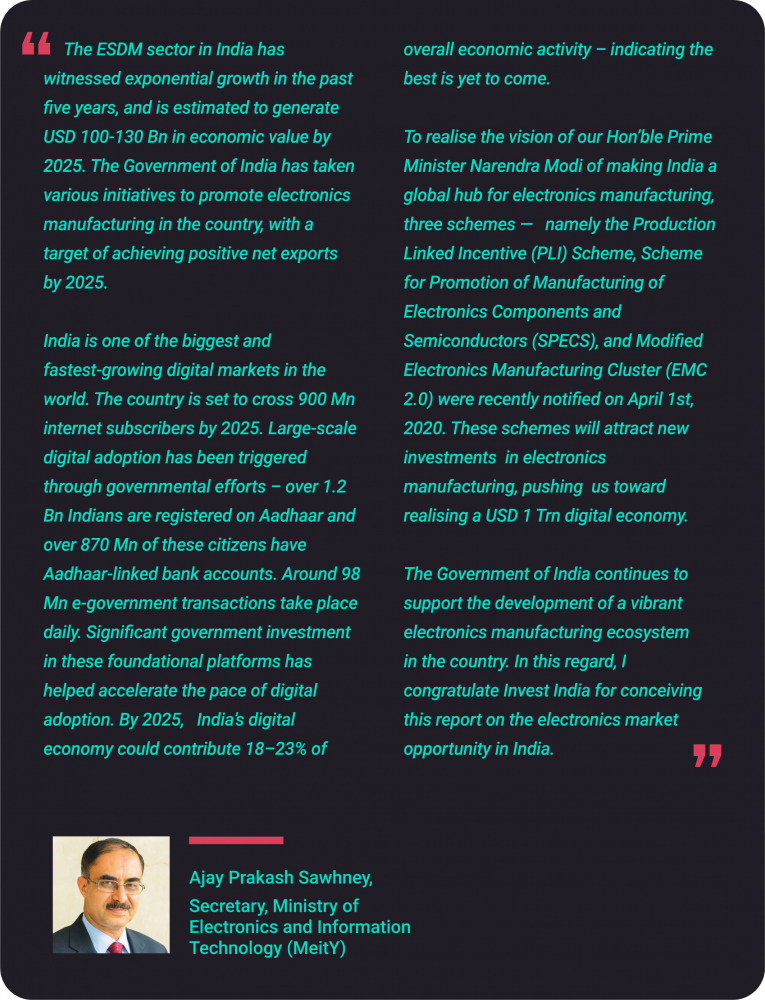 The world's fastest growing industry, Electronics System Design and Manufacturing (ESDM) continues to transform lives, businesses, and economies across the globe. The global electronics market is estimated to be over $2 tn. India's share in global electronics manufacturing has grown from 1.3% in 2012 to 3.0% in 2018. The electronics manufacturing sector accounts for 2.5% of India's GDP, and employs over 13 million people are through directly and indirect jobs.
India houses one-sixth of the world's population, of which 1.2 billion are mobile subscribers and 661 million are internet users. With per capita disposable income and private consumption having doubled in the past 7 years, India has emerged as one of the largest markets for electronic products in the world (See Figure 3). India also ranks in the top 3 global economies in terms of number of digital consumers and is slated to have a digital economy of over $1 tn by 2025. Therefore, building a vibrant electronics manufacturing ecosystem is central to the "Make in Digital India, Make for India, Make for the world" goal set forth by the Government of India.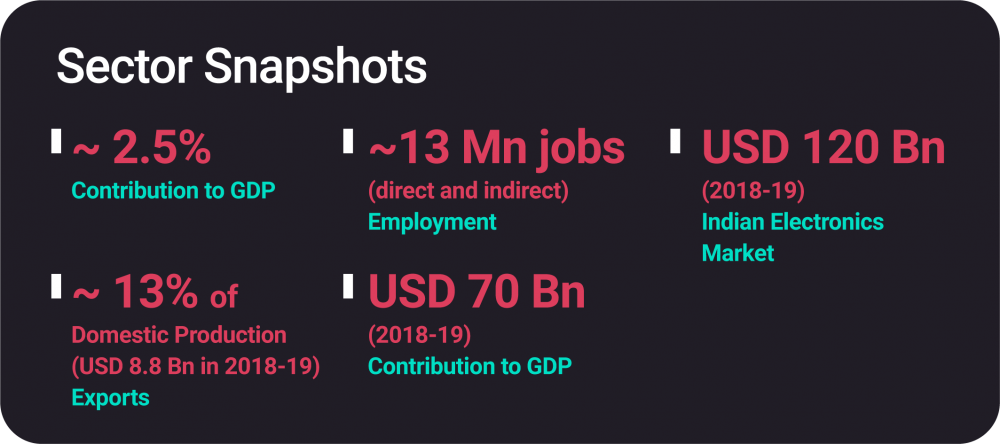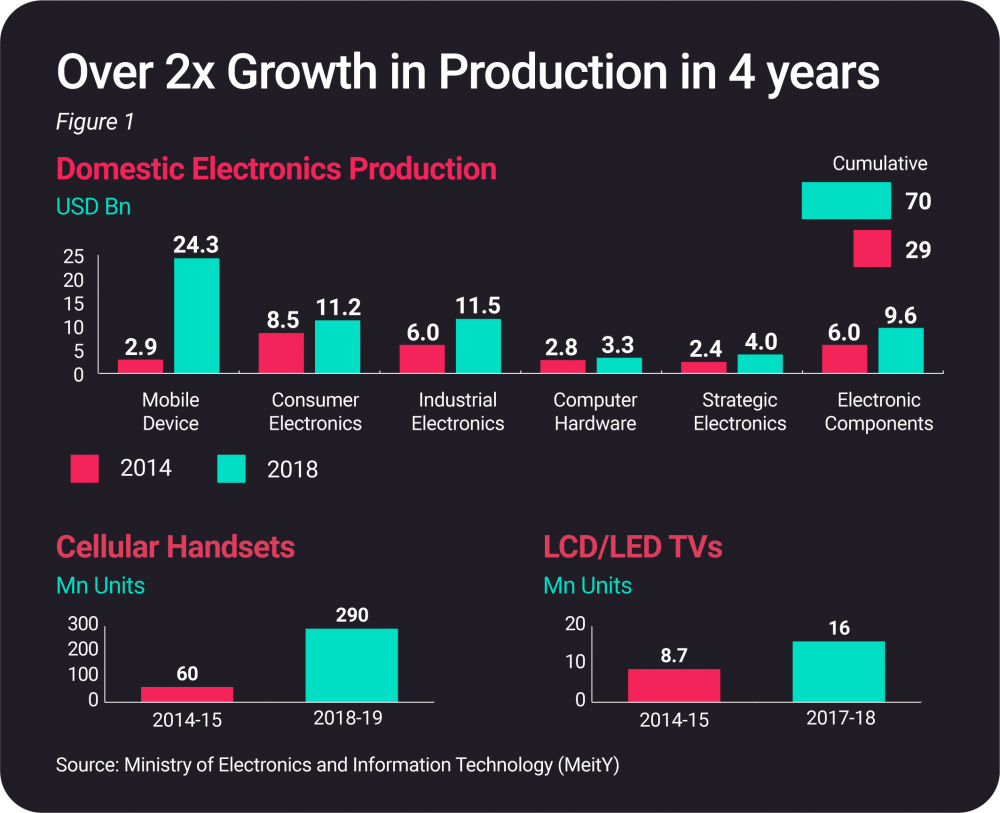 With over 2x growth, electronics production output inreased from $29 billion in 2014-15 to $70 billion in 2018-19 (See Figure 1).
India emerged as the second largest manufacturer of mobile phones in the world in 2018. The production value of mobile devices has gone up from about $3 bn in 2014-15 to $30 bn in 2019-20.
Communication and Broadcast electronics
Mobile telecommunication equipment
Modems
Routers
Switches
Consumer electronics
TVs (CRT and FPD)
Audio equipment
Digital cameras
Household appliances
Industrial Electronics
Power electronics
LED lighting
Energy meters
Inverters
Weighing scales and power supplies
Computer Hardware
Desktops
Notebooks
Tablets
Servers, storage flash memory cards, USB drives and printers/Multi-Function Devices (MFDs)
Automotive electronics
Electric vehicles
Two-wheeler (2W) ignition units
Regulators
Instrument clusters
Engine management systems
Strategic electronics (Aerospace and Defence)
Military communication systems
Radars and sonars
Electronic warfare systems
Weapon systems
Satellite-based communication
Disaster management systems and internal security systems
Electronics components
Semiconductors
Electromechanical components
Passive Components
Active Components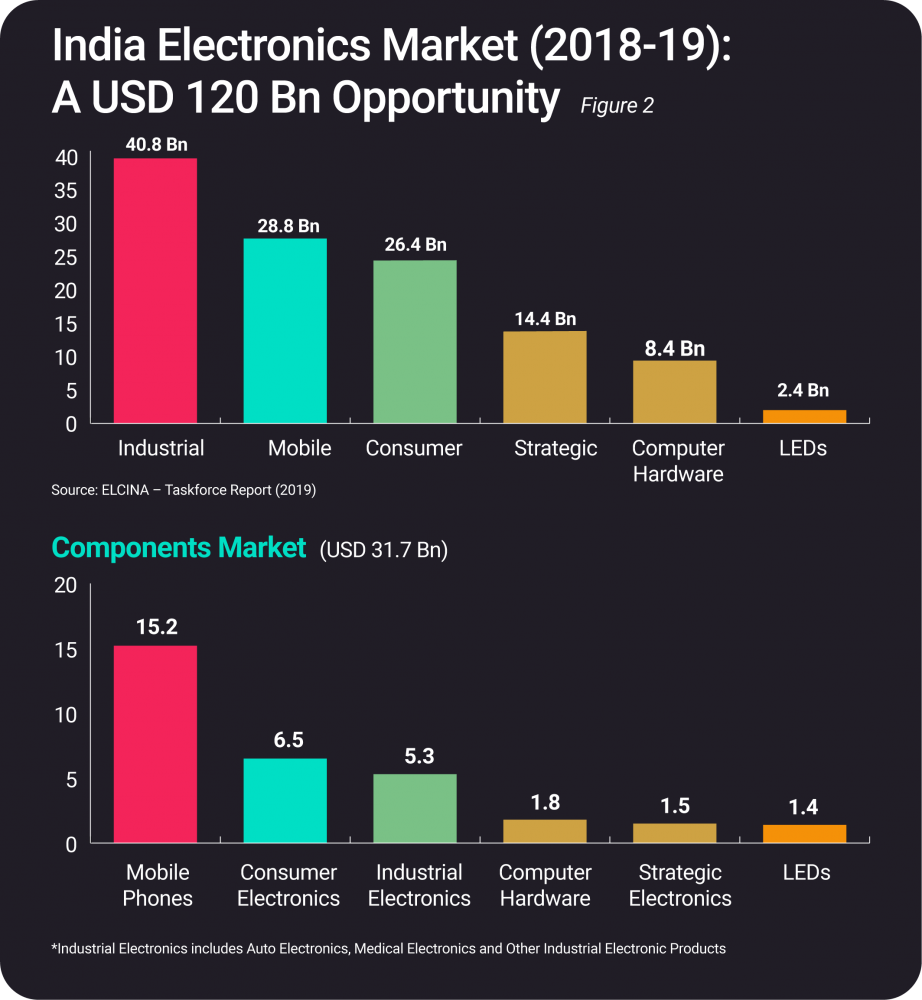 A growing middle-class population, rising disposable income, and declining electronics prices have led to an uptick in consumption of electronics devices in India. Quick technology transitions such as the rollout of 5G and Internet of Things (IoT) are ushering a new era for electronic products.
India is undoubtedly undergoing a digital revolution, and India has experienced large-scale digital adoption between 2013 and 2018. Digital transactions have increased 10x in 5 years (See Figure 4). Aadhaar, India's unique digital identity programme, covers more than 1.2 billion people, the largest system of its type globally; 870 million individuals have Aadhar-linked bank accounts, of which more than 325 million were added due to the Jan Dhan scheme for financial inclusion, launched in 2014 (See figure 5). Unified Payments Interface (UPI), enables all bank account holders to send and receive money instantly using smartphones and has clocked 3.2 Bn transactions between January 2018 - December 2019.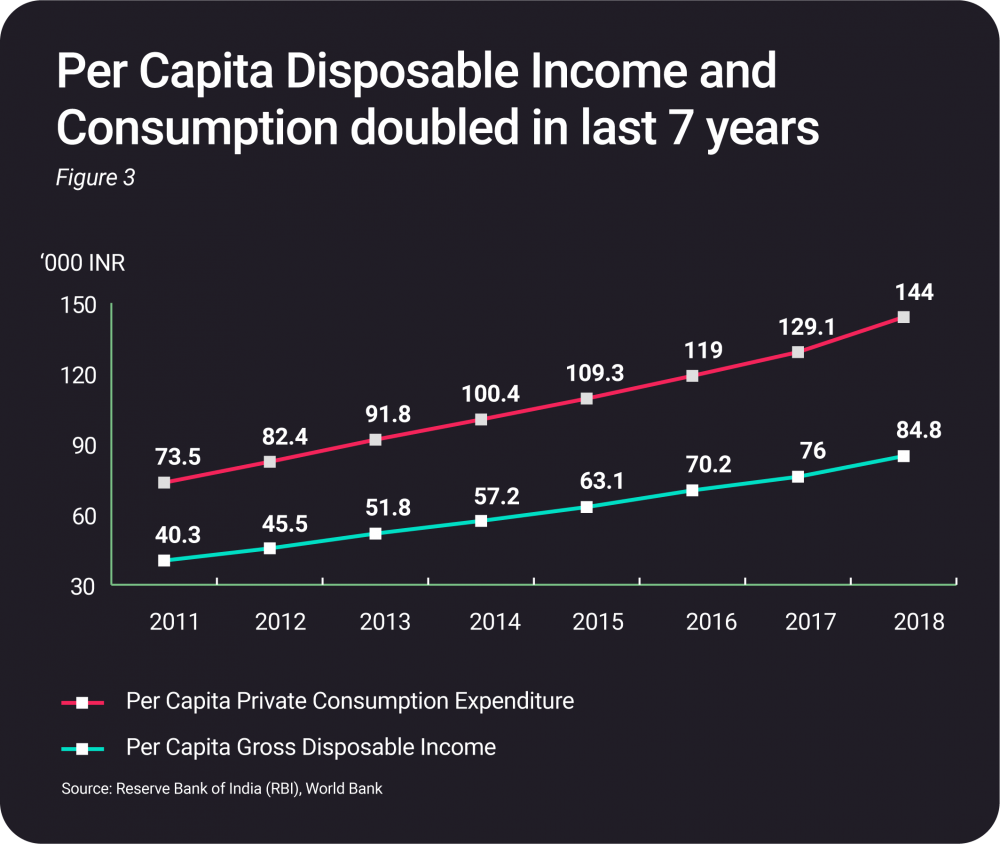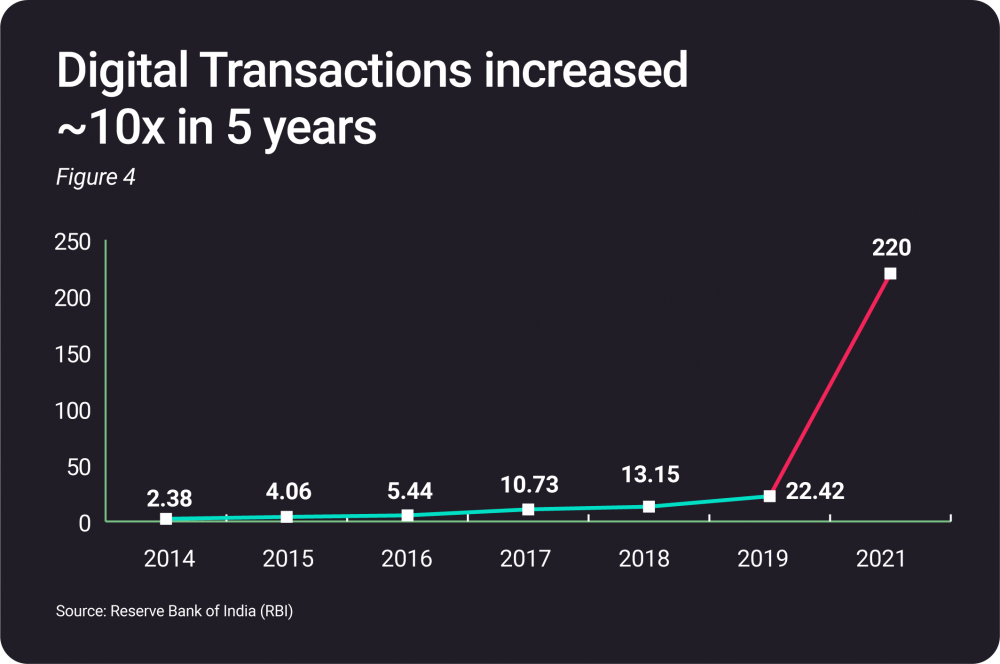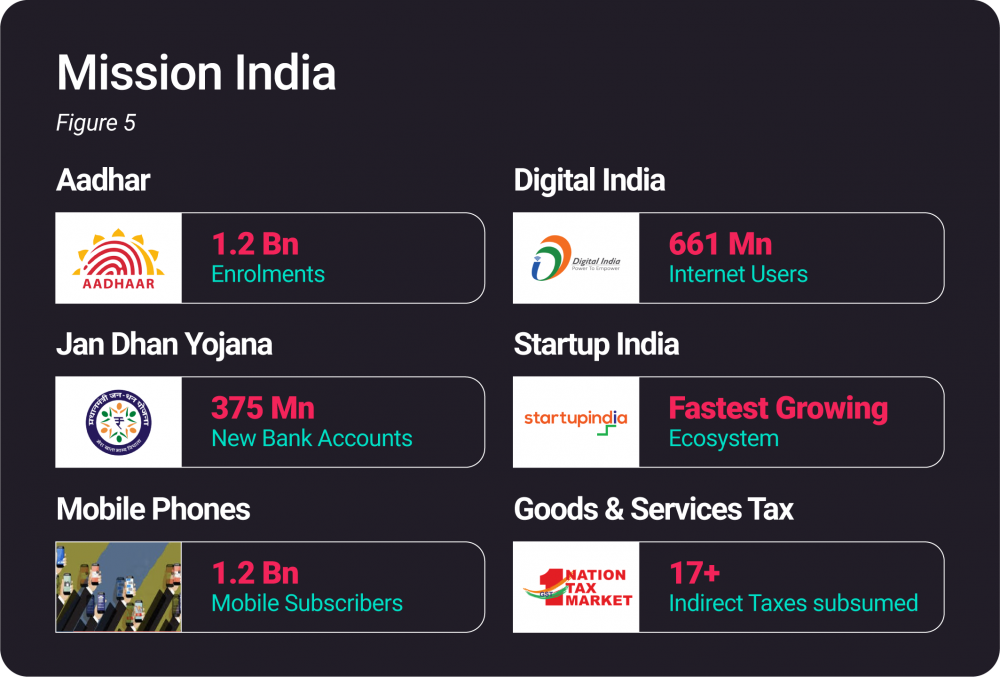 ESDM Landscape in India
According to estimates from a research initiative conceived by the Ministry of Electronics and Information Technology (MeitY), domestic electronics manufacturing could generate an economic value of $100 bn to $130 bn in 2025. Domestic electronics manufacturing has already witnessed unprecedented growth over the past five years.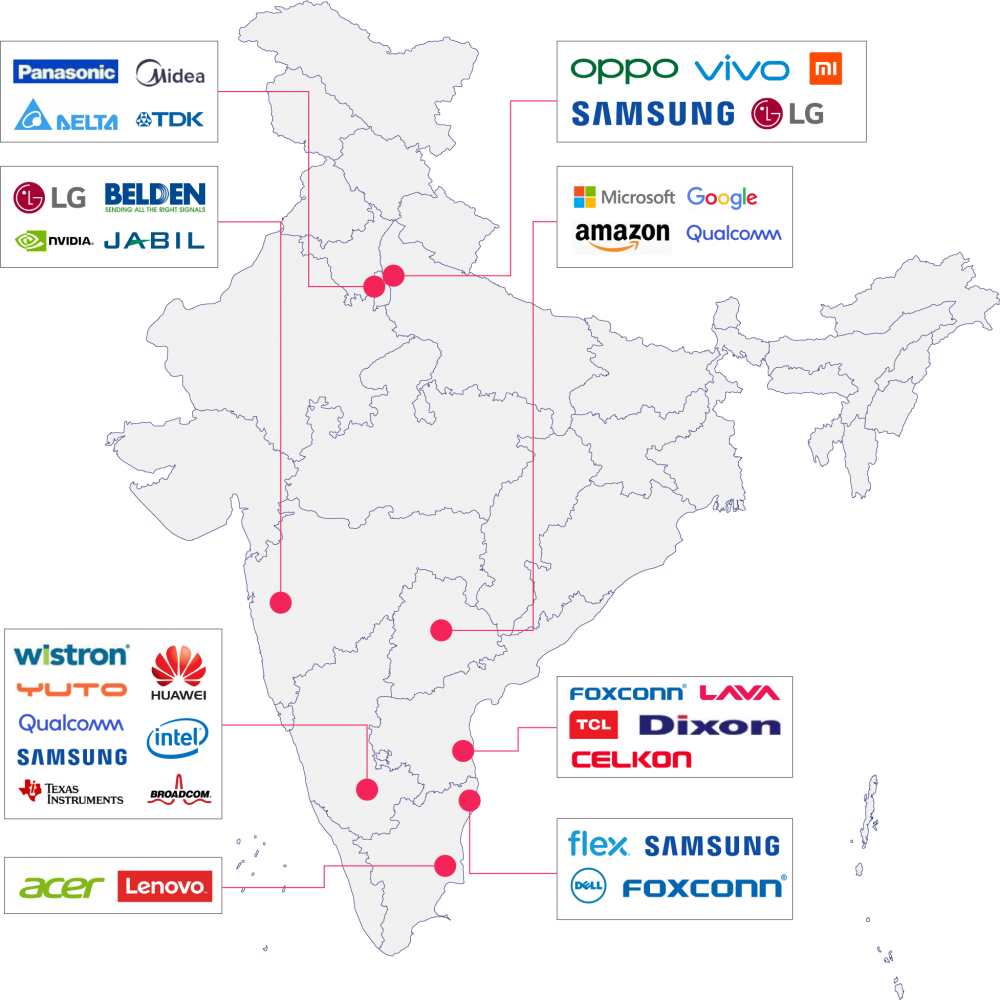 Government Policy, Incentives and Initiatives – Make in India:
Key initiatives
Phased Manufacturing Programme (PMP)
A Phased Manufacturing Programme is essentially a roadmap for tariff rationalization wherein duty differentials are created to incentivize domestic manufacturing. To promote depth in manufacturing, the roadmap is prepared keeping in view the state of the design/manufacturing ecosystem in India to substantially increase value addition.
GST Implementation
The Goods and Services Tax (GST) in India is a comprehensive, multi-stage, destination-based tax that is levied on every stage of value addition. Notably, GST is one indirect tax for the entire country, and has subsumed almost all the indirect taxes that previously existed in India.
Electronics Development Fund (EDF)
An initiative of MEITY to create a "fund of funds" which will work with venture capitalists (VCs) to promote innovation, IP creation, Research & Development (R&D) and commercialization. $101.38 mn is committed through EDF to 11 'Daughter Funds', which in turn will provide risk capital to companies developing new technologies in areas including electronics, nano-electronics and information technology. The targeted corpus from EDF outlay is $846 mn.
Public Procurement Order (PPO), 2017 
The government issued Public Procurement (Preference to Make in India) Order, 2017 as part of the policy to encourage 'Make in India' of goods and services, with a view to enhancing income and employment. Eleven electronic products have been notified under PPO, 2017 to facilitate procurement of domestically manufactured products.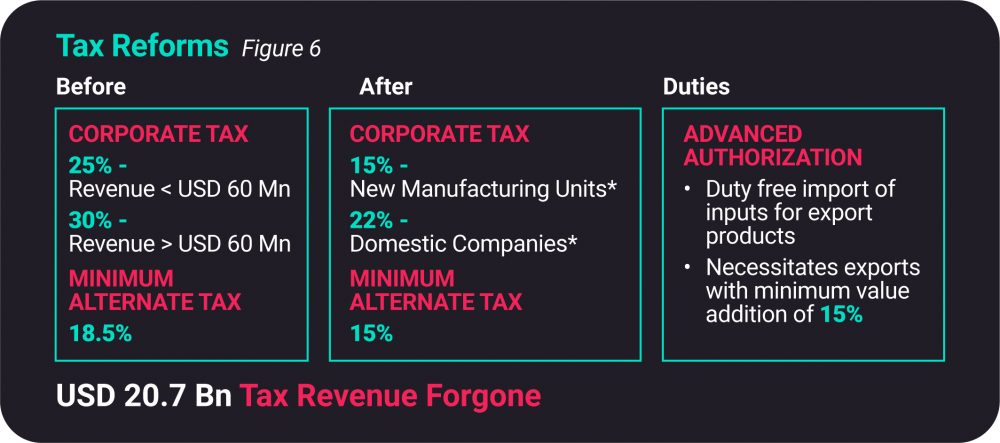 Previous schemes for Promotion of Electronics Manufacturing:
Modified Special Incentive Package Scheme (MSIPS)
Introduced in 2012 to offset disability and attract investments in electronics manufacturing, the scheme provided a capital subsidy of 20% in Special Economic Zones (SEZs) and 25% in Domestic Tariff Area (DTA). Reimbursement of central taxes and duties is provided for some high capital investment projects like semiconductors, conductor fabrication plants. Over 400 applications have been received under MSIPS with proposed investments of over $15 Bn. MSIPS expired on December 2018. 
Electronics Manufacturing Clusters (EMC) Scheme 
Introduced in 2012, the scheme was intended to develop basic infrastructure, amenities, and other common facilities for ESDM units. 23 projects across 15 states -- 20 greenfield EMCs and 3 Common Facility Centers (CFCs) were approved under the EMC Scheme, and 3,561 acres of fully developed land has been made available as a result. Building on EMC's success, the Modified Electronics Manufacturing Clusters Scheme (EMC 2.0) has been introduced to further strengthen the infrastructural base for electronics manufacturing in India.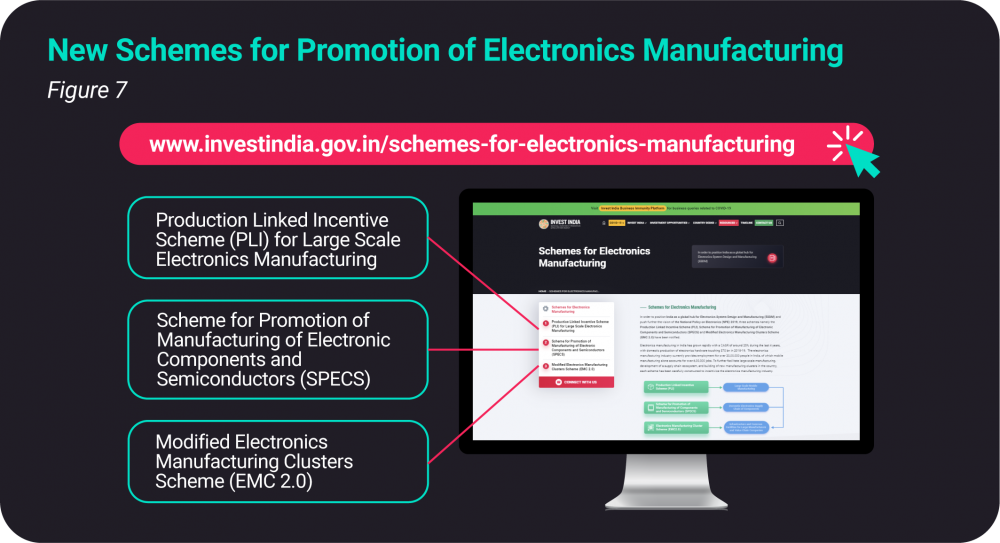 New Schemes for Promotion of Electronics Manufacturing
In order to position India as a global hub for ESDM and push further the vision of the National Policy on Electronics (NPE) 2019, three schemes namely the Production Linked Incentive Scheme (PLI), Scheme for Promotion of Manufacturing of Electronic Components and Semiconductors (SPECS) and Modified Electronics Manufacturing Clusters Scheme (EMC 2.0) were notified by the government on April 1, 2020 (See Figure 7,8).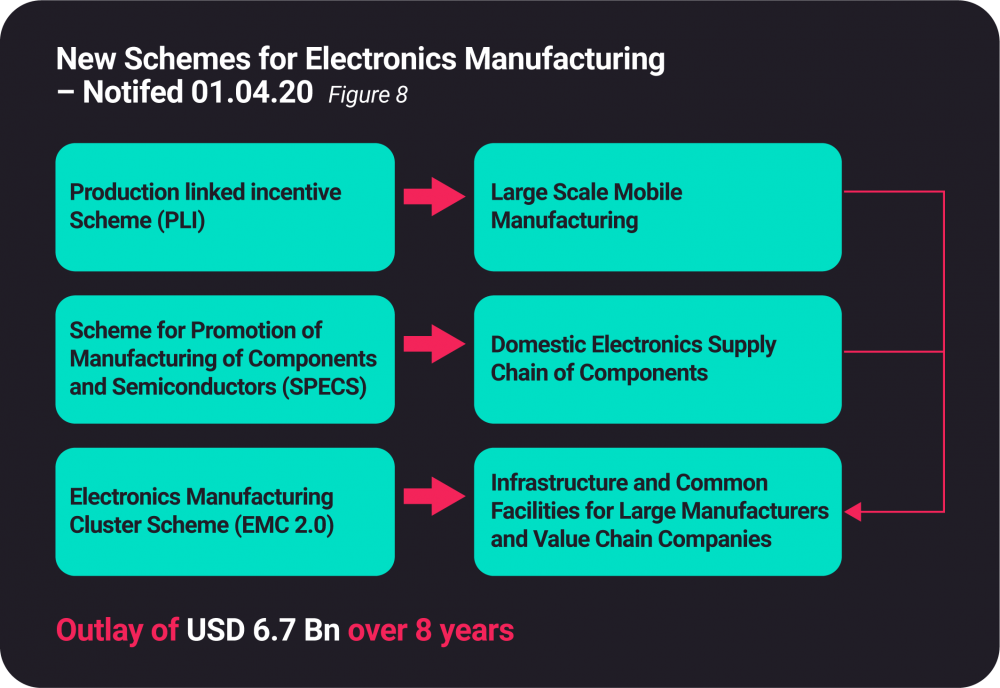 Production Linked Incentive Scheme (PLI)
The Production Linked Incentive Scheme (PLI) for large scale electronics manufacturing proposes a financial incentive to boost domestic manufacturing and attract large investments in the electronics value chain including mobile phones and specified electronic components (See Figure 9).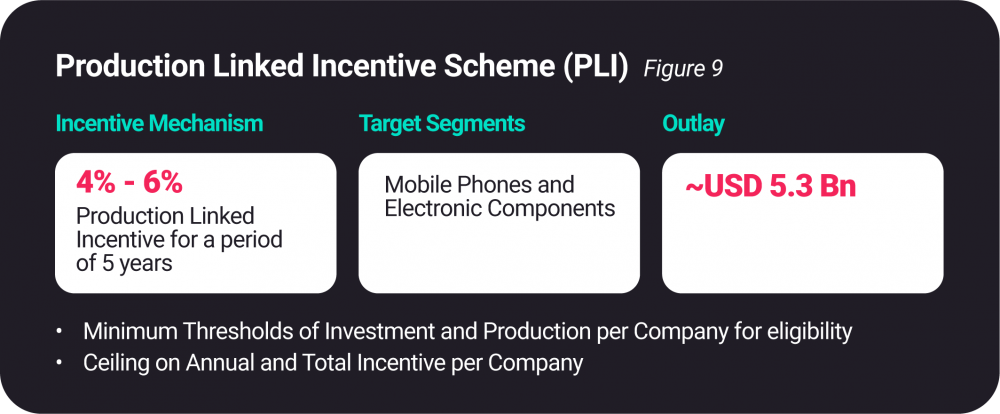 Scheme for Promotion of Manufacturing of Electronic Components and Semiconductors (SPECS) 
Aims to strengthen the manufacturing ecosystem for electronic components and semiconductors to help meet domestic demand, increase value addition, and promote employment opportunities in this sector. Incentives of up to $434 mn will be awarded under the scheme over a period of 8 years (See Figure 10).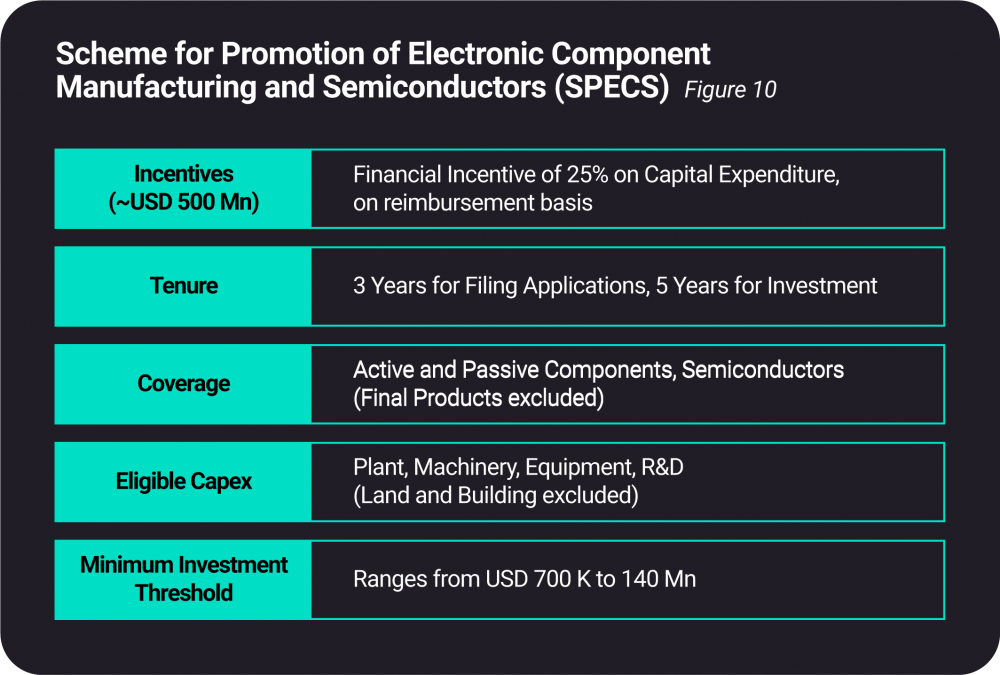 Modified Electronics Manufacturing Clusters Scheme (EMC 2.0)
The scheme seeks to strengthen the infrastructure base for the electronics industry and deepen the electronics value chain in India. The development of industry-specific facilities like CFCs, ready built factory sheds/plug and play facilities will not only strengthen supply chain responsiveness and promote the consolidation of suppliers but also decrease time-to-market and lower logistics costs. EMC 2.0, therefore, provides financial incentives for creating quality infrastructure as well as common facilities and amenities for electronics manufacturers. Financial Incentives of up to $497 mn will be disbursed over a period of 8 years. (See Figure 11)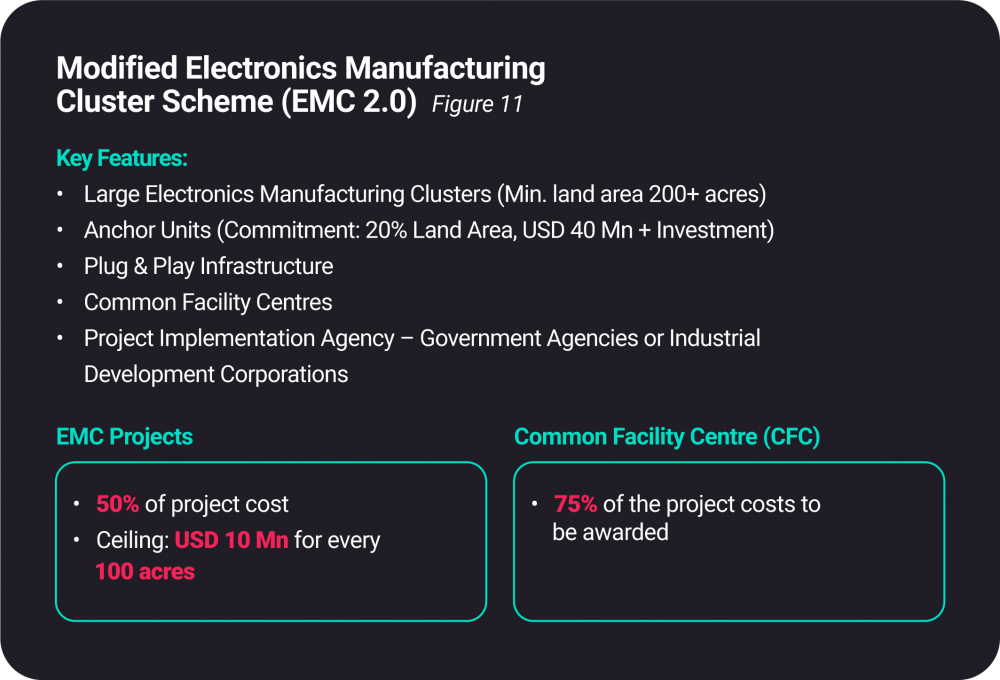 India Advantage
Indian Entities Out-Performing Global Parent Companies
Deepening global production capacity and exploring new opportunities for growth within the country has led several Indian subsidiaries to outperform their global parents. In the case of Suzuki and Standard Life, subsidiaries in the fast-growing Indian market reported a 12.6% increase in revenue, while global parents' revenue declined 6.9% between 2012-2017. Net profits for Indian subsidiaries increased by 30.6%, while global parents' revenue declined 4.4% during the same five-year period. The average internal rate of return (IRR) of India, too, was recorded at 14.4% — 2.5% higher than the average IRR of all-Asia based funds during the same time period. In terms of market capitalization, Suzuki outperformed its global parent by about $8.5 bn, and Standard Life did so with a difference of almost $9.4 bn. (See Figure 12)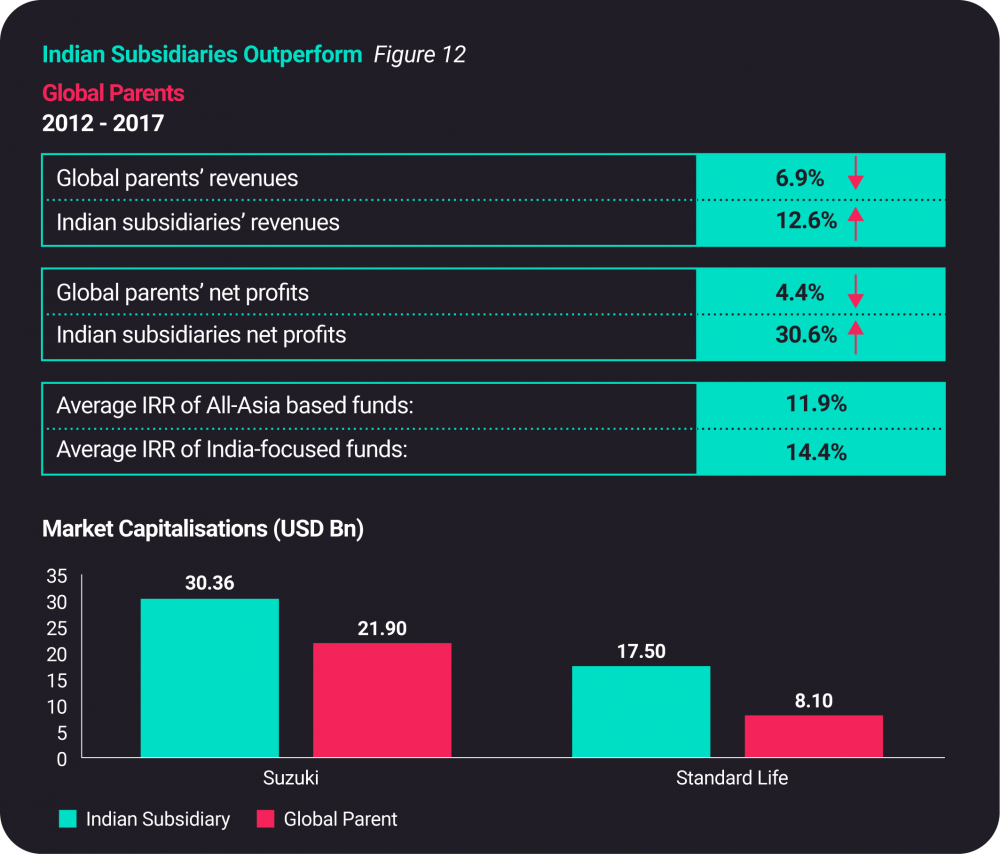 Leap of 79 ranks in Ease of Doing Business Rankings (2014-19)
India soared from 142nd to 63rd spot in the World Bank's Ease of Doing Business Index in just five years. On the Global Innovation Index, India has jumped from 81st to 52nd position, and is 10 places up on the Logistics Performance Index. (See Figure 13)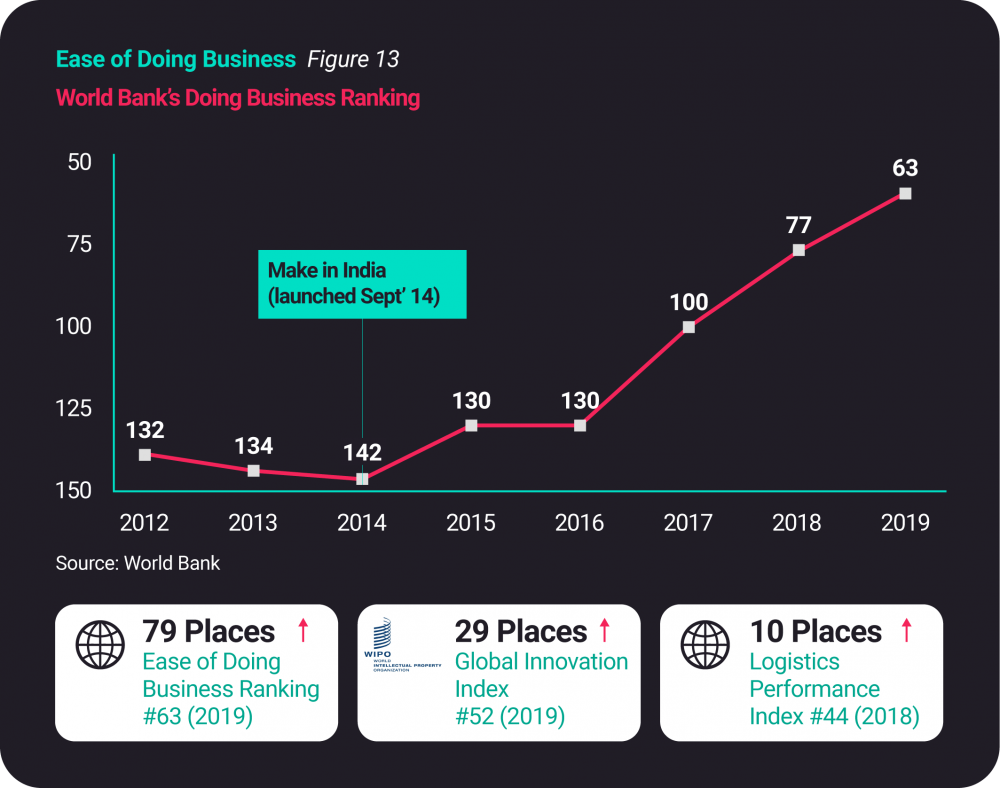 Robust Research & Development (R&D) Ecosystem
R&D support for concept-to-market innovation can add immense value in all subsectors of electronics along with simplified clearance procedures for import of goods required for R&D. Therefore, the Government of India has been actively collaborating with industry players, institutions and academia to support and produce world-class research and facilities. Currently, over 1,140 centers in India are dedicated to product development and R&D and employ over 9,00,000 professionals. Amplifying the R&D ecosystem for the Indian electronics sector will be crucial for the development of indigenous technology, transfer to industry for commercialization, and creation of Intellectual Property (IP) within the country. The government must continually invest in R&D and innovation to help industry develop capabilities in emerging technologies and enable it to create breakthrough software products that generate their own demand.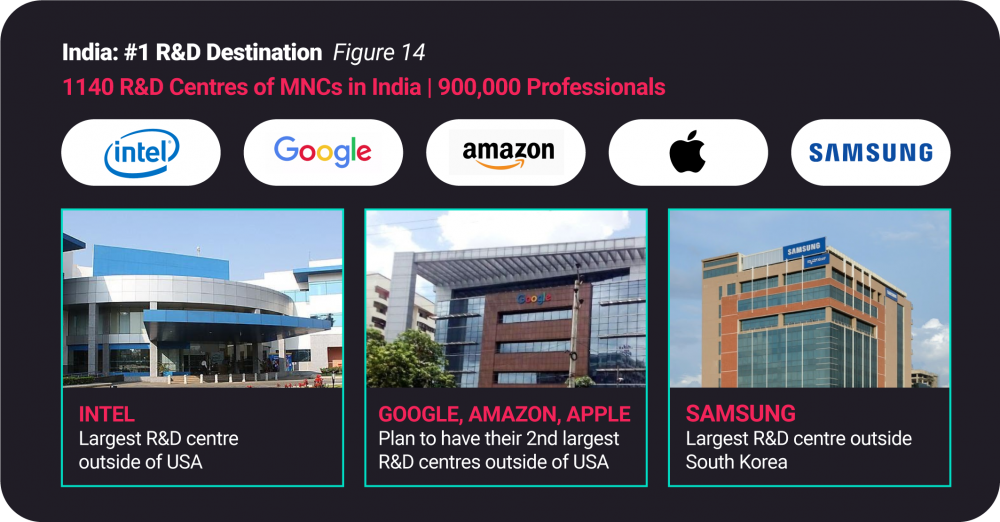 Infrastructure
To make India a global hub for manufacturing, the government has dedicated a significant proportion of fiscal stimulus to infrastructure spending, awarding $66 bn worth of highway contracts, totalling about 50,000 kilometres (km) to build national highways and expressways. Strategic focus on economic corridors, investments in high-speed rail, and dedicated freight corridors are causing India to undergo an unprecedented physical transformation. The National Infrastructure Pipeline (NIP) is a major step in that direction, with investments over $1,364 bn to be made by the government to build world-class infrastructural facilities.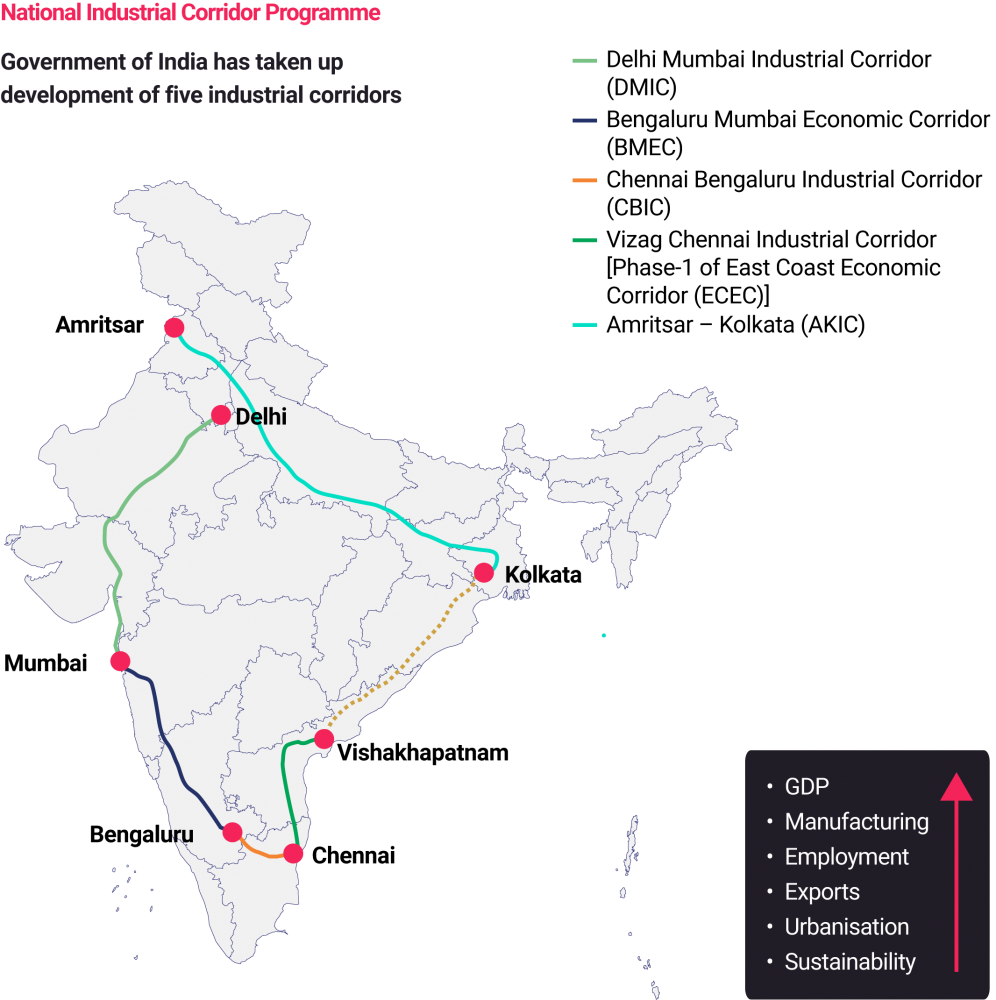 India has the world's fourth-largest rail network spanning a route of 67,415 km and the second largest road network in the world, covering 5.5 mn km. The 'Bharatmala' scheme aims to construct over 60,000 kms of national highways, develop 50 new national corridors, and connect 550 districts in India through national highway linkages. Creation of logistic parks for which 35 locations have been prioritized accounting for 50% of the total freight movement.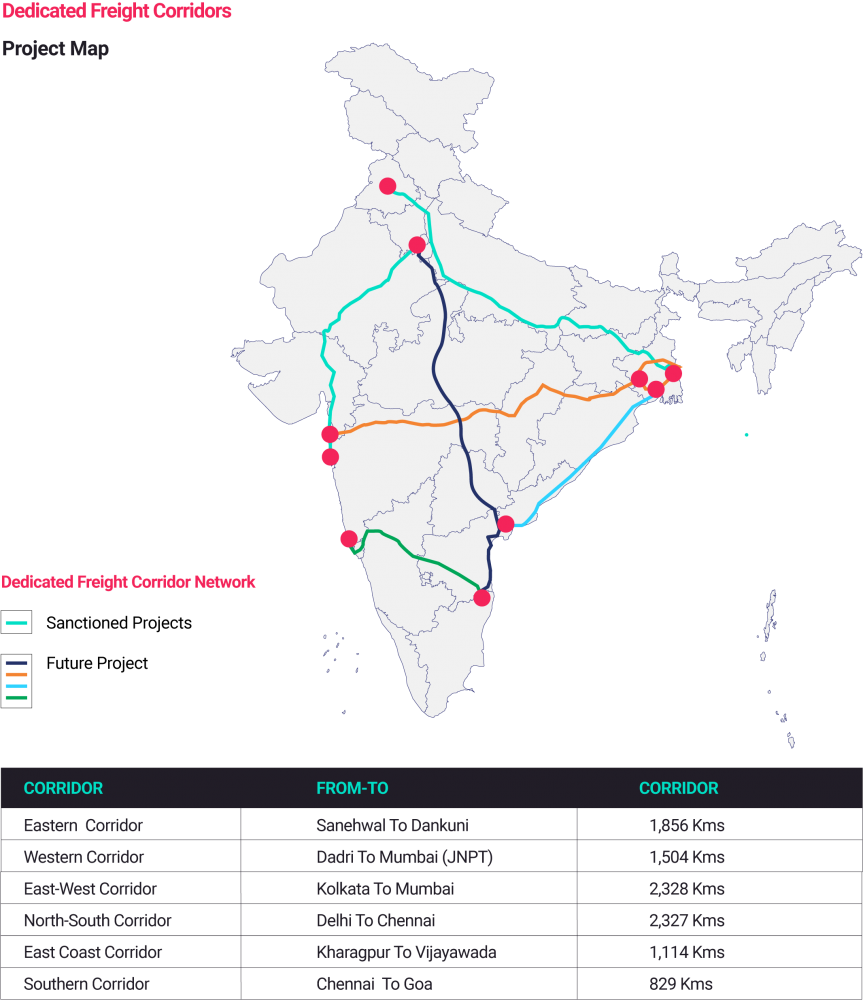 The Indian maritime industry supports 90% of India's trade by volume. Having a coastline of 7,517 km, with potentially navigable waterways of 14,500 km, India has 12 major and 200 non-major ports dotted along the coast. The 'Sagarmala' programme aims to accelerate port development and modernization. Additionally, proposed investments in major ports by 2021 is expected to be $18.6 bn, while those in non-major ports is expected at $28.5 bn.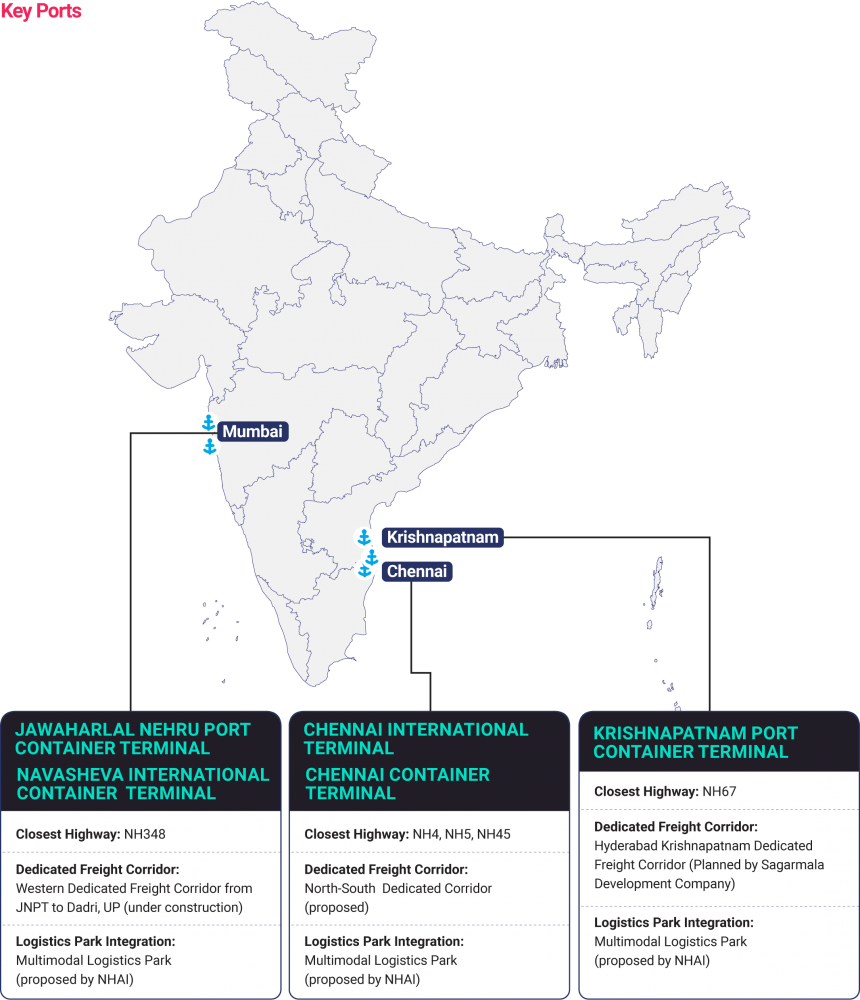 COVID-19: Impact and Way Forward
Following the outbreak of COVID-19, the International Monetary Fund (IMF) announced lowering of global GDP by 3% in 2020. Subdued global demand has created a vicious cycle of economic loss. Brands and manufacturers have reduced production and postponed the introduction of new products which, in turn, has caused disruptions in the supply chain. Global FDI inflows have declined, and a significant decrease in global credit risk instruments have led to stressed corporate balance sheets and an increase in non-performing assets (NPAs).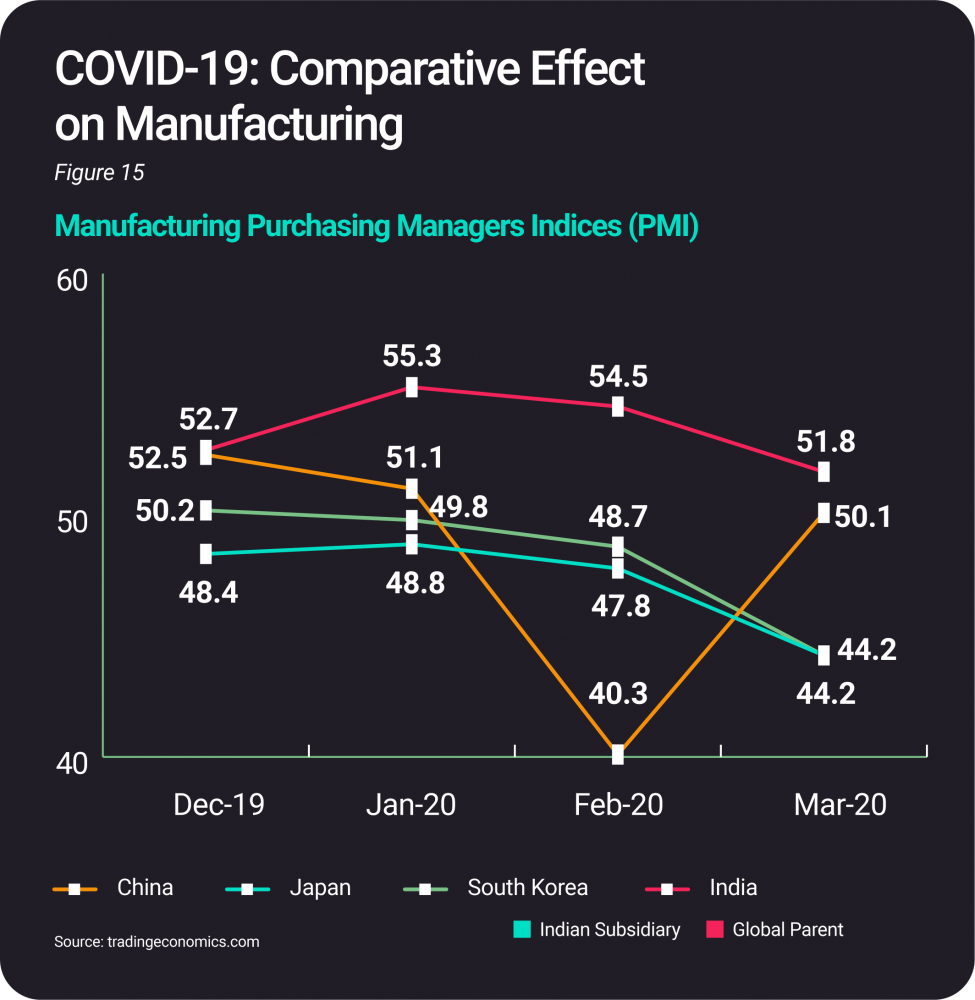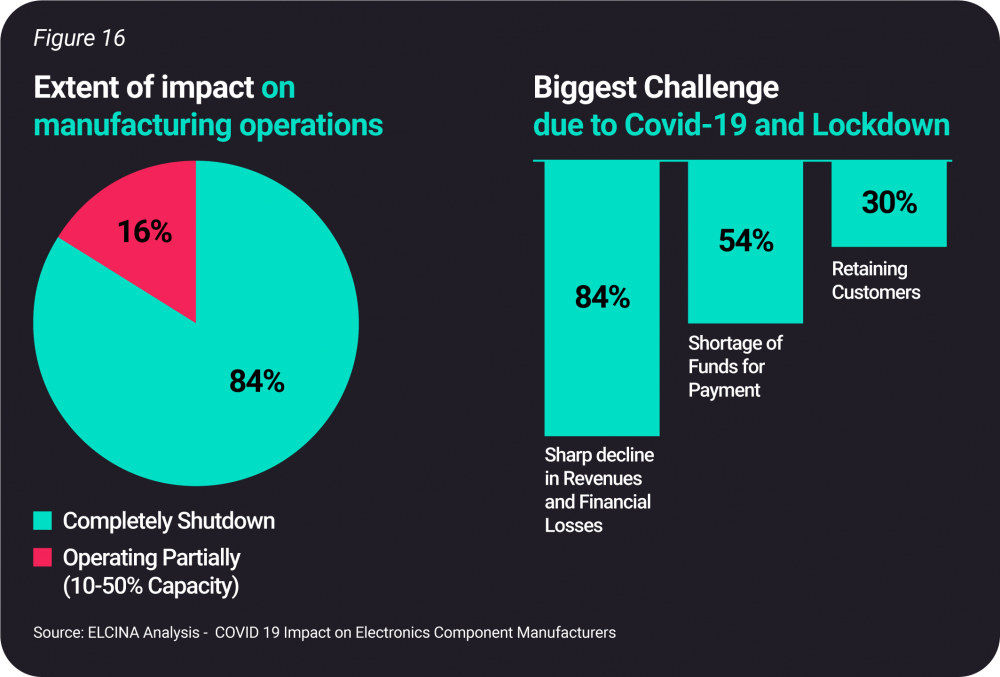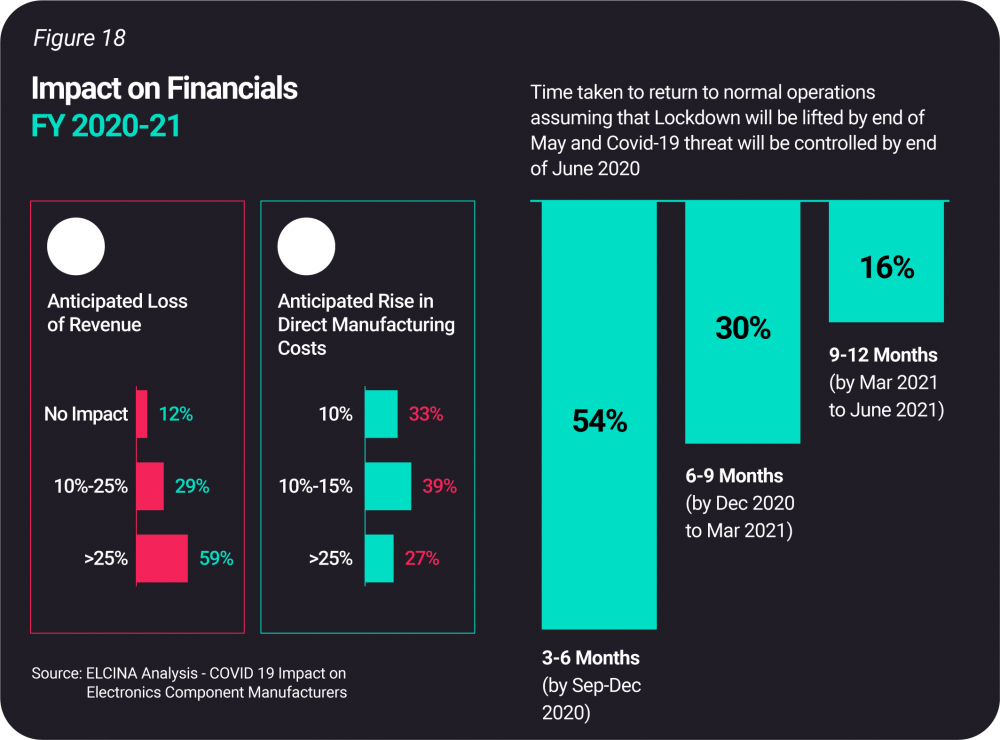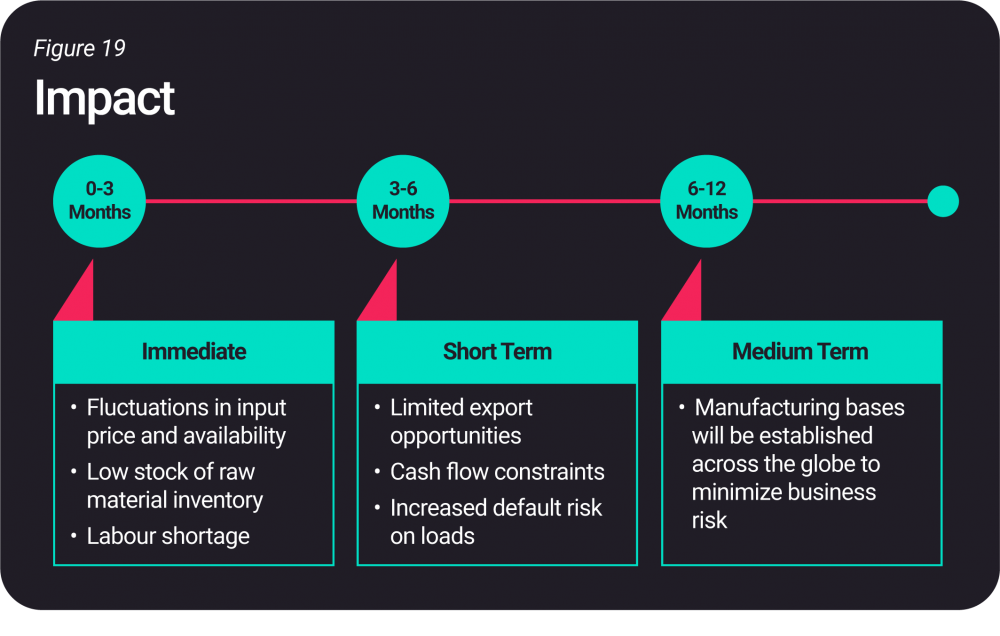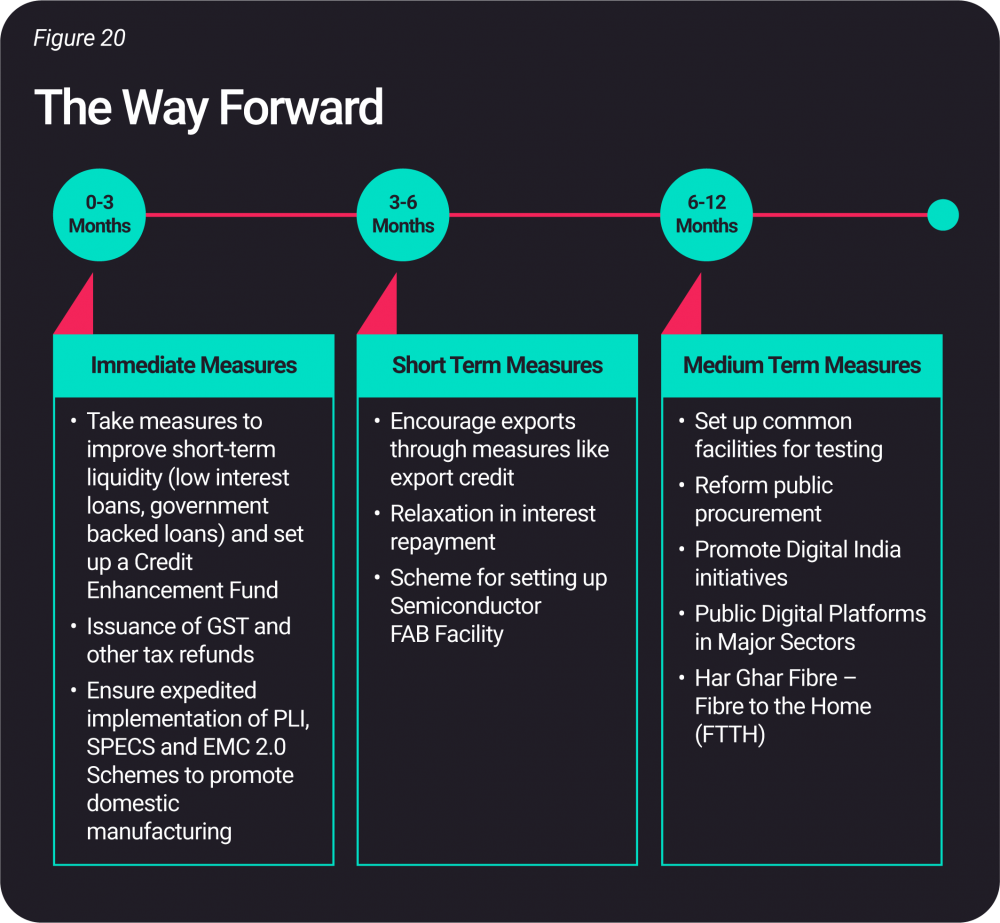 Road Ahead
In April 2020, the Government of India approved three schemes to boost large-scale electronics manufacturing. Along with the recent 'Atmanirbhar Bharat Abhiyan', these can be the catalysts for India to become a global hub for electronics manufacturing.  
Half of the $1 tn of potential value in 2025 could come from growth in existing electronics ecosystem (digital payments, e-commerce, electronics manufacturing, information technology and business process management (IT-BPM), digital communication services and direct benefit transfer), while the rest could be generated by new digital ecosystems in sectors such as agriculture, education, financial services, energy, healthcare, and logistics. The power of these digital ecosystems can be best harnessed through public digital platforms. 
During the COVID-19 pandemic, digital transformation is taking place at an accelerated rate -- forming the bedrock of India's digitally enabled lives in a post-COVID-19 world order. Moving forward, our problems will be viewed with a digitally empowered lens, thereby unleashing the true potential of electronics domestically as well as globally. The digitization of manufacturing operations and management, and the creation of optimized supply chains is simply the beginning of the digital transformation of a 'New India'. 
Testimonials