What India needs to focus on for the next 20 Olympic Medals
If we can demonstrate a skill in one sport, we should leverage it in other sports. Rowing, football, cycling, swimming and water polo can be easily tapped. Indian athletes demonstrate lower speed and flexibility, but much higher endurance, strength and durability. 
Introduction 
India punches much below its weight in the Olympics. In a country of 1.4 billion people, we are not able to produce even a couple of gold medalists every four years. We examine whether there is a particular skill set we lack. While we do not examine genetic build-up, we look at observable traits and ask, "Are we skilled enough?" 
Looking at the Data to identify relevant strengths 
We answer this question using data from ESPN on the degree of difficulty, skill wise. 
We look at the skills India has demonstrated and other sports that require a similar degree of skill. The ESPN data pertains to 60 sports. Out of these, 35 sports are part of the Summer Olympics. We look at the Olympics data at a sport level and not at an event level. Each of these events/sports makes up for multiple medals. For example, boxing has weight and gender categories, tennis has gender and single/team etc. 
The ESPN data covers 10 parameters for each sport and represents a rating on a scale of 10 based on views of multiple experts. The skills defined by ESPN are as follows: 
ENDURANCE: The ability to continue to perform a skill or action for long periods of time. Example: Lance Armstrong 
STRENGTH: The ability to produce force. Example: NFL linebackers. 
POWER: The ability to produce strength in the shortest possible time. Example: Barry Bonds. 
SPEED: The ability to move quickly. Example: Marion Jones, Maurice Green. 
AGILITY: The ability to change direction quickly. Example: Derek Jeter, Mia Hamm. 
FLEXIBILITY: The ability to stretch the joints across a large range of motion. Example: Gymnasts, divers. 
NERVE: The ability to overcome fear. Example: High-board divers, race-car drivers, ski jumpers. 
DURABILITY: The ability to withstand physical punishment over a long period of time. Example: NBA/NHL players. 
HAND-EYE COORDINATION: The ability to react quickly to sensory perception. Example: A hitter reacting to a breaking pitch; a drag racer timing acceleration to the green light. 
ANALYTIC APTITUDE: The ability to evaluate and react appropriately to strategic situations. Example: Joe Montana reading a defense; basketball point guard on a fast break. 
Analysis 
We look at India's performance in past 2 Olympics and mark sports where we either had a medal or a big enough contingent to come close. This is unarguably a good measure of Indians' sporting abilities. We mark the following sports where India has clear ability. To proxy for ability, we look at India's standing in the previous few Olympic competitions. In case India performed well in a sport that requires a high degree of a particular skill, we assume that Indians have that particular skill. For example: boxing requires endurance. India secured a medal in boxing. We take this to mean that Indians can do well in sports that require high endurance.  
For each sport we look at the skill it demonstrates on the part of Indians: 
Field Hockey: Men's Team Bronze, Women's team close 
Table Tennis: Manika Batra 
Shooting: Large contingent  
Golf: Aditi came 4th 
Weightlifting: Mirabai's Silver Medal 
Boxing: Consistent representation across genders 
Gymnastics: Dipti Karmakar 
Wrestling: Haryana- the capital of wrestling 
Endurance: Coincidentally, India's performance in boxing has been consistent and better than that in other sports and boxing is considered as the toughest game. This in itself should be testimony to Indians' ability. However, we examine each factor.  
For endurance, long distance cycling scores the highest (is the sport that requires the most of this skill), followed by track and field and swimming. Boxing comes at the 4th place. India has a demonstrated ability to be at the higher end of endurance. It is followed by rowing and water polo. 
Strength: Weightlifting is the highest, followed by football wrestling and Boxing. India's performance has been good in 3 of these (except football). It seems that strength is India's strength. Other sports that require a high degree of strength are rowing, rugby, pole vault and water polo. India does not seem to do well in any of this despite having higher levels of strengths than required.  
Power: The first three ranks are the same for power and strength. India's performance has been good in these three. Football, cycling (sprints) come next. Despite having local leagues, and a culture of playing football, India is not able to shine through in the sport. Similarly, a lot of children ride cycles, people use them to get to places, but it is not taken seriously enough as a sport. 
Speed: This is India's weak spot. Tennis is India's best sport at rank 7 followed by boxing at Rank 10. In terms of score, out of 10, India's best is 1/3rd lower than the maximum. Sprints, swimming, basketball, football, baseball, and track and field events make up the rest of the list.  
Agility: Unlike speed, Indian sportspersons have demonstrated agility. Tennis and Badminton are at rank 2 and 3 respectively. Basketball ranked 1, volleyball, baseball and surfing are the rest of the ranks respectively. 
Flexibility: Gymnastics at Rank 1 and Wrestling at Rank 3 showcase India's proficiency over this skill. Diving, that is in the middle has not seen India's participation at the summer Olympics for a while. It is followed by track and field events such as pole vault, high jump and long jump.  
Nerves: Boxing (Rank 1) and Gymnastics (Rank 4) are India's strong suit. Diving and surfing between the two and football following closely behind indicate an opportunity.  
Durability: Similar to nerves, Boxing (Rank 1) and Gymnastics (Rank 5) showcase Indians' ability in this skill. Football, rugby and basketball complete the top 5. They are followed by Cycling.  
Hand Eye Coordination: Table tennis and Tennis are both in the top three ranks. While India does not participate in Baseball/softball, the other two are picking up pace. They are followed by basketball, volleyball and fencing.  
Analytic Aptitude: Despite being the land of Chanakya and MS Dhoni, India has not sparkled as much in a sport that requires the maximum amount of analytical aptitude. Indian performance is best in Tennis and Field Hocket, that are featured at Rank 5 and 6.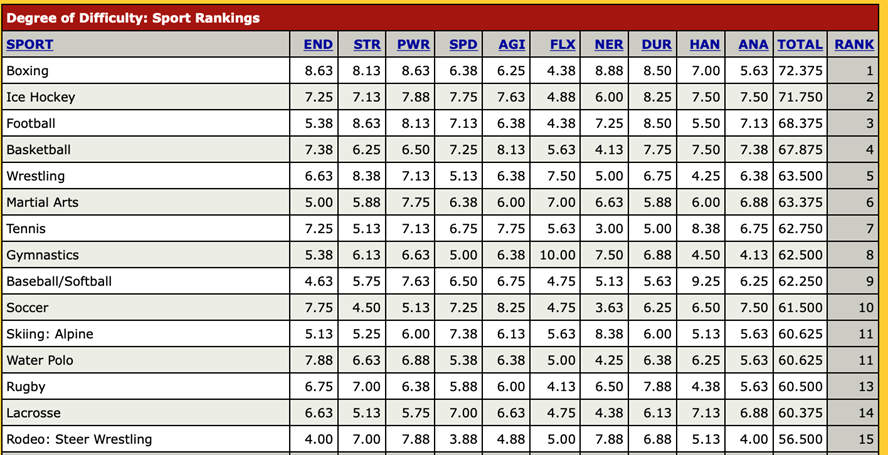 Conclusion 
This indicates India's potential and identifies areas where India could focus to get the next set of medals. For sports where India's standing in recent Olympic events has been good but not podium-worthy, training should focus on ensuring the right attitude to convert leads to wins. In sports that require skills that Indians have not displayed in the recent past, there should be a better expectation setting.  
If attention is paid to honing athletes that have the required skill set for the respective sport, there is a clear potential to have more than two dozen gold medals within a span of two Olympics. India's current standing reflects an upward trend with some sports clearly shining more than others indicating a better feeding line and a brighter future. 
This is authored by the Data Team at Invest India.