Summit for Development of the Value Chain of Litchi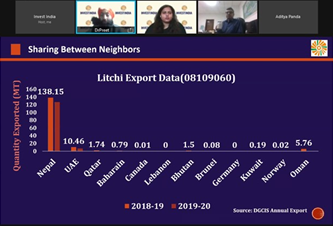 For effective utilization of litchi produced in Muzaffarpur, Bihar for the ongoing season and upcoming seasons, the Formalisation of Micro Food Processing Enterprises (FME) division of Ministry of Food Processing Industries (MoFPI) along with the Investor Facilitation Desk & Department of Horticulture, Government of Bihar organized a summit with the prime objective of creating awareness of benefits available under PM Formalization of Micro food processing Enterprises (PMFME), aligning the participating corporates with the micro-enterprises present in Bihar to achieve value realization and reduction of wastage. Discussions on possible collaborations between multinational companies (MNCs) and micro-enterprises engaged in litchi production and processing, by way of technology transfer in litchi processing and strengthening the procurement relationships with Farmer Producer Organisations (FPOs) based in Muzaffarpur, took place. 
A special session on "Capturing the World Market" by Invest India's One District One Product (ODOP) team along with Agricultural & Processed Food Products Export Development Authority (APEDA) focussed on enhancement of litchi exports in the coming seasons.