Smart Money Private Equity and Venture Investment Opportunities in BFSI
There has been a consistent increase in the recorded number of deals and private equity and venture capital investments over the last couple of years. In 2021, PE and VC firms invested $ 77 billion in 1266 deals in 2021 which represented a 62% increase from the $47.5 billion across 923 deals in 2020. Investment value and deal flow count have seen a stellar CAGR growth at 31% and 21% respectively from 2017 which represents a robust pipeline of activity from LPs in the private equity and venture capital space. Similarly exits in 2021 have also recorded $43 billion across 280 transactions growing 7x over $6 billion across 151 transactions in 2020. 

M&A, Private Equity and VC Investments in BFSI

Since 2018 a total of 1,678 deals representing an aggregate value of $156 Billion have been recorded in BFSI with the median and average deal value at $23 Million and $93 million respectively. LPs have generally paid 7.7x EV/Sales and 11x EV/EBITDA on a median basis for recorded deals. 

Digging a bit deeper since 2015, value of bolt on deals among P/VC investees have totaled $26.5 billion while deal count has been at 607 deals. Of this Financial services deal value has aggregated $4.96 (19%) billion across 104 deals (17%).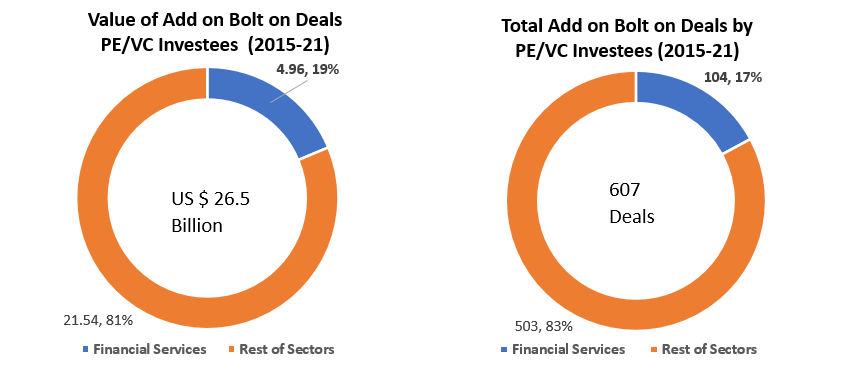 Across the spectrum there has been a Valuation boom. 2021 was a significant year for fintech firms in India with 11 new unicorns and late-stage funding deals happening at 2 to 5X Valuations 

•    FinTech funding grew more than two times to $8 billion in 2021 over $2.8 billion. 
•    On Jan 4th, 2022, Indian Digital Payment company Pine Labs Pvt. Ltd announced that it has raised US$ 20 Million in latest round of funding led by local financial services provider SBI. Pine Labs Pvt Ltd operates an online payment portal that enables enterprises to accept, collect, and manage payments from their respective customers. 
•    Razorpay's valuation more than doubled to $7.5 billion from $3 billion in April, when it had become a unicorn last year. This was reflective of the trend of investors betting big money on 10-15 start-ups to grab a piece of India's payments and Fintech pie. Razorpay Software Pvt Ltd operates a financial technology platform that allows enterprises to accept payments from their respective customers as well as automates payouts to vendors and employees. The company claims to have served over 25,000 businesses.  On Dec 20th, 2021: Razorpay Software Pvt Ltd announced that it has raised US$ 375 Million in its Series F round of funding led by American investment companies Lone Pine Capital, Alkeon Capital, and TCV. This was a 5% deal stake valued at US$ 375 Million. 
•    Slice, which was valued at around $200 million, saw a valuation jump over 5X to over a billion dollars in Nov after raising $220 million in a round led by Tiger Global 
•    Groww's valuation jumped 3X in October following a fund raise of $251 million in growth round led by Iconiq Growth and existing investors within 6 months of raising funds at ~ $1 billion valuation
•    Out of 9 fintech unicorns in India as of August 31, 6 achieved a valuation of more than $1 billion during the pandemic
•    Fintech start-ups that have achieved unicorn in the last year include BharatPe, payment services to merchants, Mobikwik: which focuses on consumer payments and Cred which allows users to make credit card payments through app

When we zero in on financing activity and funds raised since the beginning of 2020, the following companies are among the top 10. As seen PayTM in the payments segments leads the list with $6.4 billion raised till date and as per its IPO on 18th Nov 2021 with the last financing round at $2.4 billion and a financing valuation of $18.7 with a valuation step-up multiple at 0.9x. Similarly, RazorPay, BharatPe and Khatabook have attracted major investor interest in the payments space while Of Business, Navi, Capital Float have attracted these funding flows in the alternative lending space. Medians for money raised is $644 million with financing at $220 million and the median valuation is at $3 billion for a valuation step-up multiple at 1.7x (latest pre-money valuation over last post money valuation).

The Hot Buy Now Pay Later (BNPL) Segment 
India's BNPL market continued its strong growth in 2021. 
73%
: BNPL Gross Merchandise grew 73%, from US$ 3.66 Bn (FY20) to US$ 6.33 Bn (FY21)
$1348 Credit Offered
: BNPL providers are benefitting from Gen Z and millennials switching away from credit cards. Informal nature of accessing credit is acting as the primary driver of BNPL segment in India. Maximum credit offered on BNPL is currently $1347.89.
E-Commerce growth attracting BNPL players
: Strong e-commerce growth has attracted start-ups and fintech giants such as Amazon Pay. The pay later service offered by Amazon has more than two million users in India and has already been used more than 10 million times since its launch in April 2020
BNPL flexible payment method that initially started with e-commerce marketplaces has gradually moved into other industry verticals. In Food delivery, travel and online grocery buying sectors, BNPL providers are experiencing strong growth.
Digital payment industry is experiencing strong growth amid Covid-19 pandemic which has provided strong tailwinds to BNPL segment driving digital adoption speed.
Traditional banking players such as ICICI Bank (PayLater) and HDFC bank (FlexiPay) have added BNPL product offerings for attracting non-credit card users. 
Market Opportunity 

Out of 900 million banked Indians, only 30 million are unique card- holders creating massive BNPL opportunity for small-ticket items. Only 60-70 million Indians have credit access, 93% have no access to credit.
The number of BNPL users may rise from 10-15 million customers currently to 80-100 million customers by 2026
BNPL transactions have seen a 45X growth in last 2 years with new user addition very high, repeat rate and average ticket size also going up.
BNPL Key Players & Highlights
| | | | | | | |
| --- | --- | --- | --- | --- | --- | --- |
| Companies |   |   | |   |   | Median |
| Valuation/ Revenue (x) | 6.07 x | 5.86 x | 30.29 x | 10.39 x | 37.52 x | 10.39 x |
| Deal Size/Revenue (x) | 1.95 x | 2.03 x | 4.22 x | 5.57 x | 3.74 x | 3.74 x |
| Total Raised to Date (Mil $) | 245.37 | 126.69 | 702.85 | 422.14 | 5330 | 422.14 |
| Post Valuation (Mil $) | 1010 | 57.07 | 2850 | 217.65 | 16660 | 1010 |
| Valuation Step Up (x) | 0.35 x | 0.95 x | 2.76 x | 1.34 x | 0.94 x | 0.95 x |
partnered with over 4,500 merchants across India and has over 7 million users
raised $127 Million to date and has key partnerships with online merchants with 6 million registered users.
raised $15.8 Million to date and disbursed nearly 10 billion rupees with lending projected to witness double digits growth driven by strong financing in Tier II & III towns
is available on more than 250 websites in India with nearly 2 million users and has disbursed US$ 67 million in credit
raised $6.51 Million to date and has partnerships with over 3,800 merchants across India inking deals with 6 major lenders offering over 25 million pre-approved cards
backed by ADIA, states income from BNPL segment is a fifth of overall fiscal year revenue
has partnered with Fullerton India to expand digital lending. India's leading digital payments and financial services platform have partnered to provide lending products to merchant partners and consumers. Program will offer Paytm Postpaid (BNPL) to millions of customers on the PayTM platform. The two institutions would establish a wide network, specifically catering to MSMEs across small cities and towns and help them grow their business.