MoU (Invest India and KOSME) for supporting the startup ecosystems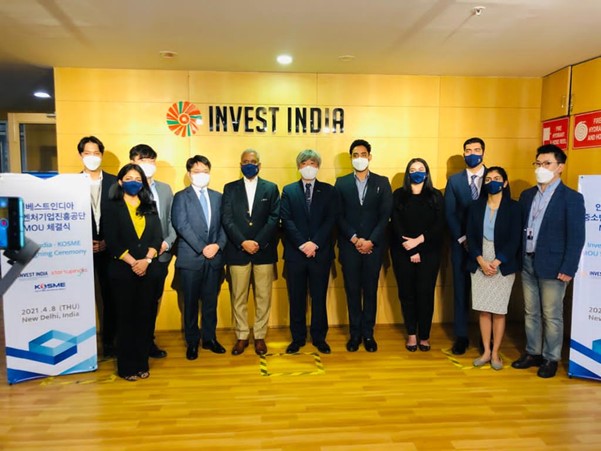 India-Republic of Korea relations have made great strides in recent years, becoming multifaceted, spurred by a significant convergence of interests, mutual goodwill and high-level exchanges. The ever-expanding canvas of their economic partnership has led to the strengthening of cooperation across multiple sectors.
The India-Korea Startup Hub is a one-stop platform to bring the Indian and Korean startup ecosystems closer and to facilitate joint innovation between the two economies. The Hub was conceptualized as part of a joint statement signed between the Korea Trade-Investment Promotion Agency (KOTRA) and Invest India on 9th July 2018. Prime Minister, Shri Narendra Modi launched the  India Korea Startup Hub in Seoul on 22 Feb, 2019. Also, the India Korea Startup Centre (IKSC) was launched in September 2019 by Ministry of SMEs and Startups (Korea) in India to assist Korean startups to expand to India and also enable co-creation between Indian and Korean startups. 
To further strengthen the startup ecosystems of the respective nations, a Memorandum of Understanding (MoU) was signed between Invest India and Korea SMEs and Startups Agency (KOSME) on 8th April 2021. KOSME is a non-profit, government-funded organization established in 1979, to implement government policies and programs for the sound growth and development of Korean SMEs. 
The purpose of this MOU is to provide a framework for collaboration between Invest India, Startup India and KOSME through startup-investor matchmaking, mentorship,  networking opportunities, B2B connections and organising joint open innovation programs to support and nurture the Indian and Korean startup ecosystems. 
The was a one-of-a-kind virtual ceremony and was graced by the Indian Ambassador, H.E Sripriya Ranganathan and Korean Ambassador, H.E Shin Bong-kil. The signatory authorities included Mr. Hakdo Kim, President KOSME and Mr. Deepak Bagla, MD and CEO, Invest India.