Modern-day 'Craft and Design Workshop' for GI-Tagged Molela Clay-Work Artisans under One District, One Product Initiative
The One District, One Product (ODOP) Team at Invest India recently trained over 25 Molela Clay-Work artisans from the Rajasmand district  in Rajasthan with modern, innovative design ideas. Typically, the Molela Clay-Work artisans make clay figurines and votive plaques of mythological deities and characters. This Molela Clay-Work artform dates back to over 5000 years. This effort under the ODOP initiative shall pave the way for a welcome departure for artisans from being restricted to plain figurines of mythological characters to make Molela Clay-Work products which are globally competitive while maintaining the traditional ethos of the craft. This initiative would not only increase exports of clay and ceramic tiles but also enable India to increase production of the same for domestic use.
Major countries like the United Kingdom, Poland, France, Germany, Philippines, and Saudi Arabia have a high demand for clay tiles, home décor, tableware and kitchenware. After careful market analysis by the ODOP Team , it was found that this GI-tagged Molela Clay-Work is very popular in such countries and would open up an opportunity for exports for India. This would increase the viability of Molela Clay-Work and its artisans who are currently restricted to making clay figurines and votive plaques of mythological deities and characters in anthropomorphic forms, or ancestors represented in the forms of snakes and local heroes from folk legends.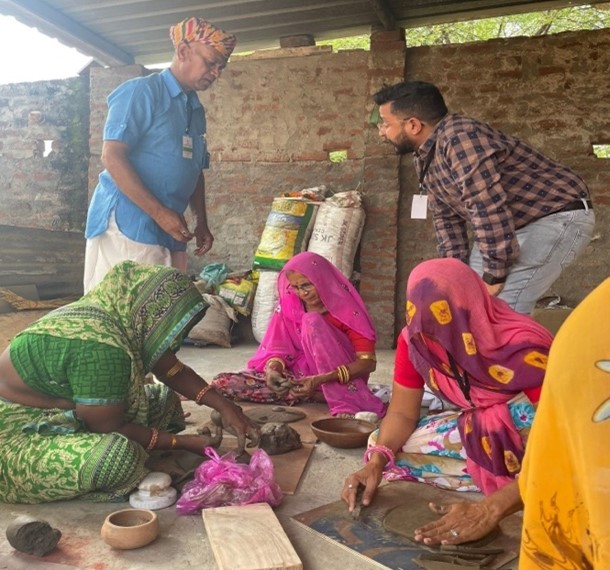 This 'Craft and Design Workshop' organized by the ODOP Team at Invest India was a first-of-its-kind in which 4 design and packaging experts trained 25 inter-generational Molela Terracotta artisans with new design and packaging ideas on 30th September and 1st October 2021. This 2-day workshop resulted in training Molela Clay-Work artisans with fresh ideas for diversifying products  across premium consumer demand product segments such as functional décor, planters, and creeper tiles.
The artisans showed great verve and curiosity towards these new techniques. They were not only asking insightful questions but were also showing tremendous excitement in the workshop. This workshop contained elements including but not restricted to existing product evaluation and critical thinking, shedding light on market intelligence and emerging trends, design & creative thinking, new product ideas and development of prototypes, current products and packaging analysis, design ideation for packaging, new packaging design and development for existing and new products, photography ideas, graphics & spatial inputs and certificate distribution.
 As a next step for continued engagement under the initiative, the ODOP team is planning to facilitate e-commerce onboarding of artisans across various platforms . This would open up a whole world of opportunities for these artisans to sell their modern wares. This would also enable artisans to contact buyers and clients for direct market linkages providing enhanced livelihood opportunities for the artisans.