Jharkhand Tourism Policy Offers Attractive Incentives and Opportunities for Investors
Introduction 
The Government of Jharkhand formulated a new tourism policy to promote tourism for the all-round development of the State and to bring Jharkhand on an equal footing with other States in the tourism sector by 2025.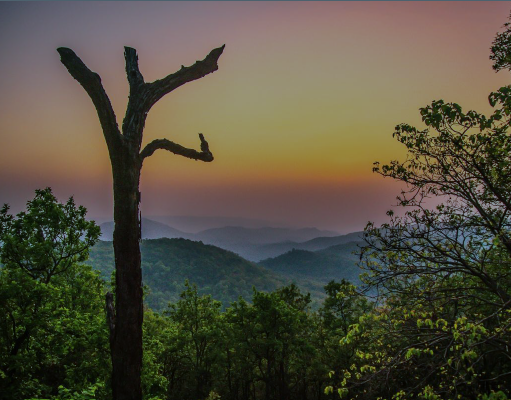 Jharkhand is a fascinating state with its rich forests, beautiful waterfalls, excellent handicrafts, extensive water bodies, appealing wildlife, mesmerising dances, and, above all, hospitable and peaceful people. It is an ideal tourist destination because of its abundant biodiversity, mild climate, rich cultural and historical significance, sites of worship, and ethnic variety.  On July 23, 2022, in New Delhi, Chief Minister Shri Hemant Soren launched the Jharkhand Tourism Policy 2021 which offers plethora of fiscal incentives for investors. The new policy aims to revive, reinvent, and revamp the state's tourism sector in order to give the world a new perspective and dimension to the state of Jharkhand. The goal is to enable the world to see Jharkhand from a point of view of attraction instead of extraction.
Objectives
The State's tourism policy strives to attract investors and push Jharkhand as one of the most popular travel destinations for both domestic and international tourists. The new policy will ensure that tourism-related infrastructure is developed efficiently and swiftly, generate employment opportunities, enhance state's resources, and increase economic growth and development, which will boost tourism's contributions and raise the state's net state domestic product (NSDP).
Strategy
The strategy adopted by the state to create a favourable atmosphere towards tourism among the local community, especially the tribals, is focused on conducting public awareness campaigns. The state will take measures to encourage Scheduled Castes, Scheduled Tribes, physically disadvantaged and women to actively participate in the tourism development process and enhance the involvement of the local population in tourism-related enterprises, leading to a feeling of ownership of the tourism economy within the people.
The key strategy highlighted includes having joint ventures with the private sector, organising buyer-seller meets to market tourism products, training stakeholders involved in tourism promotion, marketing, and other tourism-related services, providing basic infrastructure facilities, single window clearances, etc.
 
Key Highlights
The State Government will provide civic amenities and will take steps for the development and beautification of areas of religious importance such as Deoghar, Parasanth, etc. The State will improve the quality of tourist facilities available at wildlife sanctuaries and national parks and develop camping sites with basic infrastructure facilities, and public convenience services to harness the potential of eco-tourism. Development of Eco-Circuits will be undertaken.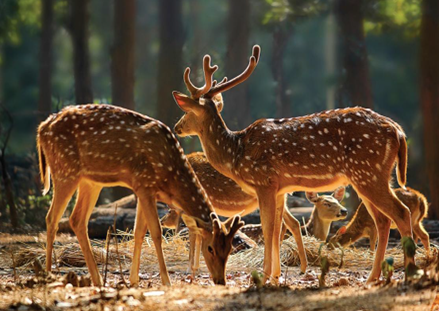 To promote rural tourism, basic infrastructural and tourist facilities such as tourist information centres, open-air theatres, landscaping, craft bazaars, and nature trails would be developed in identified villages, which will raise the standard of living for the rural community. Infrastructure is considered to be the backbone of economic development. Improving the quality and development of infrastructure would lead to higher productivity and growth, facilitate trade and connectivity, and promote economic inclusion.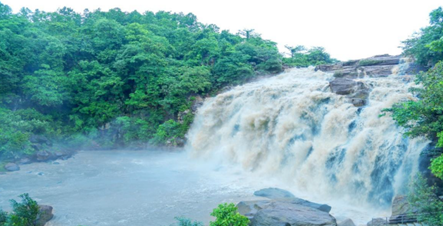 The state shall promote various local fairs and festivals, traditional lifestyles and customs, clothes, cuisine, handicrafts, and other cultural heritage of the people of Jharkhand and prepare a calendar of events so that tourists and visitors get a chance to see and cherish the rich and varied cultural heritage of the state.  Further, exposure of tourists to the regional arts and crafts would help the local artists gain recognition and facilitate the growth and revival of the handicraft industry.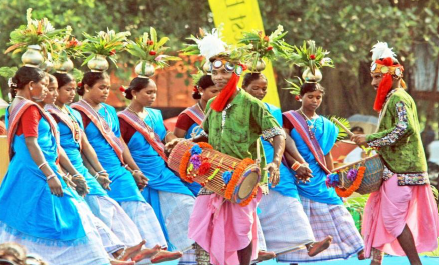 The state will organise annual adventure sports events at various locations to promote adventure tourism activities such as paragliding, water sports, rock climbing, gliding, motor gliding, etc. As adventure tourism is a 365-day destination for travel, this will solve the problem of seasonality.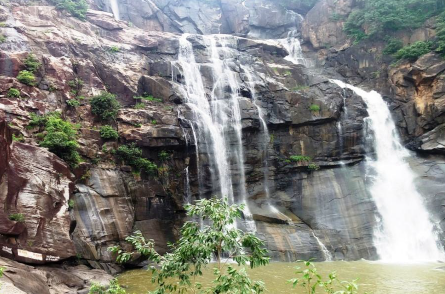 The government will constitute the Jharkhand Tourism Development Board to enhance interdepartmental cooperation and coordination which will help develop tourism in the state
The state will develop adequate facilities to ensure the safety of tourists, such as the provision of various rescue equipment like recovery vans, medical support, communication systems, etc. During important festivals, measures would be taken to ensure the safety and security of the tourists by setting up information centres, tented colonies to accommodate pilgrims, and deploying additional police forces. Ensuring and taking care of the safety of tourists will help improve the perception of the state among tourists and boost tourism.
To make travel accessible and affordable for youth, the development of low-cost accommodation including youth hostels shall be encouraged. The State would take suitable initiatives and encourage tent tourism at the selected camping facilities to meet short duration demand. To provide a historical experience, heritage buildings and older mansions will be revamped to increase tourist accommodation.
The State Government will establish the Jharkhand Tourist Home stay Scheme with the goal of providing tourists with standard and comfortable homestay amenities and supplementing the accommodation possibilities at various tourist attractions.  Staying in homestays will give visitors a sense of authenticity, that will allow tourists to experience Jharkhand's customs, culture, cuisines etc.
Jharkhand will be marketed as a "Rest and Recuperate" destination by taking part in major road shows of the travel industry. The state will take steps to encourage wellness tourism, including organising Spiritual/ Medical/ Wellness Tourism events and promoting holistic therapy centres that offer physiotherapy, Ayurveda, naturopathy, yoga, and herbal treatments. 
Exciting getaway options have been incorporated for Weekend Getaway Tourism. Special efforts will be made to improve road connectivity and last-mile connectivity to major towns and cities in neighbouring states of Bihar, West Bengal, and Odisha.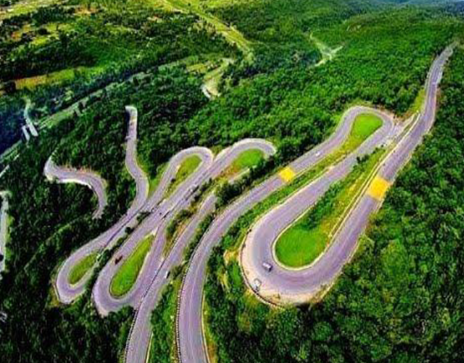 The State will promote mining tourism, where various activities related to mining and processing, in addition to other tourist recreational facilities, will be showcased, in order to capitalise on the tourism potential of closed and abandoned mines. Mining tourism will not only highlight the state's mineral strength but also educate tourists about various mining and mineral-based activities. 
Public Private Sector Partnerships
Both Indian and foreign private investment will be actively encouraged by the state government. The state will provide all the help and support necessary to attract foreign direct investment for the construction and upkeep of the tourism infrastructure and amenities, and it may create joint ventures to establish world-class infrastructure projects.  Through various models of Public-Private Partnerships (PPP) such as BOT (Build-Operate-Transfer), BOOT (build, own, operate transfer), BLT (Built Lease Transfer), etc., measures will be taken to foster the establishment of such partnerships. Additionally, non-core operations like interstate bus terminals, railway stations, and airports will be open to private operators. This will enhance the system's effectiveness and viability.
Public Private Partnerships shall be encouraged for setting up camping sites at various suitable locations on an environmentally friendly basis. The state will encourage private entrepreneurs to promote and showcase the rural life of Jharkhand. The state will develop attractive package tours with the help of private sector tour operators and travel agencies to boost tourist footfall in Jharkhand.
The role of the private sector will be to construct and operate the tourism units. The private sector will achieve high standards in the quality of services by undertaking training and skill development programs. The private sector can collaborate with the state government in the promotion, branding and marketing of destinations. The public-private partnership will be mutually beneficial and ensure sustained growth of tourism.
Tourism economic zones would be developed in public-private partnerships based on the intrinsic attraction, the potential for development, and availability of resources in these zones. The government will encourage the establishment of private tourism zones by acquiring and making land available as per the legal provisions and by providing required infrastructural facilities, such as water, electricity, and roads.
Foreign Direct Investment
Tourism-related industries have been included in the priority list of industries for foreign investment to ensure that high-quality services are provided. Hotels, travel agents, tour operators and tourist transport operators have been accorded export status. The State Government will offer all possible assistance and support to attract foreign direct investment  The government will encourage foreign investments and technological collaborations by Overseas Corporate Bodies (OCB) and NRIs.
Fiscal Incentives
Several incentives have been offered as part of this policy to encourage investors towards public-private partnerships with the state. Special packages will be provided to prospective investors on a first-come, first-serve basis. The eligible investment projects include hotels, resorts, amusement parks, ropeways, adventure sports, wayside amenities water sports facilities, cruise ships and houseboats.
The following incentives shall be admissible to all new eligible tourism units:
20% capital investment subsidy up to INR 7.5 crores for Municipal Corporation Area & Jamshedpur NAC area and up to INR 10 crores for other areas. Additional 5% incentives over and above INR 5 lakhs for SC / ST Entrepreneurs, Women Entrepreneurs, Handicapped person and Ex-servicemen
30% captive power generating subsidy with a limit of INR 5 lakh. Additional 5% incentive over and above with a cap of INR. 0.75 lakhs to SC / ST Entrepreneurs, Women Entrepreneurs, Handicapped person and Ex-servicemen
50% interest subsidy with a limit of INR 20 lakhs for 5 years. An additional incentive of 5% would be admissible to Tourism Units in Scheduled Areas outside urban limits.
Reimbursement of 75% of net SGST paid for five years
Reimbursement of electricity duty for five years
Reimbursement of 2% stamp duty to register / purchase / lease of land or building for the first transaction only
No holding tax shall be charged for the first five years
Non fiscal Incentives
In furtherance to the above fiscal incentives, the following are also provided:
All licenses, incentives, and subsidies would be managed by the Single Window System of the Department of Industries, Government of Jharkhand. This will facilitate a smooth flow of institutional finance and improve, strengthen and boost the tourism infrastructure in the state eliminating the need for investors to visit multiple platforms/ offices to gather information and obtain clearances. The Ease of doing business in the state will also increase.
Performance of tourism units would be evaluated regularly and basis objective evaluation criteria, awards would be given by the State Government for outstanding achievement in various sectors of tourism.
The State Government would take steps to select and train the appropriate number of guides. Courses would also be organised for those who are interested in taking up a career as a language guide, especially in foreign languages, like Japanese, Chinese, Arabic, Italian, French, German, Spanish, English, and Indian languages, like Bengali, Oriya, Gujarati, etc.
Conclusion
Tourism is one of the world's fastest-growing economic sectors driven by the astronomic rise in the number of travellers. Tourism can be viewed as an engine of sustainable growth in the state. The state government has formulated a comprehensive policy that will generate huge amount of employment opportunities, increase foreign exchange and reduce poverty.  The market segmentation approach adopted by the state is expected to pave the way to attract many tourists to the state. The government has engaged National Geographic to produce documentaries on Jharkhand, in a bid to promote tourism which will increase the footfall of tourists in the state. The development of tourist infrastructure and promotion of various segments of tourism will make the state a must-visit destination among tourists. The various incentives for public-private partnership and the focus on the upgradation of infrastructural and tourist facilities in the state will lead to overall economic and social development and attract many private players in the state. The new policy offers a roadmap for tourism to thrive in the state. 
This has been co-authored by Sara Nasreen.