Jammu & Kashmir Startup Event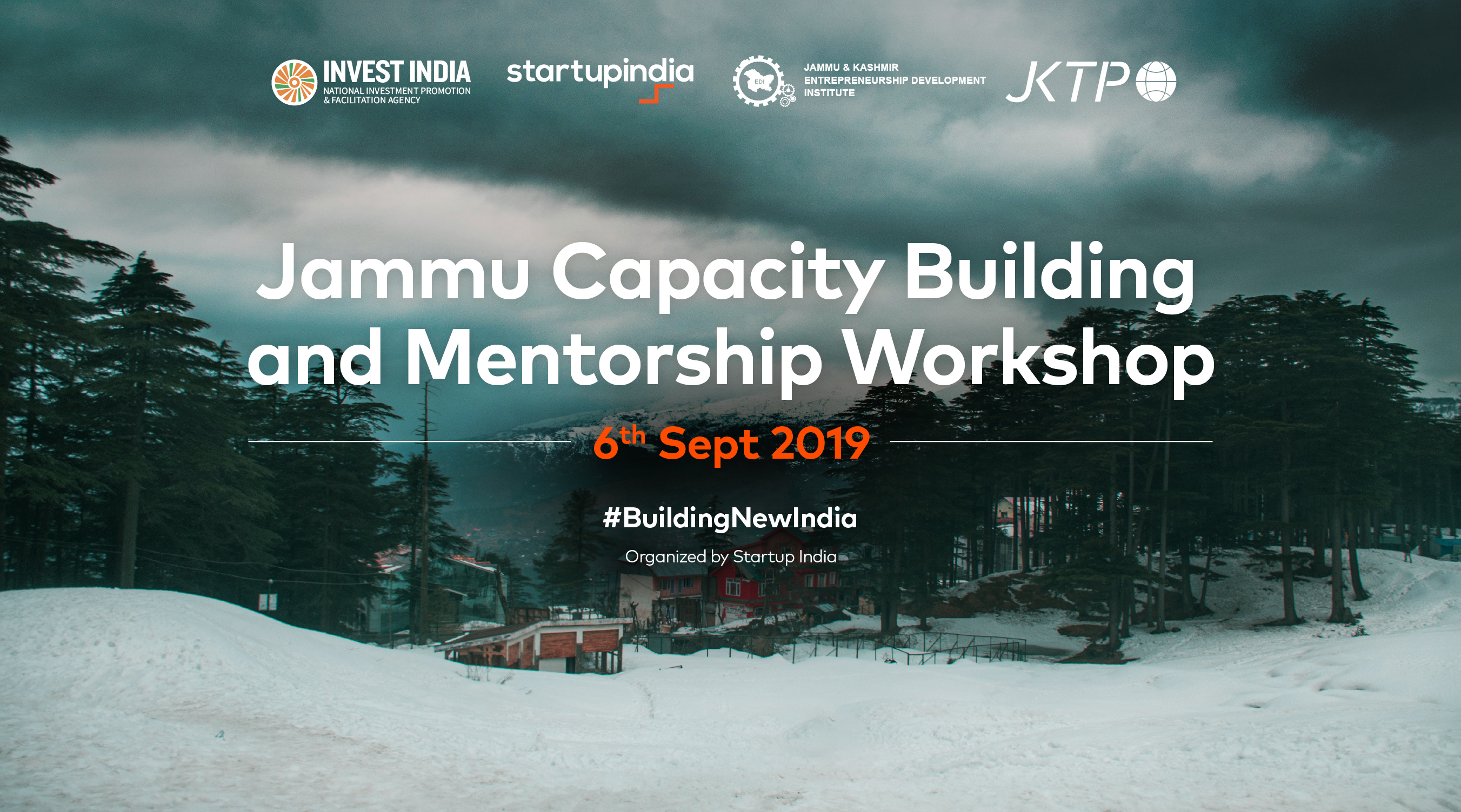 Jammu & Kashmir Startup Workshop 6 September 2019
Known for lush green mountains, dry fruits, and picturesque mountains, Jammu & Kashmir is embracing favourable regulations for attracting investments and promoting entrepreneurship in the region. It was just September last year when the Startup India team worked with the local Government to draft and publish the startup policy for J&K. Since then, entrepreneurship in J&K has been supported and promoted in various ways.
Invest India conducted a one-day Capacity Building and Mentorship Workshop in Radisson Blu, Jammu on 6 September 2019. It was mere coincidence that Article 370 was abrogated just a month ago and the new Government had completed 100 days in its tenure on the exact day of the startup workshop in Jammu. This workshop aimed to disseminate information about Startup India and the J&K Startup Policy and sensitize the Chartered Accountants and Company Secretaries about compliances and regulations relevant to startups. We received an overwhelming response from the community – more than 230 startups and professionals from all parts of Jammu, Kashmir, and Ladakh attended the event.
Such an outstanding response, given the low internet and phone connectivity throughout the region, supported the view that the J&K startup ecosystem is vibrant, thriving and is looking for opportunities to grow.
The Startup India team organized a series of activities and line of speakers for the audience during the course of the workshop. The lineup included:
Institute of Chartered Accountants of India (ICAI) Chairman, J&K Chapter, Mr. Shalay Razdan who spoke about the role of various services offered by CAs for startups
Institute of Company Secretaries of India (ICSI), Chairperson, Jammu Chapter, CS Shivani Gupta spoke about how the CS community can help startups in valuation, compliances and identifying the right nature of entity while incorporating a company
Mr. Bhushan Gajaria from BeeHive Capital hosted a mentorship session for entrepreneurs on the challenges faced by a startup and how startups can tackle such problems
Dr. Saurabh Saran spoke about the facilities provided by IIIM incubator, a DST supported TBI in Jammu and about the potential of such agriculture and horticulture in Jammu & Kashmir
Startup India team also organized a panel discussion between various ecosystem players in J&K namely Jammu Startup Community, IIIM, JKEDI and EY on the J&K startup policy and ecosystem. This discussion lead to many interesting conversations and Q&A sessions with the audience. Invest India also conducted a training session for the professional community present at the event. This training session aimed at sensitizing the Chartered Accountants and Company Secretaries about the recent changes in regulations and policies made for startups for incorporating a company, naming a company, angel tax, etc.
Invest India aims to conduct several such workshops across J&K to sensitize the community and help their startup community get access to various opportunities.