Indian railway station redevelopment projects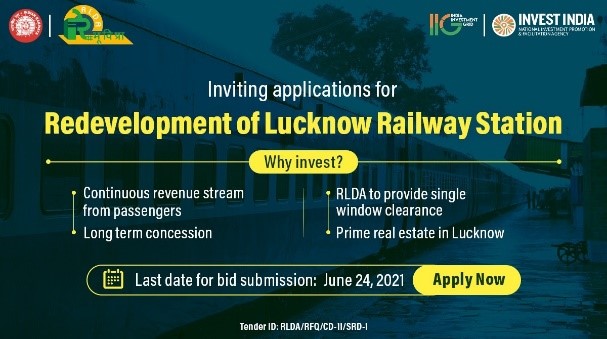 Station redevelopment is a major focus of the Ministry of Railways. The Railways team at Invest India, has facilitated the project promotion of both Chhatrapati Shivaji Maharaj Terminus (CSMT), Mumbai and New Delhi Railway stations respectively. Nine Bidders were successfully shortlisted for the Redevelopment of CSMT Mumbai.
In the last one month, the team has also promoted the Lucknow station redevelopment projects to prospective investors from across the globe. These include infrastructure funds, sovereign and pension funds as well as international and domestic real estate giants.
The tender is currently open. Recent projects in the railways sector are listed below:
1)    Lucknow Station Redevelopment
2)    Chandigarh Railway Land Development 
3)    Bijwasan Railway Land Development 
4)    Successful closure of Request for Quote (RFQ) stage for CSMT Mumbai 
5)    Sawai Madhopur Railway Land Development