Facility for Low Carbon Technology Deployment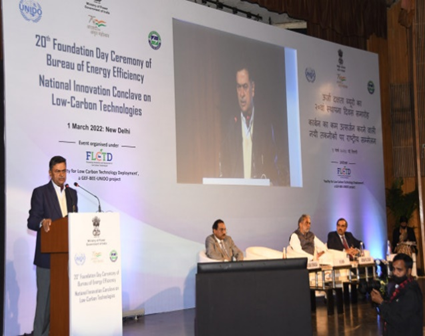 Clean energy is one of the most pertinent needs of the hour. With the ever-present threat of climate change and the detrimental impacts it continues to have on our way of life, there has never been a more pressing need to have technological solutions that can both mitigate the impact of greenhouse gas emissions and provide energy alternatives to fossil fuels.
The Low Carbon Technology Accelerator program, under Facility for Low Carbon Technology Deployment (FLCTD) is an initiative that pursues cleantech innovations. This project has been implemented by the United Nations Industrial Development Organization, and the Bureau of Energy Efficiency (BEE), as well as supported by the Global Environment Facility (GEF).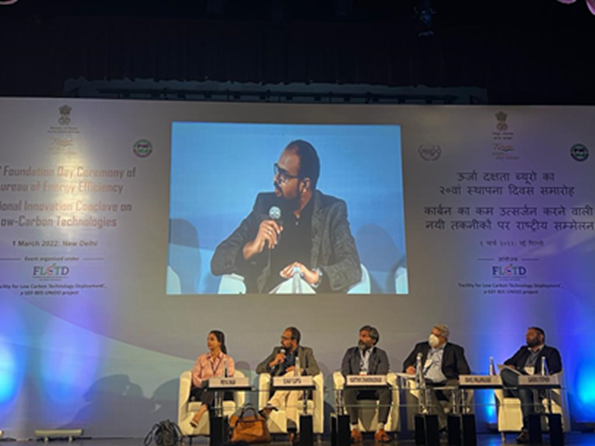 FLCTD aims to bring together early-stage cleantech and climate tech start-ups with seasoned mentors from the cleantech/climate tech ecosystem in the country to provide them with hands-on guidance to improve their business prospects.
The AGNIi Mission worked with Sangam, the implementation partner for this initiative, in organizing the FLCTD Demo Day, which happened on 28th February. FLCTD Cohort 3 members came to Delhi from different parts of the country to deliver their fundraising pitch to a panel of investors. On the Demo-day finale on 1st March, the selected top-5 startups got the opportunity to compete and deliver their final fundraising pitch to a curated panel of investors. For both the semi-finale and finale, the panel of investors was from the clean-tech investment space.
The top 5 startups selected by the panel of investors to be a part of the final pitching session were:
EnvoProtect: A solid waste management startup based in Pune providing the most sustainable solution for processing the plastic waste emerging out of recycled paper mills which is otherwise dumped or burned & converting it to climate-conscious products made out of waste for heating applications thus working on a circular economy model.
Green Cross AgriTech: A newly emerged organic agrochemicals provider company aiming to provide poison free chemicals for use in agriculture for farmers. They have identified inputs that are suitable for sustainable agriculture farming and formulated the molecules with the usage of state of art nanotechnology techniques. This combination of nanotechnology and routine inputs makes novelty products give maximum yield to farmers.
Living Things: Their flagship product Aircon Module redefines people's AC (air conditioning) experience by giving them remote monitoring and smart control of their AC. Some of its features are switching on/off the AC from anywhere in the world, scheduling the ACs according to one's convenience, alerts that notify when the AC needs monitoring, minimal wiring, and portability.
LivNSense: A pioneering industrial IoT & AI platform-led venture that serves the manufacturing and production industries. Their state of the art platform iSense4i™converts continuous and discrete process industries with standard OT/Electronic systems, into a Cognitive Living Equipment, thereby significantly lowering the cost of operations, improving safety and reducing the energy consumption & carbon footprint.
Zerocircle: They make ocean-safe materials from locally cultivated seaweed. These are used for producing bio-alternatives to products that people use in their daily lives and enable organisations to use solutions that are perfectly circular and leave nothing behind.
All these 5 startups got the opportunity to pitch to a panel of investors live during the final session, organized by UNIDO and Bureau of Energy Efficiency (BEE) during the 20th foundation day - National Innovation Conclave on Low Carbon Technologies in Stein Auditorium, India Habitat Centre, New Delhi. On this occasion, the compendium of the FLCTD Accelerator including the past 3 cohorts was released and the top 3 winners were facilitated by Shri R.K. Singh, Union Minister of Power and New & Renewable Energy, Government of India, Shri Krishan Pal Gurjar, Minister of State of Power and Heavy Industries, Government of India, Mr. Abhay Bakre, Director General of BEE, Mr. Rene Van Berkel, Country Representative, United Nations Industrial Development Organization (UNIDO), Shri Vivek Kumar Dewangan, Additional Secretary (Thermal, Transmission & International Co-operation), Ministry of Power, Government of India and Mr. Milind Deore, Director BEE.
The event also showcased many low-carbon technology innovations developed and validated with the support of the FLCTD project. More than 35 innovators participated in the exposition organized under the event.
The top 3 contenders, as decided by the jury, were as follows:
Zerocircle - Neha Jain (Winner)
LivNSense Technologies – Avnish Kumar (First Runner – Up)
EnvoProtect – Karishma Shah (Second Runner–Up)