DPIIT Review Sessions for Enhancing Collaboration and Progress
Project Monitoring Group (PMG) is an institutional mechanism for expedited resolution of issues and milestone-based monitoring of projects with investments upwards of INR 500 crore. PMG facilitates the organization of review meetings chaired by the Special Secretary/Joint Secretary, Department for Promotion of Industry and Internal Trade (DPIIT), and review meetings chaired by the Secretary (Coordination), Cabinet Secretariat. 
Key Milestones
Ministry of Environment, Forests and Climate Change Training Session: A training session led by Mr. Suneet Bhardwaj, Assistant Inspector General of Forests (AIGF), Ministry of Environment, Forests and Climate Change was organized by PMG to better sensitize the team towards the resilience and fragility of pan-India forest and wildlife ecosystems, furthering the group's vision towards sustainable infrastructure development and growth for all. The session successfully highlighted the provisions of legal enactments like the Forest (Conservation) Act, 1980 and the Indian Forest Act, 1927, and the prominent judgments that facilitated the implementation of the same, various penal provisions, roles of Regional Offices, with a walkthrough of the new PARIVESH portal. The PMG team delved deeper into the salient features of Forest (Conservation) Rules, 2022, process flows for grant of forest diversion proposals, and discussions on the intersection of infrastructure and environment, development, and sustainability. 
Key Issue Resolution:  91 issues in 53 projects were resolved in projects important to India's growth story, Vishnugad Pipalkoti Hydro Electric Project (444 MW), Visakh Refinery Modernisation project, and Mumbai Nagpur Jharsuguda Pipeline Project to name a few. 
         Commissioning of Projects: PMG's efforts helped commission two important projects:
2200 MTPD Ammonia and 3850 MTPD Urea Fertilizer Plant of Ministry of Chemicals and Fertilizers in Bihar worth INR 8,388 crore. 
Construction of New Integrated Terminal Building at VSI Airport, Port Blair of Ministry of Civil Aviation in Andaman and Nicobar Islands worth INR 707.73 crore.
Review Meetings chaired by Secretary (Coordination), Cabinet Secretariat
PMG facilitates the organization of Review Meetings chaired by the Secretary (Coordination), Cabinet Secretariat. In the previous month, 12 review meetings were held for critical issue resolution among key infrastructure projects: 
Chhattisgarh Review: In this review, 38 projects (worth INR 2,12,856.14 crores) with 78 issues were reviewed. Important projects like the Gevra Road-Pendra Road New Railway Line and Bailadila Iron Ore Deposit IV were reviewed with senior stakeholders from Central ministries to facilitate prompt project completion. 

Haryana Review: In this review, 28 projects (worth INR 2,00,213.97 crores) with 34 issues were reviewed. Some of the important projects like Western Dedicated Freight Corridor and Delhi-Vadodara Greenfield Alignment were discussed. 

Kerala Review: In this review, 22 projects (worth INR 1,26,869.5 crores) with 31 issues were reviewed to ensure project progress, and expeditious resolution of pending issues. Projects like Kochi-Koottanad-Bengaluru-Mangalore Pipeline and Udupi Kasargode Transmission Limited were reviewed for the resolution of critical issues delaying project progress. 

Meghalaya Review: In this review, 10 projects (worth INR 1,1,5647.95 crores) with 30 issues were reviewed. Nangalbibra - Bongaigaon Transmission Limited, Byrnihat-Shillong New Rail Line and Improvement/Widening to 2-Lane with Paved Shoulder between Shillong-Dawki, among other important projects were reviewed to ensure timely project completion and circumvent time and cost overruns.

Telangana Review: In this meeting, 28 projects (worth INR 1,52,237.28 crores) in the State of Telangana with 54 issues were reviewed. Projects like Telangana Super Thermal Power Project Phase-I (2X800 MW) and packages of Suryapet (Hyderabad) - Devrapalli (Vishakhapatnam) Economic Corridor were discussed to avoid undue delays in targeted timelines for project commissioning.

Chandigarh, Daman Diu and Dadra and Nagar Haveli, Lakshadweep, and Puducherry Review: In this meeting, 14 projects (worth INR 2,19,260.8 crores) with 2 issues were reviewed.

Odisha Review: In this review, 47 projects (worth INR 1,82,987.7 crores) with 47 issues were reviewed. Mega infrastructure projects like Gopalji Kaniha OCP, Jagdishpur - Haldia and Bokaro - Dhamra Pipeline Project (including Baruani Guwahati Pipeline Project), Raipur-Visakhapatnam Economic Corridor, and Vizianagaram - Titlagarh 3rd line were taken up for review to ensure expeditious issue resolution and avoid undue delays in project commissioning.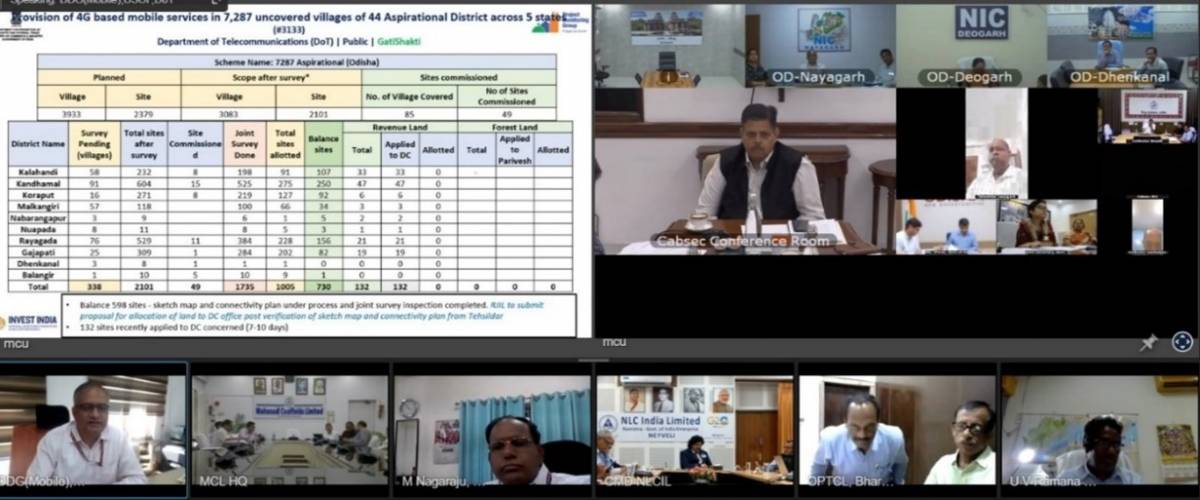 Andaman and Nicobar Islands Review: In this review, 3 issues and 10 projects of Andaman and Nicobar Islands, worth INR 89,610 crores were reviewed.