COVID-19: PM Modi interacts with Chief Ministers through video conferencing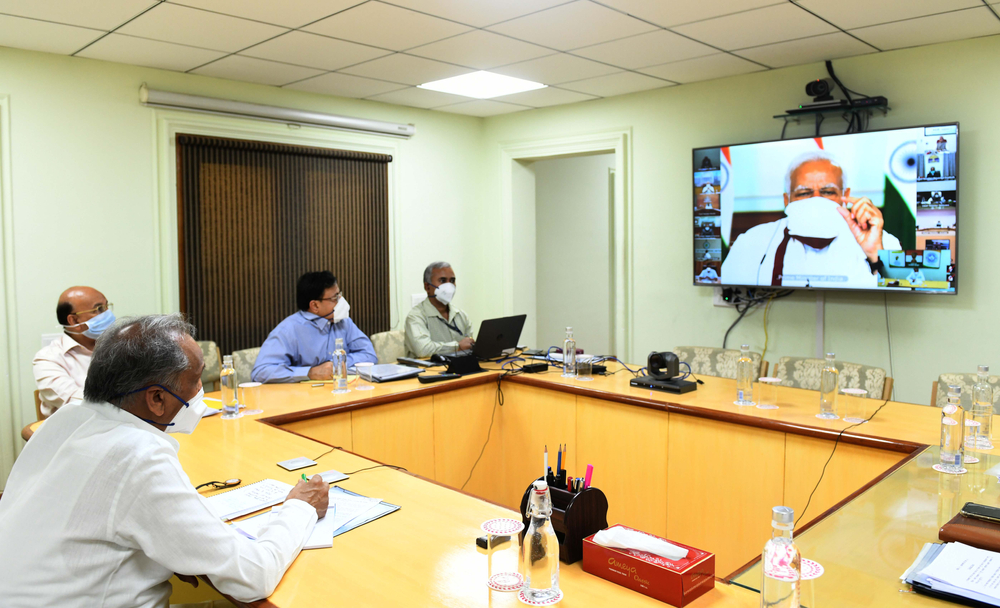 Prime Minister Narendra Modi today held the fourth video-conference call with the Chief Ministers of all Indian states to discuss the COVID-19 situation in their respective states and brainstorm about the potential easing of the nationwide lockdown in non-affected areas. The PM asked the states to highlight their wishes with regard to the lockdown and what the states would require if the lockdown is to be lifted in a phased manner. All states except Odisha and Meghalaya were in favour of lifting the lockdown after May 3rd, the last day of the ongoing 40-day lockdown. 
Also present during the meeting were Union Home Minister Amit Shah, Union Minister for Health and Family Welfare Harsh Vardhan and senior officials from the PMO and the Union Health Ministry.
Owing to time constraints, only nine of the present Chief Ministers were able to speak while the others were asked to submit their requests in writing.
Here are the key highlights from this crucial interaction:
• The Prime Minister hailed the efforts of all state governments in the implementation of the lockdown and their contribution to containing the spread of the virus and added that Covid-19 will be an important part of our lives for some time to come, therefore, no one should compromise on social distancing. He iterated the necessity of wearing masks and face covers while promoting the mantra of "do gaj doori" for all.
• Meghalaya Chief Minister Conrad Sangma stated that his government had decided to extend the lockdown in their state with relaxation on activities in green zones or non-Covid affected districts.
• Odisha's CM Naveen Patnaik said that while he favoured the extension of a lockdown, he also recognised the importance of kickstarting economic activities, for which, he requested the central government to initiate measures. At the same time, he sought a complete stop on public gatherings, and religious and educational institutions.
• Chief Minister V Narayanasamy of Puducherry sought the Centre's intervention for providing Personal Protective Equipment (PPEs) and other medical equipment in Puducherry. Mr. Narayanasamy also asked for financial aid and grants to fight COVID-19 and to start industries post-lockdown.
• Uttarakhand Chief Minister Trivendra Singh Rawat talked about easing people's lives by slowly returning to normal activities while focusing on continued precautionary measures. He said that business and economic activity should be revived in a phased manner and that "economic revival is the only way forward." He also mentioned about a Committee of Ministers and a Committee of Experts that have been set up by the state in this regard. 
• Jairam Thakur, Chief Minister of Himachal Pradesh said that while they were ready to restart economic activity, the lockdown should continue given the situation in other states as well. He highlighted his government's outreach through the Anganwadi centers to create awareness coupled with 'aggressive testing measures' of symptomatic people. 
• Bihar Chief Minister Nitish Kumar said that his state will not dilute the lockdown before May 3rd. He highlighted the state's door-to-door screening campaign influenced by the polio campaign. Thus far, Bihar has screened at least four lakh people for coronavirus symptoms. 
• Finally, highlighting India's success in combating the virus, Union Health Minister Harsh Vardhan said that as per Sunday's data, 300 districts in the country were free from COVID-19 while another 297 districts did not have any hotspots or were small areas with no more than five cases. Only 127 districts, according to the Minister, are COVID-19 red zones. He said that in India, the disease is limited only to the hotspots. 
#Covid_19
This blog has been authored by Aarushi Aggarwal.