Bringing International Focus: Cleantech Workshop with IEA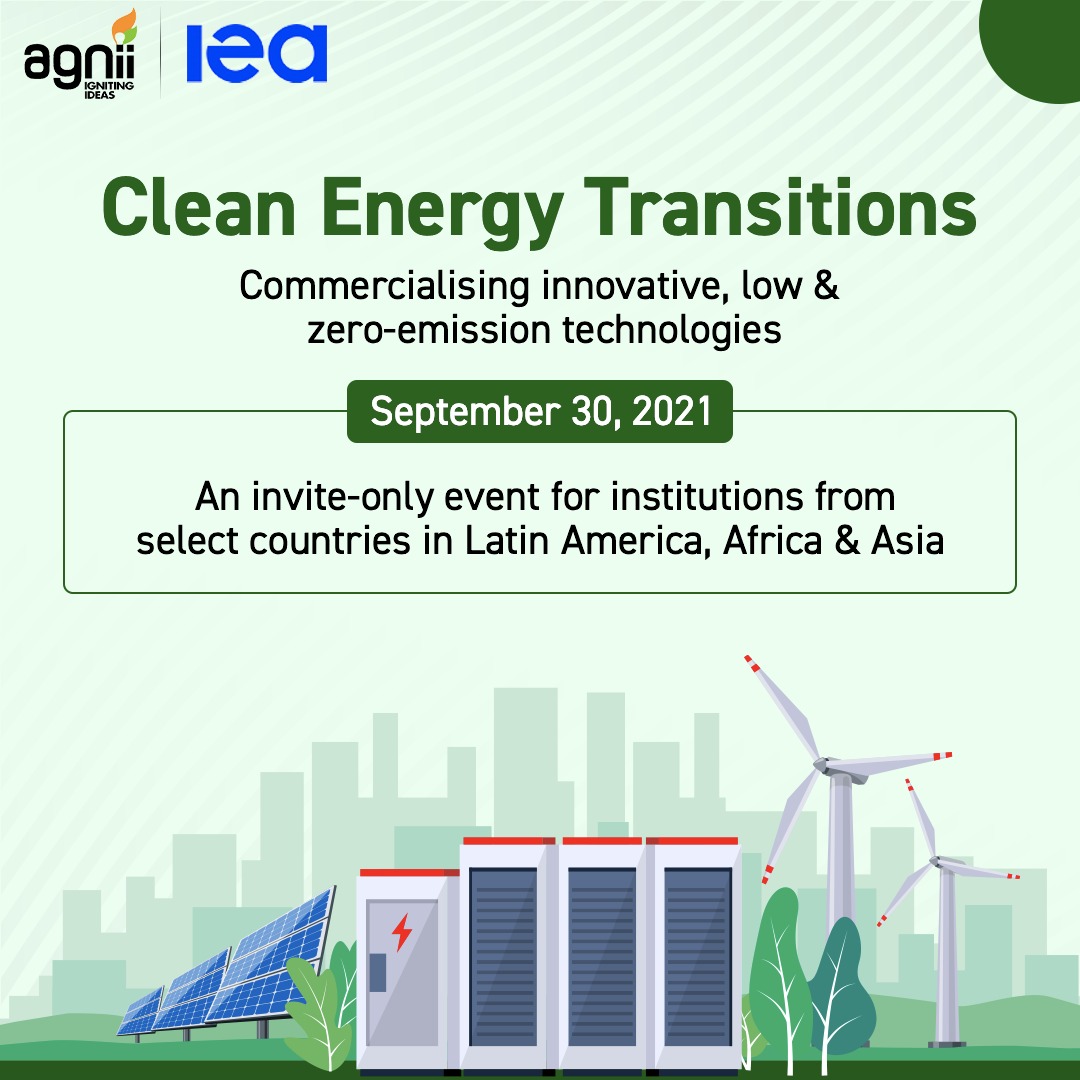 As efforts towards clean energy transitions gather momentum globally, emerging and developing countries will play an important role in shaping outcomes. There are distinct market conditions and developmental priorities shared by developing countries, but without clear communication across national borders, knowledge gaps are bound to arise.
To facilitate awareness regarding common energy innovation challenges, AGNIi, in partnership with International Energy Agency (IEA), organized a working-level dialogue between emerging economies on commercializing clean energy innovations on September 30, 2021. The target audience for this discussion were relevant public investment bodies responsible for technology innovations, commercialisation and foreign direct investment (FDI).
The International Energy Agency (IEA) is an autonomous intergovernmental organisation that works with governments and industries to shape a secure and sustainable energy future for all. It is at the heart of global dialogue on energy, providing authoritative analysis, data, policy recommendations, and real-world solutions to help countries provide secure and sustainable energy.
The workshop took place over two hours and featured a presentation on the importance of clean energy innovation and investments from Araceli Fernández, Head of the IEA Technology Innovation Unit. Following this, there were a series of presentations from each country representative on their clean energy technology priorities, support programmes for energy innovators and interest in international collaboration on market development and investment. Each presentation was followed by a Q&A session with the participants.
The countries that presented at the workshop, along with their representative organizations, are as follows:
India: AGNIi Mission, Office of the Principal Scientific Adviser to Govt. of India
Indonesia: Ministry of Energy and Mineral Resources of Indonesia
Oman: Petroleum Development Oman (PDO)
Saudi Arabia: Aeon Strategy
Nigeria: Federal Ministry of Science and Technology (FMSTI) and Domestic LPG of the Vice President (DLPGOVP)
South Africa: South African National Energy Development Institute (SANEDI)
Morocco: Research Institute for Solar Energy and New Energies (IRESEN)
Chile: Start-Up Chile or Chilean Ministry of Energy
Mexico: Mexican Ministry of Energy (Sener)
The workshop was intended to highlight opportunities created by participating countries to foster innovation in the clean energy space.
The AGNIi Mission, both co-organized the workshop and served as India's representative on the same. We remain committed to both strengthening our national innovation ecosystem in clean energy, as well as organizing more forums wherein the international community can demonstrate their commitment to cleantech and showcase the opportunities for innovators in the sector